Chicken Caesar Salad
Strawberries with Minted Yogurt
Cooking time: 25 minutes for menu             Cooking schedule: see below for instructions
   Not the 'classic' Caesar, but delicious... And not high in calories like the restaurant versions.  It's made with a yogurt based dressing and the chicken is simply grilled.  Use anchovy filets or use anchovy paste that you get in the tube.  We'll use it again during the summer.
Chicken Caesar Salad
Total time: 25 minutes
     Grilled chicken and a yogurt dressing keep the calories down on this salad; the Parmesan and the anchovies keep the classic 'Caesar' flavor high.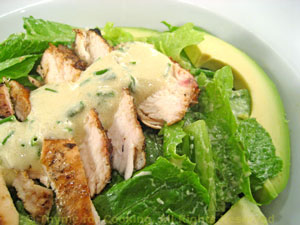 Ingredients:
 Instructions:
Mix chili powder, Worcestershire and garlic.
Rub over chicken. 
Cook chicken on barbecue grill or sauté in a nonstick skillet, 7 - 8 minutes per side, or until done. 
Remove and slice.
Clean lettuce. 
Put lettuce in large salad bowl tearing if necessary. 
Caesar Dressing:
Put mustard, lemon juice, vinegar, Worcestershire sauce and yogurt in small bowl and whisk well to combine.
Slowly add olive oil whisking constantly. 
Stir in garlic, Parmesan and anchovy paste, if using.  Dressing should be thick. 
Add chives and set aside.
To Finish:
Toss lettuce with some of the dressing. 
Arrange chicken and avocado on top. 
Drizzle a bit of dressing over all, sprinkle with Parmesan and serve, remaining dressing (and anchovies) on the side.
Fresh Strawberries with Yogurt and Mint
Total time: 10 minutes
   A bit of sugar and Greek Yogurt is wonderful with fresh strawberries.... and ever so much healthier than cream.  If you have fresh mint - that will finish it just right!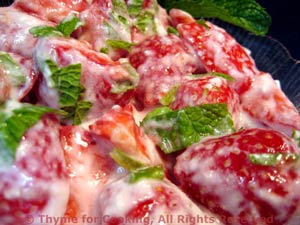 Ingredients:
1 - 1 1/2 cups fresh strawberries
1 tbs sugar  

optional

4oz (120gr) Greek yogurt
1 tbs fresh mint, snipped
 Instructions:
Rinse strawberries. 
With your fingers, pull the stem end and leaves off. 
Cut in half or quarters if very large.
Put into a medium bowl and sprinkle with sugar.  Stir gently. 
Add yogurt and snipped mint and stir gently. 
Spoon into 2 small dishes and serve.
Cooking Schedule: 25 minutes for menu
Assemble all ingredients and utensils
Utensils: measuring cups, spoons, knives,
small bowl (used 2X), whisk, barbecue grill and
pan, or large skillet, salad bowl, salad spinner
Turn on / light barbecue grill, if using
Mix rub, rub on chicken
Prepare lettuce
Cook chicken
Make dressing

Prepare strawberries, cut as needed
Add sugar, yogurt, mint to berries, put in dishes
Slice avocado
Turn chicken
Put lettuce in bowl, add a bit of dressing, toss
Remove chicken, slice
Arrange chicken, avocado on lettuce
Drizzle more dressing, sprinkle Parmesan
Serve, remaining dressing on the side
Don't forget the strawberries