Barbecued Sirloin Steak
Potato, Onion, Gruyère Packets
Green Beans with Celery
Cooking time:  45 minutes for menu      Cooking schedule: see below for instructions
        Use any cut of steak you like; if it's a less tender cut, slice it on the bias for serving.
Barbecued Sirloin Steak
Total time: 30 minutes
   Get any steak suitable for your budget and for grilling.  If you slice the steak, at an angle, even a tougher cut is delicious - and they usually have more flavor!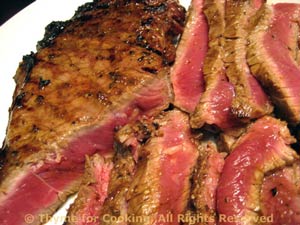 Ingredients:
16oz (480gr) sirloin or top round (suitable for grilling)
2 tbs ketchup
1 tbs Worcestershire sauce
1 tbs Balsamic vinegar
1/2 tsp garlic powder
1 tsp dried oregano
2 tbs olive oil
 Instructions:
Combine ketchup, Worcestershire, vinegar, oil, garlic and oregano. 
Spoon on both sides if steak and allow to marinate for 15 - 30 minutes. 
Cook steak on barbecue grill over direct heat for 5 - 9 minutes per side - or until done - 140F (60C) for rare.  Use thumb test, meat thermometer or, as last resort, by slicing into center and looking.
When done, remove from heat and let rest for 5 minutes. 
Slice at an angle about 1/2 inch thick (1.25cm) and serve. 

Note:

Can be cooked under broiler - start with 7 minutes per side.
Potato and Onion Packets with Gruyère
Total time: 40 minutes  
   A summer version of Potatoes Savoyard.  It's cooked on the barbecue grill, wrapped in foil.  Use sweet onions if you can get them, otherwise regular yellow onions are fine.  Dried herbs work best in this, use any you like.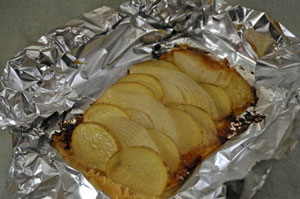 Ingredients:
2 medium potatoes
1 medium sweet or regular onion
1 piece Gruyère cheese, about 4oz (120gr)  or any flavor you like
olive oil

1/2 tsp dried rosemary

aluminum foil - heavy duty (or use a double sheet)
 Instructions:
Thinly slice potatoes, onions (cut in half first) and cheese - about 1/16 inch. 
Lightly oil 2 square (as long as the package is wide) sheets of aluminum foil. 
Place 2 slices of potato side by side, place an onion slice halfway on the potatoes in the middle and 1 slice of cheese on the onion slice.  Overlap 2 more potato slices, onion and cheese - repeating until you have used 1 potato and half the onion and cheese - or until you think you have enough.  You should end up with 2 rows of vegetables - 2 potato slices wide and about 5 inches long.
Sprinkle rosemary over the top. 
Fold foil over, the 2 long sides first then the short (don't worry about a tight wrap - we want steam to escape). 
Repeat with the other potato. 
Cook packets on barbecue grill for 25 - 30 minutes.  Do NOT turn over. 
When done, potatoes and onions should be cooked through and the cheese will have melted and formed a golden crust under the potatoes.
To serve carefully slip spatula under cheese - trying not to tear the foil and to maintain the shape of the potato/onion packet.  Lay on plates and enjoy!
Note: Can be baked at 400F for 30 minutes - just put packets on rack in middle of oven... you won't get the nice, crispy cheese, though.
Green Beans with Sautéed Celery
Total time: 20 minutes
  Green beans, cooked quickly, then tossed with sautéed celery and a bit of ham or bacon for flavor, something a little different from our summer bounty. Blanching them first helps retain their bright color.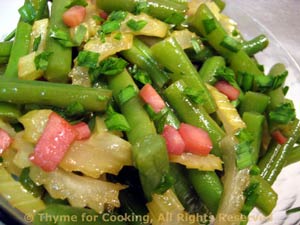 Ingredients:
6oz (180gr) green beans
1oz (30gr) bacon or Prosciutto 

1 slice

1 - 2 ribs celery, (about 1/2 cup sliced)
1 tbs olive oil
1 1/2 tbs white balsamic vinegar
1 tsp soy sauce
1 tsp brown sugar    

substitute honey

1/4 tsp dry mustard
2 tbs snipped fresh chives
 Instructions:
Top and tail beans... cut off the ends.  Cut into 1 1/2 inch lengths (4cm). 
Heat a medium saucepan half full of water to boiling. 
Add the beans and cook for 4 minutes. 
Remove and plunge into cold water to cool and preserve color.  Drain. 
Chop bacon or Prosciutto. 
Thinly slice celery. 
Heat oil in a small skillet. 
Add bacon or Prosciutto and sauté briefly. 
Add celery and sauté about 5 minutes.  
Add remaining ingredients to pan and heat through, stirring to dissolve mustard and sugar. 
Add beans, heat through and serve.
Cooking Schedule: 45 minutes
Assemble all food, utensils and serving dishes
Utensils: measuring cups, spoons, knives,
scissors, small bowl, medium saucepan, slotted
spoon or tongs, small skillet, barbecue grill, foil
Light/turn on barbecue grill
Make marinade for steak, add to steak. set aside
Slice potatoes, onions, cheese
Assemble potato packets, cook
Put water on high heat for beans
Trim, cut beans, blanch
Drain beans, refresh in cold water
Snip all herbs

Check packets - move around a bit (do not turn)
Slice celery
    Pause while potatoes cook
Remove potatoes - peak
If done, leave covered and set aside
Start to cook steak
Sauté ham / bacon, celery
Turn steak
Add vinegar, soy, sugar, mustard, chives to celery
Add beans to celery, heat through
Remove steak, let rest
Remove Potato Onion Gratin
Slice steak, Serve