Grilled Pork Chops with Ginger Barbecue Sauce
Oriental Pasta Salad
Cooking time: 30 minutes for menu          Cooking schedule: see below for instructions
     This barbecue sauce will be used for 2 dinners this week - or more chops.   The Pasta Salad will serve 4 and can easily be doubled.
Grilled Pork Chops with Ginger Barbecue Sauce
Total time: 30 minutes
   At first glance it seems like a lot of ginger in this recipe - both on the chops and in the sauce.  But it works well, adding an underlying flavor that is not too 'ginger-y' or particularly hot; just a tiny kick....  When you are marinating meat it helps to poke it with a fork, to let the marinade penetrate.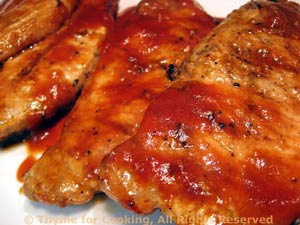 Ingredients:
2 - 4 pork chops - depending on size, 12oz of boneless (360gr)
Marinade:
1 tbs red wine vinegar
1 tbs soy sauce
1 tbs ketchup
1 tsp ground ginger
1/2 tsp garlic powder
3 tbs olive oil
Ginger Barbecue Sauce:
1 cup tomato sauce, 8oz (240ml)
2 tbs molasses
2 tbs cider vinegar or other vinegar
1 - 2 tsp dry mustard    try 1 tsp, taste after heating, add more if you like
1 - 2 tsp ground ginger  try 1 tsp, taste after heating, add more if you like
1 tbs soy sauce
 Instructions:
Mix all ingredients for marinade and pour over chops.  Let marinate for 15 - 20 minutes. 
Cook on barbecue for 5 - 8 minutes a side or until done basting each side with barbecue sauce.  Should be slightly pink in the center or near bone when done - take a peak (techniques). 
Or fry in nonstick skillet over medium-high heat the same amount of time.  Serve, with Ginger Barbecue Sauce on the side. 
Ginger Barbecue Sauce
Heat all ingredients in a small saucepan, whisking to combine.  Bring to a simmer just long enough to combine all ingredients.  
Note: Remove 2 - 3 tbs barbecue sauce to use for basting rather than dipping the basting brush or spoon into that entire sauce. 
Oriental Pasta Salad 
Total time: 25 minutes
   This is a salad that is full of flavors, keeps well, is low in fat and high in nutrition.  And it's a hit with everyone that tries it!  What more can we want? This makes enough for 2 meals.  We cook the beans with the pasta.....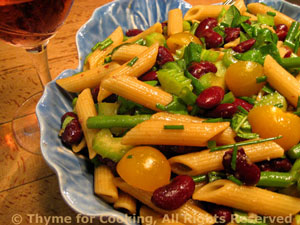 Ingredients:
1 1/2 cups (5oz, 150gr) bite-size pasta,

penne

1 3/4 cups (15oz, 450gr) red kidney beans
10oz (300gr) green beans
1 cup (4oz, 120gr) cherry tomatoes
2 ribs celery, sliced
3 tbs snipped fresh basil
2 tbs snipped chives
Vinaigrette:
3 tbs soy sauce
3 tbs tarragon white wine vinegar
2 tbs salad olive oil
1 tbs walnut or sesame oil
1 tsp dried oregano
1/2 tsp garlic powder
 Instructions:
Cook pasta according to package directions.
Top and tail green beans and cut into 1" (2.5cm) lengths. 
Add to the boiling pasta for the last 4 minutes of cooking time. 
Drain and rinse kidney beans and put into a large bowl. 
Cut cherry tomatoes in half and add to red beans. 
Slice celery and add to beans. 
Snip chives, basil and add to beans. 
Add vinaigrette to beans and toss gently to combine. 
When pasta and green beans are done drain well, rinse briefly with cold water, drain again and add to red bean mix. 
Toss gently to combine.
Vinaigrette:
Mix soy sauce, vinegar, oregano and garlic in small bowl. 
Add oils and whisk - mixture will not emulsify (thicken) but should be well blended.
Note:  This salad keeps well 3 - 4 days.
Cooking schedule: 30 minutes
Assemble all food, utensils and serving dishes
Utensils: measuring cups, spoons, knives,
small bowl, (used 2 X) large bowl, whisk, pot and
colander for pasta, small saucepan, dish for
marinating, barbecue grill.
Put water on high heat for pasta
Make marinade, spoon over pork
Light/turn on barbecue grill
Trim, cut beans
Make barbecue sauce
Make vinaigrette
Cut tomatoes

Snip herbs
Drain, rinse red beans
Mind the barbecue sauce, taste, adjust
Start to cook pasta
Start to cook pork, baste
Put red beans, tomatoes, herbs, dressing in bowl
Add green beans to pasta
Baste pork
Turn pork
Drain pasta/beans, rinse, drain, add to bowl
Remove pork
Stir pasta salad well
Serve