Salad with Grilled Sausages, Potato and Goat Cheese
Cooking time:  35 minutes for menu          Cooking schedule: see below for instructions
      This is, perhaps, not the most colorful or photogenic salads... but it's delicious, and one of our favorites.
Salad with Sausage, Potatoes and Chevre
Total time: 35 minutes
   The warm potatoes and sausages melt the creamy goat cheese, coating the lettuce with a flavorful dressing.  Use any flavor sausage you like; I used pork with olives.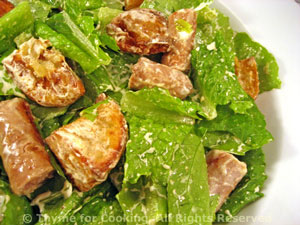 Ingredients:
4 - 6 sausages, 10oz total weight (300gr)
3oz (90gr) soft goat cheese (chevre)
2 medium potatoes (10oz, 300gr)
1 tbs olive oil
Lettuce - enough for a main meal salad for 2
large handful of fresh basil leaves
2 tbs fresh, snipped chives
Pepper
Vinaigrette:
1 clove garlic
1 tbs Dijon-style mustard
1 tbs lemon juice
2 tbs white wine tarragon vinegar
4 tbs salad olive oil
 Instructions:
Cut potatoes into bite size pieces and coat with the olive oil.
Either cook in a pan on the barbecue if you are using it or put on a baking sheet in a 400F oven for 25 minutes. 
Cook sausages - either on the barbecue grill or in a frying pan on the cook top. 
Tear lettuce and put in a large bowl. 
Snip chives.
Tear large basil leaves, leave small ones whole. 
Add herbs to lettuce
Vinaigrette:
Mince garlic.
Combine garlic, lemon juice, mustard and vinegar in bowl and whisk well.
Slowly drizzle in olive oil whisking constantly so that the dressing emulsifies (gets thick).
To finish:
Add 1/4 of the vinaigrette to lettuce and toss to combine using tongs (or salad utensils).
When sausages are done cut into bite size pieces and add to lettuce - they will be warm.
When potatoes are done add to salad - again, warm is okay - not necessary, but okay.
Add the chevre to the salad with a spoon - just in small chunks. 
Add about 1/3rd more of the dressing and toss well.  As you toss the salad you will see the residual warmth from the sausage and potatoes combined with the dressing cause the chevre to coat the lettuce leaves, making a very creamy salad.
Add more dressing as you like, using all of it or reserving some to be added at table.  Fresh pepper is also nice..... serve.
Cooking schedule: 35 minutes
Assemble all food, utensils and serving dishes
Utensils: measuring cups, spoons, knives,
small bowl, whisk, scissors, salad spinner, baking
tray and skillet OR grill pan and barbecue grill
Turn on oven or light/turn on barbecue grill
Cut potatoes, start to cook
Prepare lettuce, wash, spin dry
Snip herbs
Mind the potatoes

Start to cook sausages
Make vinaigrette
Put lettuce, herbs in bowl, add vinaigrette, toss
Spoon chevre onto lettuce
Mind potatoes, sausages
      Pause while potatoes, sausages finish
Cut sausages, add to salad
Add potatoes to salad
Toss well, taste, adjust vinaigrette
Serve and eat!