Grilled French Burgers with Avocado Sauce
Pasta with Fresh Herbs
Sautéed Chard
Cooking time:  25 minutes for menu          Cooking schedule: see below for instructions
     Something a little different for the traditional American Burger....
French Burgers with Avocado Sauce
Total time: 25 minutes
   Tarragon, parsley and capers give a 'French' flare to these burgers.  The Avocado Sauce is a nice switch from ketchup, or other 'red' sauce and works perfectly with the tart capers.  The Avocado Sauce is also great as a pasta sauce.
 Ingredients: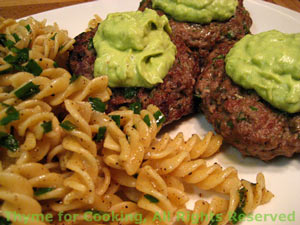 Instructions:
Chop capers if large, otherwise leave whole. 
In medium bowl mix herbs, breadcrumbs, capers and wine. 
Add beef and mix well - hands work best. 
Shape into 4 patties. 
Sauté in a nonstick skillet for 4 - 6 minutes a side, depending on how you like them done. 
OR cook on barbecue grill for the same amount of time - until done to your liking.  Use a grill basket or pan. 
Serve with large dollop of Avocado Sauce and garnish with remaining capers.  (or serve on buns if you like)
Avocado Sauce:
Remove avocado from shell and put into a medium bowl. 
Add lemon juice and mash with a fork. 
Then take a whisk and whisk until fluffy. 
Whisk in yogurt and tarragon. 
Note: If using dried herbs add another 1 tsp white wine
Pasta with Fresh Herbs
Total time: 25 minutes
    Simple pasta, tossed with a fruity olive oil and fresh herbs.  Serve warm for a simple summer side dish.  Use any combination of herbs you have in the garden or fridge.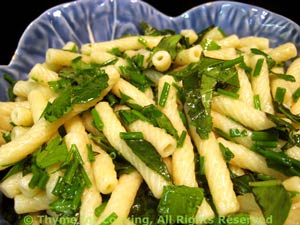 Ingredients:
1 cup (3.3oz, 95gr) dried pasta - fusilli, penne
1 tbs olive oil
1 tbs butter
2 tsp white Balsamic vinegar
1 tbs fresh, snipped chives
1 tbs fresh, snipped parsley
1 tbs fresh, snipped basil
black pepper
 Instructions:
Cook pasta according to package instructions.  Drain. 
Snip herbs.
Heat butter, oil and vinegar in the same pot used for pasta, over low heat. 
Add pasta and stir to coat. 
Remove from heat, add herbs, stir and serve, with some black pepper if you like.
Sautéed Chard
Total time: 15 minutes
   Chard, or Swiss Chard, is a slightly bitter green, reminiscent of spinach.  Both stems and leaves are eaten; some cultures preferring one over the other.  We're democratic and eat it all.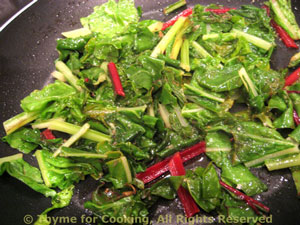 Ingredients:
8oz (240gr) chard or Swiss chard
2 tsp olive oil
2 tsp butter
1 tsp soy sauce
 Instructions:
Wash the chard and trim any bad bits. 
Stack the leaves together and fold over, the long way.  Slice into thin strips, using both leaves and stems. 
Heat butter and oil in a large skillet. 
Add the chard and stir-fry over medium heat until it softens and fits into the skillet. 
Reduce heat to low and cook until tender, another 5 - 7 minutes. 
Drizzle with soy sauce, stir and serve.
Cooking schedule: 25 minutes
Assemble all food, utensils and serving dishes
Utensils: measuring cups, spoons, knives,
scissors, 2 medium bowls, whisk, large pot for
pasta, colander, large nonstick skillet or
barbecue grill and grill basket, large skillet
Put water on high heat for pasta
Turn on/light barbecue grill if using
Snip all herbs
Chop capers if needed
Mix all ingredients for burgers, except beef
Add beef, mix well
Shape patties

Wash, trim chard
Start to cook pasta
Cut avocado, scoop out flesh
Mash avocado, add other ingredients, finish
Start to cook burgers
Sauté chard, stir-frying until it fits in skillet
Reduce heat on chard, let cook
Turn burgers
Drain pasta
Heat butter, oil, vinegar, add pasta, stir
Add herbs, stir
Finish chard, sprinkle with soy sauce
Remove burgers, garnish with sauce, serve