Gazpacho de Andaluz
Pork Loin, Brined and Grilled
Pasta with Fresh Tomato and Green Olive Sauce
Fried Green Beans
Cooking time:  30 minutes earlier, 60 for pork     Cooking schedule: see below for instructions
       Gazpacho!  It is so loved in Spain (and Andorra) that many people buy it ready made, in large cartons (like orange juice) - which is quite delicious.  True Gazpacho is always puréed and, while the amounts of the ingredients may very, the actual ingredients don't - so, no zucchini....  Most of the work for this dinner is done early in the day. The rest of the pork is for Monday - with some sandwiches if there's a lot....
Gazpacho de Andaluz (Andalusian Gazpacho)
Total time: 20 minutes
      This started as Traditional Gazpacho, but I found that I preferred it without the bread crumbs.  If you want to stay with tradition, add 1/2 cup of bread crumbs and enough water to thin to the consistency of a thick, cream soup, to the blender.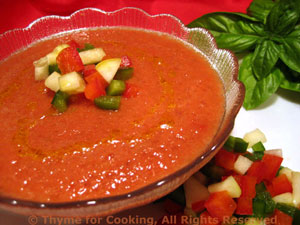 Ingredients:
 Instructions:
Peel the cucumber, onion and garlic. 
Roughly chop all of the vegetables, reserving 1 heaping tbs of the cucumber, onion and pepper, and 2 tbs of the tomato for garnish.
Chop the garnish a bit more. 
Put the rest of the vegetables along with the remaining ingredients, except olive oil, into a blender and purée, in batches if necessary.  
When smooth pour into a bowl.   Taste and adjust seasoning, adding salt, pepper, a bit more vinegar or sherry as desired. 
Chill.
Serve with the reserved chopped vegetables on the side as garnish to be added by each diner along with the olive oil. 
Brined and Grilled Pork Loin
Total time: 60 minutes with 5 minutes earlier
   Brining pork adds moisture and flavor, making what can be a somewhat dry cut, tender and succulent.  It's easy to do and there's a lot of leeway on the timing: more than 6 hours but less than 24.  If you don't have a deep enough bowl, try a saucepan or even a food bag that seals well. Use an 'instant read' meat thermometer.
 Ingredients:
2 cups water very cold water
1 cup ice cubes
1/4 cup sea, kosher or other course salt
2 tbs brown sugar
2 tbs molasses
1 cup very strong coffee 

I used 3 tsp of instant coffee - so about 3 times stronger than normal

2 cloves garlic, crushed  

just smash it with the flat of a knife or the heel of your hand

1 tbs paprika
1 pork loin roast, boneless, 2  - 2 1/2  lbs. (1 - 1 1/2 kg)
 Instructions:
Earlier in the day

, at least 6 hours and up to 24 hours before cooking: Put salt, sugar, molasses and paprika in a deep bowl. 
Add coffee and mix well.
Add water and stir until sugar and salt are dissolved. 
Add garlic and ice, stir. 
Add pork; you should be able to completely submerge it (although it will float). Cover and refrigerate. 
Turn once or twice during the day if you think of it.

When ready to cook

, remove pork and cook on barbecue grill on indirect medium heat for 45 - 60 minutes, turning to brown all sides. 
Cook until 145F (62C) or until only pale pink in center. 
Remove and let rest 5 - 10 minutes. 
Slice half of it (or less) and serve.
Fresh Tomato and Green Olive Pasta
Total time: 25 minutes, 3 - 6 hours marinating 
   This uses the best of the summer garden: fresh tomatoes and fragrant herbs.  6 - 8 hours is the perfect time for the sauce to blend flavors. The olives tend to loose flavor after a day, so I don't plan leftovers with this.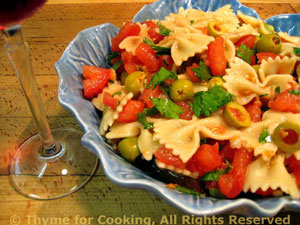 Ingredients:
3 medium - large garden-ripened tomatoes
1/2 cup green olives, pimento stuffed
3 tbs good olive oil, plus 1 tbs if pasta cooked ahead
2 cloves garlic, minced
2 tbs fresh chopped oregano
2 tbs fresh snipped chives
1 tbs fresh chopped parsley
1 cup (2.8oz, 80gr) pasta, farfalle
 Instructions:
Peel tomatoes and roughly chop. Put into a large bowl. 
Cut olives in thirds and add to tomatoes. 
Mince garlic and add. 
Chop/snip herbs and add. 
Pour olive oil over all, stir to combine. 
Cover with plastic wrap and let sit at room temperature for at least 2 hours, 6 or 8 is better. 
When ready to serve:
Cook pasta according to package directions, drain and add to sauce.

Note:

If you cook the pasta ahead, drain and toss with 1 tbs olive oil.  Combine with the sauce when ready to serve - or before leaving on your picnic. 
Note:  The tomatoes, etc. need to sit without the pasta for the sauce to develop and the flavors to meld. 
To Peel Tomatoes:  Bring a medium pan 3/4's full of water to a boil on high heat.  Drop tomatoes in for 30 seconds - start timing immediately.  Remove tomatoes and drop into a bowl of cold water.  If you are doing a lot of tomatoes you will have to add ice or change water to keep it cold.  Now peel them with a knife or your fingers - peel will come off very easily. (You can peel peaches the same way) 
Fried Green Beans
Total time: 15 minutes
   A simple preparation to highlight the best of summer vegetables.  Adding a bit of oil to the butter prevents it from browning or burning.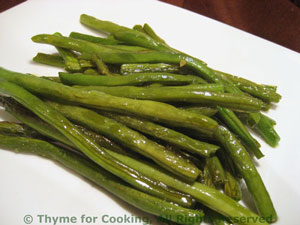 Ingredients:
6oz (180gr) green beans
2 tsp butter
2 tsp olive oil
sea salt
 Instructions:
Top and tail beans but leave whole. 
Heat butter and oil in a skillet large enough to hold the beans without cutting. 
Add beans and sauté over medium heat until starting to brown and blister, 7 - 9 minutes.  
Sprinkle with salt, remove and serve.
Cooking Schedule: 30 minutes early,
60 cooking
Assemble all food, utensils and serving dishes
Utensils: measuring cups, spoons, knives,
scissors, large, deep bowl, 2 medium bowls,
blender, pot and colander for pasta, medium
skillet, barbecue grill
6 - 8 hours before dinner:
Heat water for tomatoes
Peel, crush garlic
Mix all ingredients for brine in deep bowl
Add pork, cover, refrigerate
Blanch tomatoes for pasta
Cool tomatoes, peel
Roughly chop tomatoes, put in medium bowl
Cut olives, add to tomatoes
Snip herbs, mince garlic, add to tomatoes
Add olive oil, stir, cover, set aside
Peel cucumber, onion, garlic for gazpacho
Chop all vegetables for gazpacho, reserve some
Put all ingredients for gazpacho in blender, purée

Taste, adjust seasoning, refrigerate
If you remember, turn the pork occasionally
Dinner time:
Turn on/light barbecue grill
Remove pork from brine, cook (discard brine)
Stir the pasta tomato sauce
      Pause for 30 minutes
Turn the pork
Put water on high heat for pasta
Top and tail beans
      Pause a bit more
Start to cook pasta
Start to cook beans
Turn the pork again
Mind the beans
When beans are almost done, remove from heat
Drain pasta, cool slightly, add to sauce, stir well
Remove pork, let rest
Serve gazpacho, with chopped veg, olive oil
Reheat beans, salt
When ready, slice pork, stir pasta, serve