Gazpacho de Andaluz
Grilled Flank Steak
Potato Salad with Pimiento Dressing
Cucumber Salad
Cooking time: 25 minutes plus 10 earlier          Cooking schedule: see below for instructions
       Leftover Gazpacho to start and potato salad made with leftover Pimiento Dressing makes an easy dinner.   The cucumber salad needs a little advance work but can be done anytime during the day. I peel the cucumber because it's easier to slice - you don't need to.
Gazpacho de Andaluz (Andalusian Gazpacho)
Total time: 2 minutes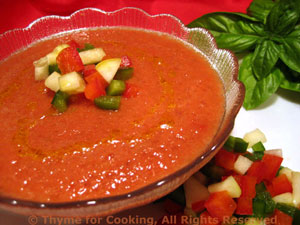 Ingredients:
 Instructions:
Remove from fridge and serve. 
Barbecued Flank Steak   
Total time: 25 minutes
     A simple marinade for a simple cut but it imparts lots of complex flavors.  To make the most of a flank steak, cook it quickly to medium-rare, than slice it thinly across the grain at an angle ...think of it as a square and slice diagonally from corner to opposite corner.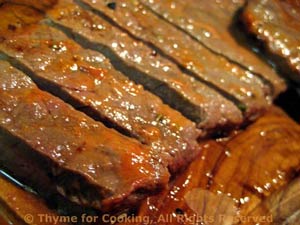 Ingredients:
12oz (360gr) flank steak
1 clove garlic minced or crushed
1 tsp dried oregano
1 tbs Dijon mustard
1/4 cup ketchup
1 tbs soy sauce
1 tbs olive oil
 Instructions:
Mix all ingredients except flank steak and pour over flank steak coating both sides well.  Marinate 15 - 45 minutes (or longer in the fridge). 
Cook over high heat 3 - 5 minutes per side or broil 5 - 6 minutes a side - or until done as liked. 
Slice thinly at an angle on the diagonal for the most tender slices.  Serve.
Note:  The photo is not a flank steak - we can't get them but this is fairly close
Potato Salad with Pimento Dressing
Total time: 25 minutes
  Pimientos or pimentos are similar to roasted red peppers.  They are a heart-shaped red pepper that is a bit more flavorful and spicier than a red bell pepper. They are almost always found, roasted and peeled, in jars.  Use whole if you can, or strips.  Substitute roasted red peppers if you can't find the pimientos. You can use more for a stronger dressing.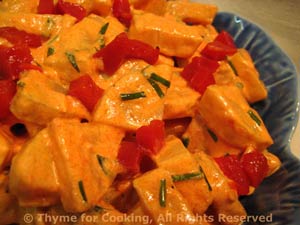 Ingredients: 
2 medium potatoes, about 12oz (360gr)
1/2 - 2/3 cup Pimiento Dressing 

left from Friday
 Instructions:
Slice potatoes into small pieces, for salad. 
Cook in boiling, salted water, partially covered, until done, 12 - 15 minutes. 
When done, drain, toss a bit to cool, and put into serving dish.
 Add dressing and stir gently to coat.  Serve.
Old-Fashioned Cucumber Salad
Total time: 10 minutes plus 1 hour
   This is my mother's recipe, as made by her mother.... Probably German in origin.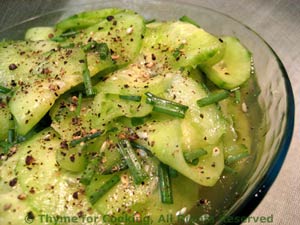 Ingredients:
2 - 3 cucumbers
1 tbs salt
2 tbs sugar
1/4 cup cider vinegar
1 tbs fresh chives, snipped
1/2 tsp pepper
 Instructions:
Peel cucumber and thinly slice, using a box slicer, food processor or mandolin. 
Put 1/3 of the cukes in a deep bowl, sprinkle 1/3 salt. 
Repeat twice. 
Place a small plate or bowl, that will rest directly on the cucumbers, on top. Add a weight of some sort to add pressure to the cukes, and let sit for an hour. 
Drain, rinse lightly and squeeze dry. 
Add remaining ingredients, mix well. 
Serve.  This gets better the next day.
Cooking Schedule: 25 minutes plus 10 earlier
Assemble all ingredients and utensils
Utensils: measuring cups, spoons, knives,
scissors, medium saucepan, strainer, deep bowl,
small bowl, marinating dish, barbecue grill, slicer
75 minutes (or more) earlier:
Peel, slice cucumber
Layer cucumber with salt, weight, set aside
Make marinade, pour over steak, refrigerate
25 minutes before dinner:
Put water on high heat for potatoes
Slice potatoes, add to water
Reduce heat, cook

Turn on/light barbecue grill
Get steak from fridge, let warm up a bit
Drain, rinse cucumbers
Snip all chives
Make cucumber salad
Drain potatoes, allow to cool
Serve Gazpacho
Done?
Cook steak
Make Potato Salad
Turn steak
Remove steak
Slice and serve