Ham and Cabbage Soup
Baked Apples
Cooking time:   30 minutes for menu           Cooking schedule: see below for instructions
   Bake the apples while the soup reheats; eat the soup, then go relax until the apples are done.   Serve the soup with some crackers or a bit of bread if you like. .
Cabbage Soup with Ham and Vegetables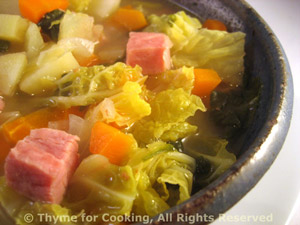 Total time: 10 minutes

 Ingredients:
 Instructions:
Baked Apples
Total time: 30 minutes
   They perfume the house while they bake, with that wonderful 'Apple Pie' smell.  They're great as is or even better with a spoonful of vanilla yogurt or, heaven forbid, vanilla ice cream.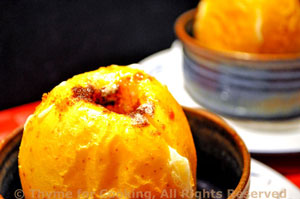 Ingredients:
2 apples, suitable for baking - Golden Delicious, Granny Smith
2 tbs butter
4 tbs brown sugar
2 tsp cinnamon
 Instructions:
Core apples - using an apple corer, often masquerading as a potato peeler.  Stick it in the stem end and twist.  It takes a bit of fussing to get all of the core out but we are not going for any beauty prizes here, so just work at it.  Do not go all the way through the bottom of the apple - we don't want the butter to run out. 
When cored to your satisfaction put half of the butter, sugar and cinnamon into each apple. 
Put them into a glass baking dish and bake at 350 for 20 - 30 minutes, until tender and juicy.  
Remove from oven and serve.
Cooking schedule: 30 minutes
Assemble all food, utensils and serving dishes
Utensils: measuring cups, spoons, knives,
baking dish, saucepan with lid
Turn oven on, 350F (180C)
Core apples

Stuff apples, bake
Reheat soup
Serve soup - maybe with a bit of bread?
Done?
Remove apples
Serve