Corsican Beef
Barley Risotto
Sliced Brussels Sprouts with Leeks
Cooking time: 25 minutes for menu        Cooking schedule: see below for instructions
      Leftover Corsican Beef served on a bed of Barley Risotto. To make this truly 'Corsican' we should be using a sheep's milk cheese... But I always have Parmesan in the fridge.  Slicing the Brussels Sprouts lets them cook in minutes, retaining their pretty green color and a bit of crunch as well.
Corsican Beef and Pasta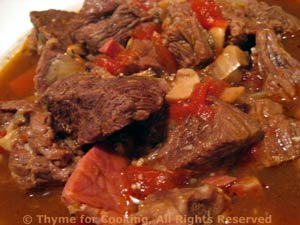 Total time: 10 minutes

 Ingredients:
 Instructions:
Barley 'Risotto' Style, with Leeks or Green Garlic
Total time: 25 minutes
    We try to eat a variety of grains.  I have always loved barley in soup... why not as a side dish?  If you don't have it or like it, substitute Orzo, everything else the same.  My barley cooks in 15 minutes, check your package and increase cooking time if needed.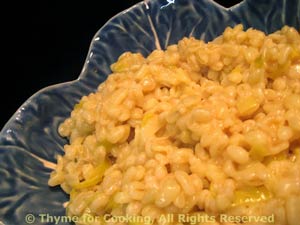 Ingredients:
 Instructions:
Melt butter over medium-high heat in small saucepan. 
Add garlic/leek and sauté for 2 minutes. 
Add barley, wine, stock and bring to a simmer on medium heat. 
Turn heat to low and simmer until done, stirring occasionally.  All stock will be absorbed. 
Stir in cheese. 
Remove from heat and serve. It should be loose and creamy, if not add a bit more stock.
Sautéed Sliced Brussels Sprouts with Leeks
Total time: 10 minutes
    I'm learning that these little green 'cabbages' are very versatile, and the key to good sprouts is not overcooking.  Shredding, followed by a quick sauté is perfect.
 Ingredients:
12 - 15 medium Brussels sprouts
1/2 medium leek
1 tbs olive oil
1 tsp Balsamic vinegar
sea salt
 Instructions:
Slice off stem end of sprouts and remove any wilted or damaged leaves.
Thinly slice the sprouts, cutting the larger ones in half first.
Trim the leek, cut in half the long way.  Thinly slice half of the leek, reserving the rest for another use. 
Heat oil in a medium nonstick skillet over medium-high heat.  Add leeks and sprouts.
Sauté until they start to develop brown spots but are still crisp tender, about 7 minutes, stirring often.
Stir in vinegar, remove, sprinkle with sea salt and serve.
Cooking schedule: 25 minutes
Assemble all food, utensils and serving dishes
Utensils: measuring cups, spoons, knives,
small saucepan, pan or dish for reheating beef,
nonstick skillet
Trim, slice leek for barley and sprouts
Mince garlic
Sauté garlic, leek for barley
Get beef from fridge
Add stock, barley to garlic/leek

Bring to simmer, cover, reduce heat
Grate cheese if needed
Trim, slice sprouts
Reheat beef
Depending on barley, decide when to start sprouts
Heat oil in skillet
Add sliced sprouts, remaining leeks, stir-fry
Stir the barley, mind the sprouts until both are done
Oh, and mind the beef, too
Serve, spooning the beef over the barley if you like