Pork Tenderloin with Apples and Onions
Garlic Oven Fries
Leftover Rutabagas
Cooking time:  35 minutes for menu          Cooking schedule: see below for instructions
       As long as we're eating apples....   This is an easy dinner to end the week.  Leftover vegetables, simple oven fries and braised pork.  Plenty of time left to plan the weekend~
Pork Tenderloin Braised with Apples and Onions
Total time: 30 minutes
     There is something about apples, pork and fennel that just goes so well together.  The apples will be very soft, but the skin will help them hold their shape for a lovely presentation.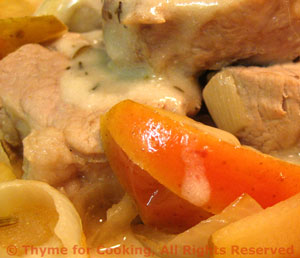 Ingredients:
 Instructions:
Thinly slice the onion and finely chop the garlic. 
Cut the apple into 12 wedges. 
Slice the tenderloin into 1 inch (2.5 cm) thick slices. 
Sauté onion and garlic in oil in nonstick skillet over medium-high heat until tender, about 4 minutes. 
Add fennel seeds and sauté 1 minute longer. 
Move onions to the side and add sliced pork.  Brown slices on both sides, about 5 minutes total. 
Add apple slices around pork. 
Combine thyme, stock, wine and mustard.  Pour over pork and apples. 
Reduce heat to low, cover and simmer 15 minutes.  
Dissolve cornstarch in chicken stock. 
Uncover skillet and remove pork to small platter. 
Increase heat and add cornstarch mixture.  Stir gently until sauce is thickened. 
Add yogurt and stir to combine. 
Spoon apples and onions around pork and serve.
Garlic Oven Fries
Total time: 35 minutes
     Cut in wedges, tossed with garlic and paprika, these oven fries are a flavorful and healthy alternative to traditional Fries.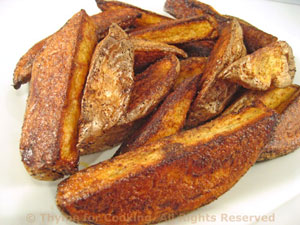 Ingredients:
2 potatoes,  about 12oz (360gr)
4 tsp olive oil
2 tsp white balsamic vinegar
1/2 tsp garlic powder
1 tsp paprika

salt - sea salt is good 

optional
 Instructions:
Slice potatoes the long way - a large potato into 8 wedges and small ones into 6. 
Put oil, vinegar, garlic and paprika into a large bowl and mix well. 
Add potatoes and toss, coating thoroughly. 
Arrange potatoes on baking sheet with rim (I use my trusty, round pizza pan).  Bake at 400F for 30 minutes. You can turn once if you like to fuss but I usually don't bother. 
When done remove from pan and sprinkle lightly with salt and pepper if you choose (I don't) and serve.  These will stay hot for awhile so a 5 or 10 minute delay is okay.
Rutabagas with Bacon and Onion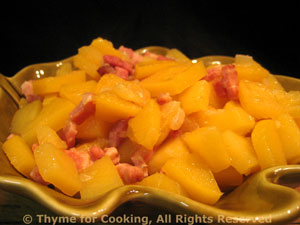 Total time: 10 minutes

 Ingredients:
 Instructions:
Cooking schedule: 35 minutes
Assemble all ingredients and utensils
Utensils: measuring cups, spoons, knives,
large skillet with lid, small saucepan with lid,
baking sheet
Turn oven on, 400F (200C)
Wash potatoes, cut
Mix oil, vinegar, garlic, paprika
Add potatoes, stir to coat
Lay potatoes on baking sheet, bake
Thinly slice onion, mince garlic
Sauté onion, garlic
Cut apple into wedges
Slice pork
Add fennel seeds to skillet, sauté

Add pork to skillet, brown
Get rutabagas from fridge
Turn pork
Add apples to pork
Mix wine, stock, mustard, thyme; pour over pork
Reduce heat to low, cover, simmer
Turn potatoes if so inclined
Start to reheat rutabagas
     Pause while it all cooks
Dissolve cornstarch in stock
Remove pork to platter
Thicken sauce
Add yogurt to sauce
Arrange apples, onions around pork
Remove potatoes, serve