Pork Chops with Maple Syrup
Potatoes with Butter and Chives
Broccoli with Yogurt Mustard
Cooking time:  35 minutes for menu      Cooking schedule: see below for instructions
       Simple: meat and potatoes.... and veg...
Pork Chops with Maple Syrup and Mustard 
Total time: 30 minutes
   I used boneless chops for this, about 1/2" (1.25cm) thick.  They cooked quickly, but, remember, slightly pink pork is okay, and keeps it tender and moist. If you don't have maple syrup you can use honey, or even brown sugar.  It's a simple, flexible recipe!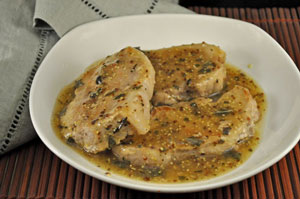 Ingredients:
2 - 4 pork pork chops, depending on size, 12oz (360gr) total weight 
2 tsp olive oil
1/2 cup (4oz, 120ml) beef stock
1/4 cup (2oz, 60ml) white wine
1 tbs maple syrup (or honey)
1 tbs whole grained mustard  (or Dijon-style mustard)
2 tbs dried sage
2 tsp cornstarch (corn flour, maizena) dissolved in 1 tbs water
 Instructions:
In medium nonstick skillet heat oil over medium heat. 
Add pork chops and brown on both sides, about 5 minutes each. 
Add beef stock, wine, maple syrup, mustard and sage. 
Cover, reduce heat and simmer 10 minutes. 
Uncover and remove chops to small platter.  Cover to keep warm. 
Increase heat under skillet.  Dissolve cornstarch in water and stir into simmering sauce. 
Spoon some sauce over chops and serve, remaining sauce on the side.
Potatoes with Butter and Chives
Total time: 35 minutes
    Simple boiled potatoes with a twist: Sautéed in a bit of butter and topped with freshly snipped chives.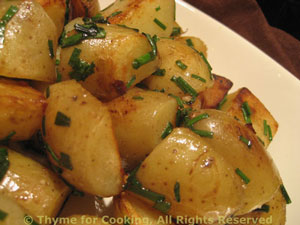 Ingredients:
2 medium potatoes
1 tbs butter
2 tbs snipped chives
salt & pepper
 Instructions:
Scrub potatoes and cut into eighths - we want large but still bite-size pieces. 
Put into a sauce pan and cover with water to which you add 1/4 tsp salt.  Cover and bring to a boil. 
When boiling move cover so it is ajar else the potatoes will boil over.  They will, I promise.   Remove from heat when just barely done - a little under done is good(stick a knife in and test - should go in easily), about 15 minutes.  Drain. 
In medium nonstick skillet melt butter over medium heat.  When hot add potatoes. 
Snip chives with scissors. 
When potatoes are just starting to get a golden color (on one or more sides - about 10 minutes) add chives. 
Turn heat to low and continue to sauté another 10 minutes. 
Remove, add salt and pepper if using and serve.
Broccoli with Yogurt Mustard
Total time: 25 minutes
    Crisp tender broccoli with a creamy, slightly hot mustard sauce is a nice accompaniment to any meal.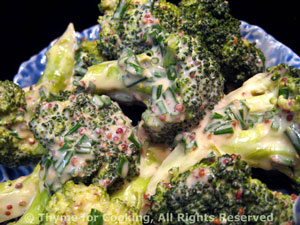 Ingredients:
 Instructions:
Cut broccoli into bite size florets and stems. 
Put in steamer basket in saucepan with an inch of water in bottom. 
Put on medium heat and steam for 10 minutes or until just done but still green. 
Remove from pan and set aside.
In same pan gently heat yogurt, mustard and chives. 
Add broccoli and stir, heating through.  Serve.
Cooking schedule: 35 minutes
Assemble all food, utensils and serving dishes
Utensils: measuring cups, spoons, knives,
medium saucepan with lid, medium saucepan,
steamer basket and lid, medium skillet with lid,
medium skillet
Cut potatoes, cook
Sauté pork chops
Clean, cut broccoli
Turn chops
Snip chives
Drain potatoes
Melt butter, add potatoes, sauté

Add stock, wine, syrup, mustard, sage to pork
Cover, simmer
Steam broccoli
      Pause while stuff cooks
Fuss with the potatoes
Dissolve cornstarch in water
Fuss with potatoes, add chives
Drain broccoli
Heat yogurt, mustard, chives
Add broccoli, stir
Remove chops
Thicken sauce, spoon over chops
Remove potatoes, broccoli, serve