Lamb Chops with Lemon and Rosemary
Roasted or Grilled Sweet Potatoes
Baked Tomatoes
Cooking time:  40 minutes for menu          Cooking schedule: see below for instructions
       If you haven't put the grill away, do the lamb and sweet potatoes on the barbecue.
Grilled Lamb Chops with Lemon and Rosemary
Total time: 35 minutes
    Is there a better match than lamb and rosemary?  This simple marinade, with a bit of soy sauce and garlic, imparts a lot of complex flavors to our lamb chops.  Great grilled but equally good done indoors.  A grill pan for your stove top is nice but a hot nonstick skillet works fine.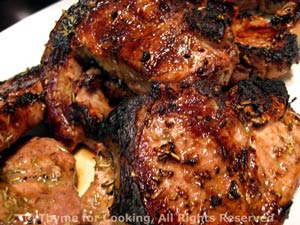 Ingredients:
4 - 6 center-cut lamb chops - depending on size
2 tbs lemon juice
1 tbs soy sauce
2 tbs oil
1/2 tsp garlic powder
2 tsp rosemary
 Instructions:
Mix lemon juice, soy sauce, oil, garlic powder and rosemary. 
Pour over lamb chops and allow to marinate for 15 - 30 minutes. 
Remove chops and discard marinade. 
Either cook on barbecue grill or in a non-stick skillet over medium-high heat.  In either case you will cook chops for 2 - 5 minutes a side depending on thickness and desired degree of doneness (I don't know if that is a word - but you get the idea).  We do ours on a hot grill 2 minutes a side for medium rare.  When you think they might be close take one off, cut into center and peak.  You can always put them back on to cook more - you cannot undo... When done to your liking remove from heat and serve.
Grilled or Roasted Sweet Potatoes
Total time: 40 minutes
   These get a bit crusty on the outside and incredibly soft and creamy on the inside.  Yes, the skins are edible and good for you ;-))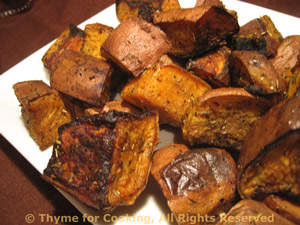 Ingredients:
2 sweet potatoes
1 tbs olive oil
1 tsp herbes de Provence
salt and pepper
 Instructions:
Slice potatoes in half the long way, then in half the long way again.  Then cut into chunks 1 - 1 1/2" (4cm) wide.
Put remaining ingredients into large bowl and mix well. 
Add potatoes and stir, coating thoroughly. 
Barbecue Grill:
Put them into an old metal pie plate or cake tin or foil barbecue container.  Cook on barbecue (grill) for 30 - 35 minutes or until done... and you will need to stir them with a long-handled wooden spoon occasionally as they tend to develop 'hot spots' and can get a little crispy. 
Oven:
Arrange potatoes on baking sheet with rim (I use my trusty, round pizza pan) Bake at 400F for 30 minutes.  You can turn once if you like to fuss but I usually don't bother. Remove from oven and serve.
Baked Tomatoes
Total time: 25 minutes
    In England they serve plain baked tomatoes for breakfast.  We like them, stuffed, as a first course.  They also make a lovely, vegetable side dish, especially now, as we move into fall.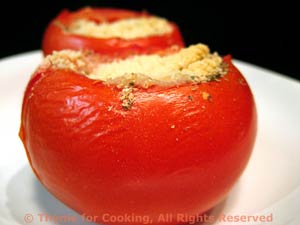 Ingredients:
2 large tomatoes, suitable for stuffing
1 tsp herbes de Provence
2 tbs grated Parmesan
2 tbs dried bread crumbs
 Instructions:
Slice the tops off of the tomatoes and scoop out the pulp and seeds leaving a hollow shell. 
In a small bowl mix herbs, cheese and bread crumbs. 
Spoon mixture into tomatoes. 
Put into a small, shallow baking pan and bake at 400F for 15 - 20 minutes, until tomatoes are hot and juicy. 
Remove and serve.
Cooking Schedule: 40 minutes for menu
Assemble all food, utensils and serving dishes
Utensils: measuring cups, spoons, knives,
baking dish, large bowl, baking sheet or grill pan,
barbecue grill or skillet, small bowl (used 2X),
dish for marinating
Light or /turn on barbecue grill if using
Turn on oven 400F (200C), arrange 2 shelves
Scrub, cut sweet potatoes
Mix herbs, oil, salt, pepper
Add sweet potatoes, stir well
Either put on barbecue or in oven
Mix marinade, pour over lamb

Scoop center out of tomatoes, put in baking dish
Grate Parmesan
Mix herbs, cheese, bread crumbs
Spoon filling into tomatoes
Bake tomatoes
Mind the potatoes
      Pause while stuff cooks
Cook chops
Remove potatoes
Remove tomatoes
Turn chops
     Wait a minute
Remove chops, Serve