Sautéed Sole with Lemon Butter
Carrot and Basmati Rice Gratin
Cooking time: 55 minutes for menu           Cooking schedule: see below for instructions
      The sole I get is cleaned but not boned.  If yours is boned - lucky you.  It will sauté even faster.
Sautéed Sole with Butter and Lemon
Total time: 10 minutes
     Served whole, the delicate fish flakes easily off the skeleton, which, normally, remains intact for easy removal once you've eaten one side of the fish.  Finished with a bit of butter and lemon for accent, it will simply melt in your mouth.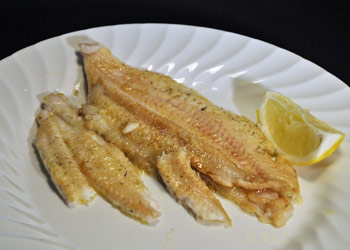 Ingredients:
2 whole sole, cleaned, about 12oz (360gr) total weight,  or filets
1/3 cup flour
salt & pepper
1 lemon, quartered
3 tbs butter
 Instructions:
Put the flour on a plate large enough for the fish to fit.  Add salt & pepper to the flour and mix it together. 
Over medium-high heat melt half of the butter in a nonstick skillet large enough to hold both fish. 
Rinse fish and pat dry. 
When butter is sizzling dip both sides of fish (hold it by the tail) in flour and add to pan. 
Sauté 1 - 2 minutes on each side depending on size of fish.  They cook very fast and if you are not careful when you take them by the tail to turn them over the skeleton will come away in your hand! 
When nicely browned and done remove to plates. 
Melt remaining butter in skillet and pour over each fish. 
Serve with 2 lemon quarters each, to squeeze over top.

Note

: If you get sole filets, they will cook even faster.  Use a long spatula to turn them carefully.
Carrot and Rice Gratin  
Total time: 55 minutes
    This is somewhere between a soufflé and a pudding.  The carrots retain their texture and add a slightly sweet flavor to the rice.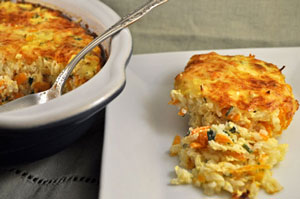 Ingredients:
1/2 cup (3.3oz, 95gr) Basmati rice
1 cup (8oz, 240ml) chicken stock
2 medium carrots
1 cup (8oz, 240ml) milk
2 eggs
1 tbs chives, fresh or dried
1/2 tsp dried thyme
1/2 cup (4oz, 120ml) Greek or plain yogurt or sour cream
1/2 cup (2oz, 60gr) shredded cheese
1/2 tbs olive oil
 Instructions:
Cook rice in chicken stock.
Peel carrots and shred using medium holes on the box shredder. 
Lightly whisk eggs. 
Add milk, yogurt and herbs, whisk to combine. 
When rice is done, stir in the carrots and let sit for a minute to cool slightly. 
Add the rice and carrots to the eggs along with half of the cheese. Stir well.
Lightly oil a glass baking dish (1 qt, 1 litre). 
Spoon carrot-rice mixture into dish, sprinkle with remaining cheese and bake, uncovered, 400F (200C) for 30 minutes. 
Remove and serve.
Cooking schedule: 55 minutes
Assemble all food, utensils and serving dishes
Utensils: measuring cups, spoons, knives,
scissors, small saucepan with lid, large nonstick
skillet, baking dish, whisk, large bowl, plate, grater
Turn oven on 400F (200C)
Start to cook rice
Peel, shred carrots
Wash, dry fish
Mix flour, salt, pepper, put on plate
Cut lemons
Whisk eggs
Whisk in milk, herbs, yogurt

Rice done? Combine with carrots and stir well
Lightly oil baking dish Add rice/carrot to egg mix
Add half of the cheese, stir well
Spoon into baking dish, sprinkle cheese, bake
   25 minute break
Heat butter in large skillet over medium high heat
Dip fish in flour
When skillet is hot, add fish
Remove gratin
Turn fish
Remove fish to platter or individual plates
Add butter to skillet, melt and pour over fish
Garnish fish with lemon and Serve