Barbecued Chicken
German Summer Salad
Roasted Asparagus
Tomato Garlic Salad
Cooking time:  60 minutes for menu       Cooking schedule: see below for instructions
          The official beginning of summer is the first barbecued chicken.  A whole chicken will probably give you a few pieces leftover for lunch; or you can just get your favorite pieces.  The barbecue sauce will keep for a week and is good with everything - like the burgers later in the week.  With the chicken we are having the first of our summer potato salads.  
Barbecued Chicken 
Total time: 60 minutes
  As it is assumed people want to do most things for themselves here, we have to buy the whole chicken and cut it up - otherwise we might not get the feet... Get a cut-up chicken or packages of your preferred pieces, freezing what you don't use for another day.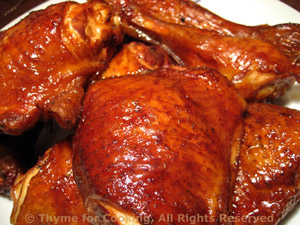 Ingredients:
 Instructions:
Wash chicken and pat dry with paper towels. 
Sprinkle with salt, pepper and paprika. 
Put on barbecue grill on indirect heat and close cover. 
Check periodically - if any pieces flare up just move around a bit.  An instant-read or remote read meat thermometer is a great help. 
After about 30 minutes start basting with barbecue sauce (if you do it earlier the sauce may burn).  I always put 2/3's of the sauce in a separate small bowl to be used for dipping at the table before mon mari starts the basting. 
Chicken will be done at 170F or when it is no longer pink and the juices run clear when pierced with a knife.  Try not to cook it too long or it will be dry - and remember that the breast will be done before the thigh.  It should take about 45 minutes over indirect heat but can be up to an hour, depending on heat. 
Remove and serve with sauce on the side. 
Oven method: Put chicken skin side down on baking sheet with sides or in 9X13 pan. 
Sprinkle with salt, pepper and paprika and put in a 400F (200C) oven. 
After 30 minutes turn chicken and baste with barbecue sauce. 
Continue to bake 15 minutes longer or until done, basting once more with barbecue sauce. 
Remove and serve with a bit of sauce on the side. 
Barbecue Sauce:
Mix all ingredients in small sauce pan and bring to a boil over medium heat stirring frequently.
Simmer 10 - 15 minutes, remove from heat and use when needed. 
Sauce will keep for a week in the refrigerator.
German Summer Potato Salad
Total time: 35 minutes 
  This recipe is based on one from the Time Life "Foods of the World" series that I have had for years.  The first time I had a similar salad was in Germany,  I had expected the typical Midwestern version of Hot German Potato Salad and was wonderfully surprised by this light salad, perfect for summer, and much lower in calories than other potato salads.  This recipe serves 4 and in our menu is meant for 2 meals. 
 Ingredients:
4 medium potatoes, 20oz (600gr) total
1 large onion
3/4 cup (6oz, 180ml) chicken stock
2 tbs olive oil
1 tbs white wine tarragon vinegar
2 tbs Dijon-style mustard
1 tbs lemon juice
 Instructions:
Put a large saucepan half full of water on medium heat and bring to boil. 
Cut potatoes - the long way, first in half, then in half again.  Now slice (the short way) about 1/4 inch thick.  We are aiming for bite size so if you have a huge potato, adjust accordingly. 
Add to water, cover partially and cook until done, about 15 minutes. 
Drain, put into a serving bowl and immediately pour sauce over, turning to coat slices evenly.  Set aside to cool while finishing dinner.
Sauce: 
Finely chop onion and sauté in olive oil until transparent. 
Add stock, vinegar and mustard and bring to boil over medium-high heat. 
Boil for 5 minutes, stirring frequently. 
Remove from heat and stir in lemon juice. 

To serve: 

Salad should be served just slightly warm or at room temperature.   Refrigerate leftovers.
Roasted Asparagus
Total time: 25 minutes 
    Roasting vegetables is so easy, a bit of olive oil, pop them in the oven and forget about them.  Them come out crisp tender, ready to be eaten as is or enhanced with a sprinkling of fresh herbs.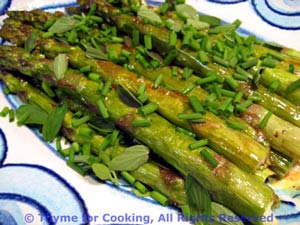 Ingredients:
12oz (360gr) asparagus  
olive oil
1 tbs fresh snipped chives
1 tbs fresh marjoram
sea salt
good olive oil for finishing
 Instructions
Snip chives, pull marjoram leaves off stems, snip the large ones. 
Snap off ends of asparagus.  If white use vegetable peeler and peel bottom half of stalk, laying it flat so as not to break it. 
Put a drizzle of oil on a baking sheet - one with a lip all around.  I use a pizza pan. 
Roll the asparagus in oil (use your fingers!) 
Put in the oven at 400F (200C), tips facing the oven door.  Roast for 15 - 20 minutes, depending on size. 
When done, put on serving dish and drizzle with a bit of good olive oil, sprinkle with sea salt, herbs and serve.
Tomato Garlic Salad 
Total time: 10 minutes 
   I prefer to make this with cherry or grape tomatoes (from my garden) but any, fresh, vine-ripened tomato will work.  I make it on Sunday, we have some every night and I just add more tomatoes to it all week as they ripen, - starting fresh whenever we finish it all... 
 Ingredients:
1/2 cup (3oz, 90gr) red cherry tomatoes
1/2 cup (3oz, 90gr) yellow cherry tomatoes - or all red
1 tbs fresh basil, snipped
1 tbs fresh chives, snipped
3 cloves garlic
2 tbs salad olive oil
1/4 - 1/2 tsp salt - sea salt if you have it.
 Instructions:
Finely mince garlic. 
Put garlic and oil in a small serving bowl and let rest while you deal with the tomatoes. 
Cut tomatoes in half (that was tough). 
Snip herbs. 
Add both to garlic oil and sprinkle with salt.  Stir gently. 
This is good today, better tomorrow.
Cooking Schedule: 60 minutes for menu
Assemble all ingredients and utensils
Utensils: measuring cups, spoons, knives,
2 small saucepans, medium saucepan, 2 medium
bowls, barbecue grill and grill tools
Light/turn on barbecue grill
Put water on high heat for potatoes
Tend the chicken, sprinkle / salt, pepper, paprika
Start to cook chicken
Cut potatoes, add to boiling water, reduce heat
Chop onion, sauté
Put all ingredients for BBQ sauce in saucepan, heat
Mince garlic, put in bowl with oil
Add remaining ingredients to onions (not lemon)

Cut tomatoes, add to garlic
Snip all herbs, divide, add some to tomatoes
Add salt to tomatoes, stir well
Turn oven on, 400F (200C)
Drain potatoes, put in bowl
Add lemon to sauce, pour over potatoes, stir
Remove barbecue sauce for basting, baste chicken
Trim asparagus, peel if needed
Put asparagus on baking sheet, oil, bake
      Pause whilst chicken, asparagus cook
Baste chicken, stir potatoes, stir tomatoes
Repeat
Finish asparagus
When chicken is done, remove, Serve