Asparagus Soup
Lightly Smoked Cod
Potato and Onion Packets with Gruyère
Cooking time:  45 minutes for menu          Cooking schedule: see below for instructions
      Pick out 10 asparagus spears and trim to 4in (10cm) lengths, from tip, for the tarts tomorrow. Use the trimmings in the soup. The fish is not done in a smoker, but on the barbecue with a few wood chips to add flavor. Perfect summer cooking - easy, all done on the barbecue grill.
Asparagus Soup
Total time: 30 minutes 
    This is a lovely soup for late spring.  I like to make it earlier in the day and serve it chilled, but it's equally good served warm.  You can use milk or cream in place of some of the stock for a creamier version.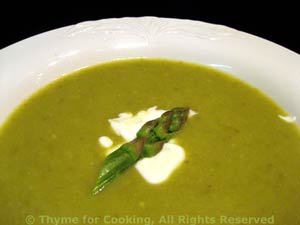 Ingredients:
1 medium onion 
1 small - medium potato
12oz (360gr) green asparagus bundle, trimmed)
2 cups (16oz, 480ml) chicken stock
2 tsp butter
2 tbs Greek or plain yogurt
 Instructions:
Chop onion.
Trim asparagus and cut into 1" (2.56cm) lengths.  Reserve 2 - 4 tips for garnish. 
Roughly chop potato.
Heat butter in medium saucepan.  Add onion and sauté until tender and transparent, about 5 minutes. 
Add asparagus, potatoes and stock. 
Bring to a boil, cover, reduce heat and simmer until potatoes are done, about 15 minutes. 
At any time, drop in the reserved asparagus tips and boil for 2 minutes. 
Remove tips and set aside. 
When potatoes and asparagus are tender purée in blender, using only as much stock as needed, reserving the rest. 
Add as much of the remaining stock to get your preferred consistency.
The soup can be served hot or made ahead to this point, chilled and served cold.  
To serve: ladle into soup plates, put 1 tbs yogurt in the center and garnish with asparagus tips.
Lightly Smoked Cod
Total time: 30 minutes
  This is a cross between smoker cooking and grilling, and it flavored the cod perfectly:  a light smoke and dill combination.  It needed nothing else.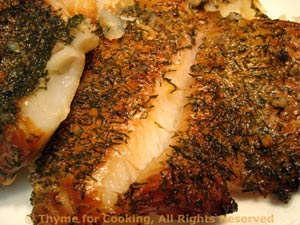 Ingredients:
1 - 2 filets of cod, or other thick, firm white fish, 12oz (360gr) total weight
2 tsp dill weed
1 tbs olive oil
1 tsp soy sauce
wood chips for smoking - apple is nice    See Barbecue Grills for more info
Weber-type kettle barbecue with charcoal  or Gas Grill
 Instructions:
Potato and Onion Packets with Gruyère
Total time: 40 minutes  
   A summer version of Potatoes Savoyard.  It's cooked on the barbecue grill, wrapped in foil.  Use sweet onions if you can get them, otherwise regular yellow onions are fine.  Dried herbs work best in this, use any you like.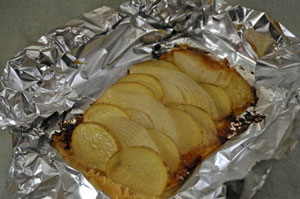 Ingredients:
2 medium potatoes
1 medium sweet or regular onion
1 piece Gruyère cheese, about 4oz (120gr)  or any flavor you like
olive oil

1/2 tsp dried rosemary

aluminum foil - heavy duty (or use a double sheet)
 Instructions:
Thinly slice potatoes, onions (cut in half first) and cheese - about 1/16 inch. 
Lightly oil 2 square (as long as the package is wide) sheets of aluminum foil. 
Place 2 slices of potato side by side, place an onion slice halfway on the potatoes in the middle and 1 slice of cheese on the onion slice.  Overlap 2 more potato slices, onion and cheese - repeating until you have used 1 potato and half the onion and cheese - or until you think you have enough.  You should end up with 2 rows of vegetables - 2 potato slices wide and about 5 inches long.
Sprinkle rosemary over the top. 
Fold foil over, the 2 long sides first then the short (don't worry about a tight wrap - we want steam to escape). 
Repeat with the other potato. 
Cook packets on barbecue grill for 25 - 30 minutes.  Do NOT turn over. 
When done, potatoes and onions should be cooked through and the cheese will have melted and formed a golden crust under the potatoes.
To serve carefully slip spatula under cheese - trying not to tear the foil and to maintain the shape of the potato/onion packet.  Lay on plates and enjoy!
Note: Can be baked at 400F for 30 minutes - just put packets on rack in middle of oven... you won't get the nice, crispy cheese, though..
Cooking Schedule: 45 minutes
Assemble all food, utensils and serving dishes
Utensils: measuring cups, spoons, knives,
medium saucepan, blender, foil, wood chips,
barbecue grill, grill pan or mat, BBQ tools
Light/turn on barbecue grill if using
Soak wood chips
Chop onions for soup, sauté
Trim, cut asparagus, reserve a few tips
    Reserve 10 small spears for tomorrow
Cut potatoes
Add potatoes, asparagus, stock, cover, simmer
Prepare fish

Slice onions, cheese, potatoes for packets
Prepare potato / onion packets
Drain wood chips, wrap in foil if needed
Put fish in basket or on mat
Put fish, potatoes on grill
Add wood chips, partially cover
Drop asparagus tips in simmering soup for 2 minutes
Retrieve tips, set aside
Purée soup, adjust consistency
Check the grill to make sure all is cooking
Serve the soup, relax and wait for the rest to finish
Check the potatoes and fish
When done, remove and serve