Asparagus Pastries with Tarragon Cream
Grilled Lamb Chops Dijon
Quinoa with Fried Onions and Celery
Italian Green Beans with Onion
Cooking time: 35 minutes for menu      Cooking schedule: see below for instructions
     Lamb chops are wonderful on the grill, flavored with a bit of fresh rosemary.  If they are hard to find, substitute pork chops.  We'll use the other half of the puff pastry next week.
Asparagus Pastries with Tarragon Cream
Total time: 25 minutes  
      Whole asparagus spears nestled on a bed of Tarragon Cream; a savory version of the sweet pastries in the windows of fancy Paris shops.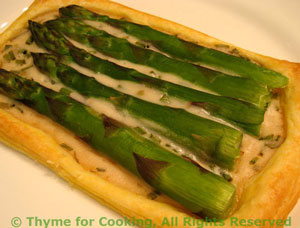 Ingredients:
10 asparagus spears, green or white
1/4 cup (2oz, 60ml) white wine
1/4 cup (2oz, 60ml) chicken stock
1/4 cup (2oz, 60gr) Greek or plain yogurt
1 tsp fresh or dried tarragon
1 - 2 tsp cornstarch (maizena, corn flour)
1/2 large sheet puff pastry
 Instructions:
Grilled Lamb Chops Dijon
Total time: 20 minutes
     Mustard, garlic and rosemary are the perfect flavors for lamb....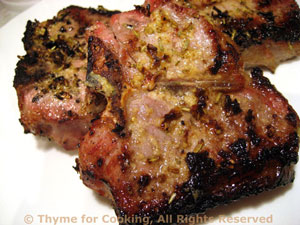 Ingredients:
4 - 6 center-cut lamb chops - depending on size
1 tbs oil
1 tsp garlic powder
2 tsp fresh or dried rosemary
2 tbs Dijon mustard
 Instructions:
Mix oil, garlic powder, rosemary, mustard and brush on both sides of chops.  Set aside for 15 minutes. 
Cook on barbecue grill for 2 - 5 minutes per side depending on thickness and desired degree of doneness (I don't know if that is a word - but you get the idea).  We do ours on a hot grill 2 minutes per side for medium rare.  When you think they might be close take one off, cut into center and peak.  You can always put them back on to cook more - you cannot undo... 
When done to your liking remove from heat and serve. 

Or

you can sauté in non-stick skillet for about the same amount of time - or until done.
Quinoa with Fried Onions and Celery
Total time: 25 minutes 
   This near-perfect food of the Incas has slowly been gaining recognition in the culinary world. It cooks quickly and has a nutty flavor that goes with everything. It is normally ready to cook, but if not it will need to be rinsed first.  If you can't find it, substitute Basmati or Jasmine Rice.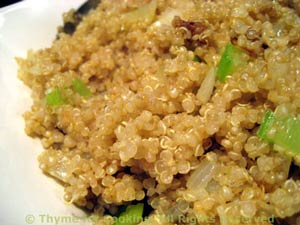 Ingredients:
1/2 cup (3.5oz, 100gr) quinoa
1 cup (8oz, 240ml) chicken stock
1/2 onion, 

about 1/2 cup

1 small rib celery, 

about 1/2 cup

2 tsp olive oil
 Instructions:
Chop onion and celery. 
Put quinoa and stock in a small saucepan, cover and bring to a boil.
  Reduce heat and simmer until done, about 15 minutes  (or whatever your package says).
Put quinoa in serving bowl and cover to keep warm.
Heat oil in saucepan, add onion, celery, and sauté 7 - 9 minutes, until starting to brown.
Stir in quinoa, heat through and serve.
Italian Green Beans with Onion
Total time: 25 minutes 
    We get these wonderful, long, flat Italian beans this time of year.  If you don't have them substitute regular green beans or frozen Italian Beans (Bird's Eye)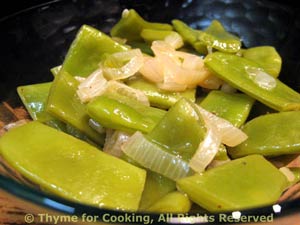 Ingredients:
6oz (180gr) Italian flat beans (or regular green beans)
1/3 cup chicken stock
1/2 onion
1 tbs olive oil
 Instructions:
Chop onion. 
Sauté onion in oil in small skillet or saucepan. 
Top and tail beans (cut off the ends...).  Cut beans into 1 1/2" (3.75cm) lengths. 
When onion is tender add the beans and chicken stock. 
Cover and cook over medium heat just until beans are done, 10 - 15 minutes. 
Drain and serve.
Cooking Schedule: 35 minutes for menu
Assemble all food, utensils and serving dishes
Utensils: measuring cups, spoons, knives,
scissors, medium skillet, baking sheet, small
saucepan (used 2 X), lid, small bowl, small skillet
with lid, barbecue grill and tools
Turn on/light barbecue grill, if using
  (Charcoal now, gas in 15 minutes)
Thaw puff pastry if needed
Turn oven on 400F (200C)
Heat water in medium skillet for asparagus
Snip herbs if using fresh
Make marinade for chops, brush on, set aside
Trim asparagus, blanch
Cut pastry, place on baking sheet, score
Drain asparagus, refresh in cold water, dry
Make Tarragon Cream for asparagus

Assemble pastries, bake
Start to cook quinoa
Chop all onion, divide
Chop celery
Sauté onion for beans
Trim beans, add to onion, cover, cook
Remove pastries  
Mind the quinoa
Serve pastries
Done? Put quinoa in serving bowl
Sauté onion, celery
Start to cook chops
Finish beans
Turn chops
Finish quinoa
Remove chops
Serve