Menu Plan for the week of July 5, 2013: Saturday's Recipes
Tomato with Fresh Mozzarella and Basil,
aka: Caprese salad


Savory Beef Kebabs
Basmati Rice

Cooking time: 45 minutes for menu Cooking schedule: see below for instructions

I do all the prep work early in the day: assemble the skewers and allow to marinate, skewered. All the messy work is done and dinner is a snap. The Dipping Sauce is better when made ahead as well. We do all the cooking before we have the starter..... It's summer, the Kebabs and rice will stay warm enough. Or you can nibble on the Caprese whilst cooking the Kebabs.
Tomato with Fresh Mozzarella and Basil,
aka: Caprese salad
Total time: 5 minutes
This is one of the simple, classic, Italian Summer Salads, and seen on menus all around the Mediterranean. It's best served with as fresh a mozzarella you can find... Which can be difficult if you don't live in Italy. We try!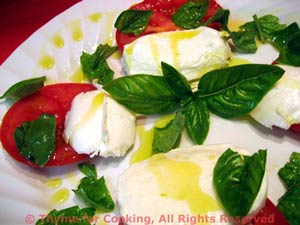 Ingredients:
1 ball mozzarella de Bufala, 4oz (125gr) net weight
2 - 3 garden ripe tomatoes
1 large handful fresh basil
Balsamic vinegar
salad olive oil
Instructions:
Select 2 lovely, large dinner plates.
Slice the mozzarella into 6 or 8 slices - this depends on the shape of the mozzarella and the sharpness of your knife.
Slice tomatoes - you want 4 nice slices per person about 1/4 inch thick, so you will use 2 or 3 tomatoes depending....
Tear large basil leaves in half, leave small ones whole.
Arrange tomato and mozzarella artfully on plates, toss basil leaves on top.
Serve, with oil and vinegar on the side to be added by each person to taste.
Note: if you have nice cruets for the oil and vinegar use them. If not small bowls with small spoons work fine - or, just put the bottles on the table...
Savory Beef Kebabs
Total time: 45 minutes
These are best if prepared earlier in the day and allowed to soak up the flavors - plus it makes dinner a breeze! By doing the meat and some of the vegetables separately you can cook the skewers for different times: allowing the onion to get done to your liking without overcooking the beef.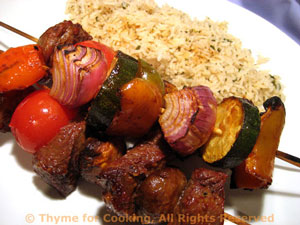 Ingredients:
12oz (360gr) beef loin or sirloin, cut into 1 1/2" (3.75cm) cubes
1/2 yellow, orange or red bell pepper
1/2 green bell pepper
1 red or sweet onion
1 small - medium zucchini (courgette) 8" (20cm)
6 - 8 mushrooms, large enough to be skewered
6 - 8 large cherry tomatoes

4 - 8 skewers, depending on length

if wood, soak in water while preparing the rest

Marinade:

3 tbs olive oil
3 tbs ketchup
2 tbs Worcestershire sauce
1 tbs soy sauce
1 tbs chili powder
1 tbs paprika
1/2 tsp ground ginger
1 tsp garlic powder
Hot pepper sauce or red pepper flakes - optional too hot for me ;)
Instructions:
Put wooden skewers in water to soak.
In small bowl whisk together all ingredients for marinade.
Pour over meat and let marinate for 20 - 30 minutes, or longer.
Clean mushrooms, removing stems. Add to marinade.
Cut each half pepper into 1 1/2 " (3.75cm) squares.
Peel and cut onion into 8 wedges.
Cut zucchini into slices about 1/2 inch (1.25cm) thick.
At this point you can set it all aside while the meat marinates, or assemble the skewers and allow to marinate on the skewers.

To assemble:

Remove meat and mushrooms from marinade.
Put onions, zucchini and peppers in the marinade and stir to coat.
Thread meat, tomatoes and mushrooms onto half of the skewers, alternating.
Remove vegetables from marinade and thread onions, peppers and zucchini on the remaining skewers, alternating.

To cook:

Start to cook the vegetable-only skewers first, over indirect heat with the cover closed.
After about 7 minutes, lift cover and turn vegetables, moving over direct heat.
Add beef skewers over direct heat.
Cook for 6 - 10 minutes, or until beef is done to your liking, turning halfway through cooking time.
Vegetables should be crisp-tender.
Remove and serve with Basmati Rice or Couscous.

Could also be cooked under the broiler (grill) for 12 - 15 minutes, or until done.
Yogurt Dipping Sauce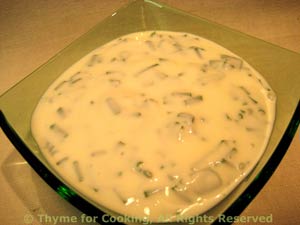 Ingredients:
1/3 cup (3oz, 90gr) Greek or plain yogurt
1 tbs olive oil
1 tsp lemon juice
2 tsp snipped fresh mint leaves (spearmint)

if you don't have any, you could use 1 tsp dried mint or leave it out

2 tsp fresh snipped chives
1 tsp fresh snipped tarragon
Instructions:
Combine all ingredients in a small bowl.
Mix well and refrigerate until ready to use. Serve with kebabs.
Basmati Rice
Total time: 20 minutes
Simple, fragrant, fluffy, quick-cooking ....for me, the perfect white rice for a side dish.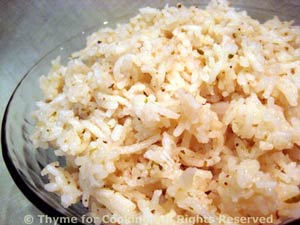 Ingredients:
1/2 cup (3.3oz, 95gr) Basmati rice
1 tsp butter
1 cup (8oz, 240ml) beef stock
1/2 tsp dried thyme
Instructions:
Melt butter in small saucepan over medium heat.
Add rice and sauté, stirring for 2 - 3 minutes.
Add stock or water and thyme.
Cook rice for length of time on package.
When done fluff with fork and serve.
Note: Vary the herbs based on the main course. If fresh are available use 1 tbs, snipped or minced and add during the last 5 minutes of cooking time.
Cooking Schedule: 45 minutes for menu
Assemble all food, utensils and serving dishes
Utensils: measuring cups, spoons, knives,
scissors, medium bowl, small saucepan with lid, small
bowl, skewers, plate for holding stuff while working,
dish for marinating, barbecue grill
Prep work:
Soak skewers in warm water
Mix ingredients for marinade in medium bowl
Cut beef, add to marinade, stir to coat
Clean mushrooms, add to marinade, stir gently
Cut onion
Slice zucchini (courgette)
Cut peppers
Snip herbs
Make yogurt sauce, refrigerate
When ready:
If cooking immediately, light/turn on barbecue grill

Remove meat, mushrooms from marinade
Put onion, pepper, zucchini in marinade, to coat
Thread meat, mushrooms, tomatoes on skewers
Thread onion, pepper, zucchini on skewers
Either finish...
Or refrigerate in dish, pouring marinade back over all
To finish:
Melt butter for basmati
Sauté basmati
Add stock, herbs to basmati, cover, simmer
Put vegetable kebabs on grill, indirect heat
Slice tomatoes, mozzarella
Turn vegetable kebabs, move over direct heat
Put meat kebabs on grill, direct heat
Get Yogurt sauce from fridge
Fluff rice
Remove kebabs when done to your liking
Serve all... Happy Summer