Menu Plan for the week of July 5, 2013: Thursday's Recipes
Chicken Breasts with Orange/Mustard Glaze
Tomato Scented Basmati Rice with Zucchini (Courgette)
Cooking time: 30 minutes for menu Cooking schedule: see below for instructions
An easy meal to end the week.
Chicken Breasts with Orange/Mustard Glaze
Total time: 30 minutes
There is no oil in this marinade but the sugar in the marmalade can burn a bit so these have to be watched. Done right, there is a lovely caramel taste...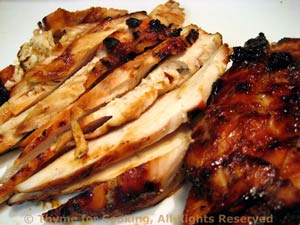 Ingredients:
2 boneless, skinless chicken breasts
1 tsp dry mustard
1/2 cup Teriyaki sauce
2 tbs orange marmalade
Instructions:
Mix Teriyaki sauce and mustard well with a whisk, add marmalade.
Pour over chicken breasts and let marinate for 10 - 20 minutes or longer.
Either cook 10 - 15 minutes on barbecue grill or under broiler (4 inches ) for 6 - 8 minutes a side. They should be nicely browned and juices should run clear when pierced with a knife. They could also be baked for 30 minutes @350 F.
Tomato Scented Basmati Rice with Zucchini (Courgette)
Total time: 30 minutes
I don't normally put zucchini in my Spanish Rice, but cooking it separately and adding it later seemed to bring out the best flavors of both the rice and the vegetables. Check the rice towards the end of the cooking time; you may need to add 1 - 2 tbs of water, depending on the tomato. Finish with hot sauce if you like.
Ingredients:
1/2 cup (3.3oz, 95gr) Basmati rice
1 large tomato, grated
1/3 - 2/3 cup chicken stock

enough to make 1 1/8 cups (9oz, 270ml) liquid when added to the tomato

1/2 red onion
1 small - medium zucchini (courgette) 6 - 7 inches (15 - 17cm)
2 cloves garlic
2 tsp chili powder
1 tbs olive oil
Instructions:
The Rice:
Cut the tomato in half. Cup half of a tomato in your hand and rub it on the big holes of a box (or other style) grater until all that is left in your hand is the skin. You'll have to press a bit, but not too hard, be careful not to grate your hand.
Put grated tomato, rice and stock in small saucepan, cover and bring to a boil.
Reduce heat and simmer until rice is tender, 15 - 20 minutes or however long your rice package directs.

This recipe assumes a 2:1 ratio of liquid to rice and was adjusted to use the tomato.

The Zucchini:
Chop onion.
Mince garlic.
Cut zucchini in half lengthwise then each half in half again. Slice into 1/4 inch thick (.6cm) quarter-circles.
Heat oil in nonstick skillet over medium heat. Add chili powder, onion and sauté until just starting to get tender, 5 - 7 minutes.
Add zucchini and garlic; sauté until zucchini is tender, 10 - 15 minutes longer.
Stir rice into skillet with zucchini and serve.
Cooking schedule: 30 minutes
Assemble all food, utensils and serving dishes
Utensils: measuring cups, spoons, knives,
scissors, small bowl, whisk, 2 small saucepans, grater,
one lid, barbecue grill or skillet, dish for marinating
Light/turn on barbecue grill
Make marinade, spoon over chicken, set aside
Grate tomato
Measure tomato, stock for rice
Put rice, tomato, stock in saucepan, cover, cook
Chop onion

Mince garlic
Sauté chili powder, onion, garlic
Slice zucchini
Start to cook chicken
Add zucchini to skillet, sauté
Turn chicken
Mind the rice
Stir the zucchini
Add rice to skillet, stir
Remove chicken, slice if you like
Serve all