Menu Plan for the week of July 5, 2013: Friday's Recipes
Warm Stuffed Zucchini (Courgette) Cups
Grilled Salmon with Dill Sauce and Salad
Potato Salad with Mushrooms and Chevre
Cooking time: 40 minutes for menu Cooking schedule: see below for instructions
Our vegetable is the first course with just a small salad to go with the salmon and potatoes - lighter meals for the heat of summer.
Warm Stuffed Zucchini (Courgette) Cups
Total time: 40 minutes
Little cups are formed by scooping the seeds out of thick slices, but leaving a base to hold the stuffing. A bit of cheese is added for the last few minutes, to just melt and bubble around the edges. Healthy and pretty! These would be great for a party, as all the work could be done ahead, and then baked at the last minute.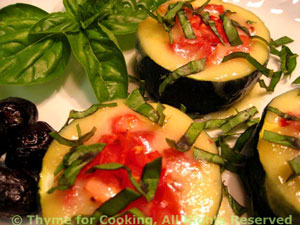 Ingredients:
1 zucchini (courgette), about 2-1/2 inches (7cm) in diameter and at least 7 inches (18cm) long
1 medium tomato
3 - 4 green onions
1.5 oz (45gr) cheese
2 tbs fresh snipped basil leaves
olive oil
Greek or other black olives, optional
Instructions:
Cut the zucchini into six 1 inch (2.5cm) rounds.
Using a teaspoon scoop out the center of each round leaving 1/4 inch (.6cm) on sides and bottom. Discard 'trimmings' - there won't be much and zucchini is plentiful.
Dip the bottom of each zucchini cup into oil and put on a baking sheet.
Clean and finely slice the green onions. You will want about 2 (heaped) tsp of slices. Divide and put into each zucchini cup.
Finely chop the tomato and put on top of the onions, mounding it up a bit to get it all in.
Bake in 400F (200C) oven for 30 minutes.
While they bake slice the cheese into small thin rectangles,

just to makes it easier to work with.

Remove zucchini and arrange cheese around the edge of the zucchini trying not to let it hang over the sides and leaving some tomato uncovered (prettier).
Return to oven until cheese melts.
Remove, arrange three on each plate, sprinkle with basil, garnish with olives and serve.
Grilled Salmon with Dill Sauce and Salad
Total time: 20 minutes
Dill is often passed by as an herb (other than for dips) but it pairs well with fish and adds flavor to salad dressings. There is a lot of salt on the fish, but it's brushed off before eating.
Ingredients:
2 salmon fillets, 6oz each (180gr each)
lettuce for 2 small salads
2 tbs snipped fresh dill leaves (weed), divided
1 tsp coarse salt
1/4 cup (2oz, 60gr) Greek or plain yogurt
2 tbs mayonnaise
5 tsp white Balsamic vinegar
2 tbs salad olive oil, divided
1/2 tsp Dijon-style mustard
1/2 tsp garlic powder
Instructions:
Salmon:

Sprinkle 1 tbs dill evenly over salmon.
Sprinkle salt on top of dill.
Cook on barbecue grill 5 - 7 minutes per side, depending on thickness.

OR

put on baking sheet and roast in 400 F oven for 15 - 20 minutes, depending on thickness. Salmon should flake easily with fork when done but it's okay to have it still a bit pink in the center.
Remove and with a fork or table knife gently scrape the salt and dill off of the salmon.

Dill Sauce:

Mix yogurt, mayonnaise, garlic, 3 tsp vinegar and remaining 1 tbs dill.
Add olive oil and whisk until combined.

Salad Dressing:

Put 1 tbs Dill Sauce in another small bowl.
Add 2 tsp white Balsamic vinegar, 1/2 tsp mustard and whisk well.
Slowly whisk in 1 tbs olive oil.

To finish:

Prepare lettuce and arrange on plates.
Lay salmon next to lettuce.
Spoon a bit of Dill Sauce next to the salmon and drizzle the dressing on the lettuce. Serve.
Potato Salad with Mushrooms and Chevre
Total time: 30 minutes
Warm, crisp, sautéed potatoes, mushrooms and garlic enveloped in creamy, melted soft goat cheese, finished with lots of fresh basil and chives - this is not your ordinary potato salad. Full of complex flavors, it is best served with simple, grilled meat of fish.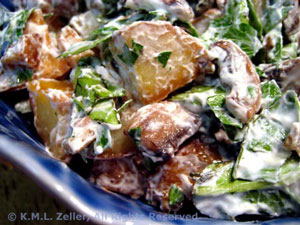 Ingredients:
2 medium potatoes, about 10oz (300gr) total
3oz (90gr) mushrooms
2 cloves garlic
1/3 container soft goat cheese (chevre) (2oz, 60gr)

my 'brand' is Chevraux, I think in the U.S. it's Chavrie; it comes in a square-ish cardboard or plastic container, 5.5oz (150gr).

handful fresh basil leaves - about 3 tbs
2 tbs fresh chives, snipped
2 tbs olive oil
Instructions:
Slice potatoes into quarters the long way and then 1/2" (1.25cm) thick slices.
Trim and slice mushrooms.
Mince garlic.
Heat 1 tbs oil in large nonstick skillet over medium heat. Add mushrooms, garlic and sauté until they start to brown, about 5 minutes.
Remove to a bowl and set aside. Do not cover.
Add remaining tbs oil and potatoes to skillet. Toss a bit to coat potatoes with oil, then cover and let cook about 10 minutes.
Uncover, stir and let sauté, turning occasionally. You want them nice and brown. If they start getting too brown before you are ready to finish just turn the heat to low and keep warm in the skillet.
When ready to finish add potatoes to mushrooms and garlic.
Add chevre and toss to coat - the cheese will melt a bit from the heat of the potatoes.
Snip basil and chives with scissors and add, stirring to combine. Serve.
Cooking Schedule: 40 minutes for menu
Assemble all ingredients and utensils
Utensils: measuring cups, spoons, knives,
scissors, 2 small bowls, medium bowl, large skillet,
baking sheet, plate, BBQ grill, basket, mat or pan
or baking sheet
Turn oven on, 400F (200C)
Slice zucchini, scoop out cups
Dip bottom of cups in oil, place on baking sheet
Trim, slice onions, add to cups
Finely chop tomato, add to cups
Bake zucchini
Mince garlic
Trim, slice mushrooms
Sauté garlic, mushrooms
Sprinkle dill, salt on salmon, set aside
Slice potatoes
Remove mushrooms, garlic to bowl
Add oil, potatoes to skillet, cover, cook
Snip / tear all herbs

Slice cheese
Make Dill Sauce
Make Salad Dressing
Uncover potatoes, stir
Prepare lettuce
Turn on / light barbecue grill
Remove zucchini from oven, add cheese and return
Turn potatoes down to low
Cook salmon
Remove zucchini and serve
Relax, enjoy...
Done?
Turn potatoes up to finish, if needed
Turn salmon
Add herbs, goat cheese to mushrooms/garlic
Arrange lettuce on plates. drizzle with Dressing
Add potatoes to mushroom/cheese, toss to melt cheese
Put potato salad in a pretty bowl
Remove salmon, add to plate, add Dill Sauce
Serve all and enjoy!