Orange Glazed Turkey Cutlets
Basmati Rice Pilaf
Green Beans with Mushrooms
Cooking time: 30 minutes for menu          Cooking schedule: see below for instructions
     Substitute Chicken Breasts or a turkey tenderloin if you can't get cutlets.  Either will have to be cooked longer. A turkey tenderloin could be sliced into cutlets.....
Teriyaki Orange Turkey Cutlets
Total time: 25 minutes
    This is a slightly hot, slightly sweet marinade that goes well with the mild taste of turkey.
 Ingredients:
 Instructions:
Whisk together all ingredients (except turkey). 
Spoon over turkey and let marinate for 10 - 15 minutes. 
Remove turkey from marinade and cook on barbecue grill for 4 - 6 minutes per side or until done, basting with marinade before turning. 

OR

sauté in nonstick skillet for 4 - 6 minutes a side or until done. 
Remove and serve. 
Rice Pilaf, Oriental
Total time: 25 minutes   or whatever your package says
    It's a simple thing: first sauté the shallot and garlic, then sauté the rice; but it mellows the garlic and shallot and imbues the rice with their scents, more than just cooking together would ever do.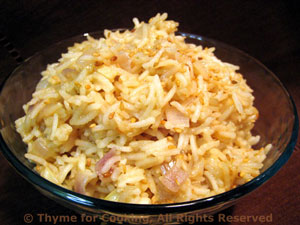 Ingredients:
1/2 cup (3.3oz, 95gr) Basmati rice
2 shallots
2 cloves garlic
1 tbs butter
1 cup (8oz, 240ml) chicken stock
1 tbs sesame seeds
2 tsp Teriyaki or soy sauce
 Instructions:
Finely chop shallots and mince garlic (see techniques). 
Melt butter in small saucepan over medium heat.
Add shallots, garlic and sauté about 5 minutes, or until softened.  
Add rice and sauté, stirring for 1 minute longer. 
Add stock, cover and cook rice for length of time on package. 
When done stir in sesame seeds and soy sauce, fluff with a fork and serve.
Note: You can toast regular sesame seeds in a small, dry, skillet over medium heat for 5 - 7 minutes, until light brown.
Green Beans with Mushrooms
Total time: 25 minutes
    Sautéed mushrooms and onions top these green beans, that are lightly flavored with soy sauce.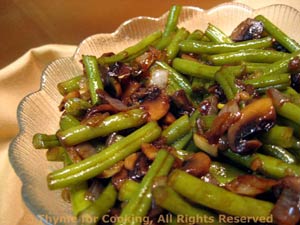 Ingredients:
6oz 180gr) green beans
2oz (60gr) mushrooms
1/2 onion
1 clove garlic
1 tsp butter
1 tsp olive oil
1 tsp soy sauce
 Instructions:
Top and tail beans... cut off the ends.  Cut into 1 1/2 inch lengths (4cm) or leave whole. 
Put beans, 1/4 cup of water into a small saucepan, cover and simmer until done, 10 - 15 minutes.  If beans dry out add a little more water. 
While beans cook:
Chop onion. 
Clean and chop mushrooms. 
Mince garlic. 
Heat butter and oil in small skillet.  Add onion and sauté until tender, about 5 minutes. 
Add garlic and mushrooms and sauté until everything is light brown, about 10 minutes longer.
When beans are done, drain and add to the skillet along with the soy sauce.  Stir well to combine and serve.
Cooking schedule: 30 minutes
Assemble all food, utensils and serving dishes
Utensils: measuring cups, spoons, knives,
small bowl, whisk, dish for marinating, 2 small
saucepans, small skillet (used 2 X), lid, barbecue
grill
Make marinade for turkey, spoon on, set aside
Chop all onion
Mince all garlic
Top and tail beans, cut
Sauté onion, garlic for rice
Light / turn on barbecue grill

Toast sesame seeds
Cook beans
Add rice to onion, sauté
Add stock to rice, cover and cook
Sauté onions for beans
Add mushrooms, garlic to onions
Check beans
Cook turkey
      Pause while everything cooks
Finish rice
Drain beans, add to mushrooms with soy sauce
Remove turkey, serve all