Warm, Stuffed Courgette (Zucchini) Cups
Grilled Tuna with Mustard Sauce
Potato Salad with Mushrooms and Chevre
Cooking time: 40 minutes           Cooking schedule: see below for instructions
      In the interest of light, summer eating, we're having our vegetable as starter. The fish is simple, the potato salad complex...  Get the best grade of tuna you can. I buy 'white' which I prefer to 'red' - those are my choices.  Substitute halibut, or other firm fish. 
Warm Stuffed Zucchini (Courgette) Cups
Total time: 40 minutes;
   Little cups are formed by scooping the seeds out of thick slices, but leaving a base to hold the stuffing.  A bit of cheese is added for the last few minutes, to just melt and bubble around the edges.  Healthy and pretty!  These would be great for a party, as all the work could be done ahead, and then baked at the last minute.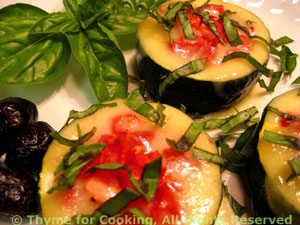 Ingredients:
1 zucchini (courgette),  about 2-1/2 inches (7cm) in diameter and at least 7 inches (18cm) long
1 medium tomato
3 - 4 green onions
1.5 oz (45gr) cheese
2 tbs fresh snipped basil leaves
olive oil
Greek or other black olives, optional
 Instructions:
Grilled Tuna with Mustard Sauce
Total time: 15 minutes
     If you get sushi-grade tuna you will definitely want to have this rare (it has to be graded to a higher standard so it's okay to eat raw).  Regular tuna we normally have medium.  If it gets to close to well done it tends to be dry.  The Mustard Sauce adds a rich finish to the dish.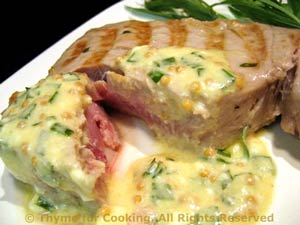 Ingredients:
 Instructions:
Snip tarragon. 

Mix tarragon, oil, lemon juice and white wine.  Spoon on to tuna and let marinate for 10 - 15 minutes. 
Remove tuna from marinade and cook on barbecue grill for 3 - 5 minutes per side (depending on thickness) for regular tuna, 1 - 3 minutes for ahi.   Or until done to your liking.
Can also be cooked under broiler or sautéed in nonstick pan for roughly the same amount of time.  Place tuna on a platter, spoon a bit of Mustard Sauce over and serve, remaining sauce on the side.
Mustard Sauce:
In small saucepan (or in micro) heat white wine, yogurt and mustards, stirring, just until hot and well combined. 
Stir in tarragon and allow to cool. 
Spoon over fish to serve.
Potato Salad with Mushrooms and Chevre
Total time: 30 minutes
    Warm, crisp, sautéed potatoes, mushrooms and garlic enveloped in creamy, melted soft goat cheese, finished with lots of fresh basil and chives - this is not your ordinary potato salad.  Full of complex flavors, it is best served with simple, grilled meat of fish.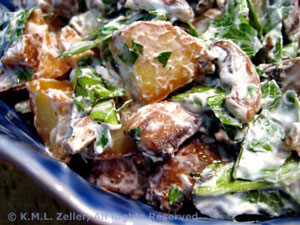 Ingredients:
2 medium potatoes, about 10oz (300gr) total
3oz (90gr) mushrooms
2 cloves garlic
2oz (60gr) soft goat cheese (chevre)
handful fresh basil leaves - about 3 tbs
2 tbs fresh chives, snipped
2 tbs olive oil
 Instructions:
Slice potatoes into quarters the long way and then 1/2" (1.25cm) thick slices. 
Trim and slice mushrooms. 
Mince garlic. 
Heat 1 tbs oil in large nonstick skillet over medium heat.  Add mushrooms, garlic and sauté until they start to brown, about 5 minutes. 
Remove to a bowl and set aside.  Do not cover.
Add remaining tbs oil and potatoes to skillet.  Toss a bit to coat potatoes with oil, then cover and let cook about 10 minutes. 
Uncover, stir and let sauté, turning occasionally.  You want them nice and brown.  If they start getting too brown before you are ready to finish just turn the heat to low and keep warm in the skillet. 
When ready to finish add potatoes to mushrooms and garlic. 
Add chevre and toss to coat - the cheese will melt a bit from the heat of the potatoes.
Snip basil and chives with scissors and add, stirring to combine.  Serve.
Cooking schedule: 40 minutes
Assemble all food, utensils and serving dishes
Utensils: measuring cups, spoons, knives,
scissors, small bowl, medium bowl, large skillet,
baking sheet, small saucepan, dish for marinating,
BBQ grill, basket, mat or pan or large skillet
Turn oven on, 400F (200C)
Slice zucchini, scoop out cups
Dip bottom of cups in oil, place on baking sheet
Trim, slice onion, add to cups
Finely chop tomato, add to cups
Start to bake zucchini
Mince garlic
Trim, slice mushrooms
Sauté garlic, mushrooms
Slice potatoes
Remove mushrooms, garlic to bowl
Add oil, potatoes to skillet, cover, cook
Snip / tear all herbs

Slice cheese
Make Mustard Sauce
Light grill if using charcoal
Uncover potatoes, stir
Remove zucchini from oven, add cheese, return
Make marinade, spoon over tuna
Turn on gas barbecue if using
Turn potatoes down to low
Remove zucchini and serve
Relax, enjoy...
Done?   
Start to cook tuna
Turn potatoes up to finish, if needed
Add herbs, goat cheese to mushrooms/garlic
Turn tuna
Add potatoes to mushroom/cheese, toss /melt
Put potato salad in a pretty bowl
Remove tuna
Serve all and enjoy!