Melon with Ham
Lemon Chicken Salad
Cooking time: 30 minutes          Cooking schedule: see below for instructions
       We don't normally have a starter on Sunday.... But, I had 3 slices of Prosciutto left (from a pack of 4 slices), and the melon season is so brief....  Just prepare it, arrange on a plate and nibble while you make the salad. Use the rest of the avocado from Saturday for the salad.  More melon for dessert.  
Melon with Ham
Total time: 10 minutes
       This is a very subjective starter for all its simplicity.  In Spain you would get 4 big wedges of a long, green melon somewhat similar to a honeydew but with a hint of watermelon.  When I would ask what kind of melon it was, I would get an incredibly blank stare and a "how can anyone be that stupid!" look, along with the answer "It's melon!".  The melon would be covered in Iberian, Serrano or Jabugo - types of Spanish dry-cured ham.  In France you will get a small, orange Provençal melon with Bayonne ham.  In Italy, a honeydew with Prosciutto.  Why am I telling you all of this you ask?   Because...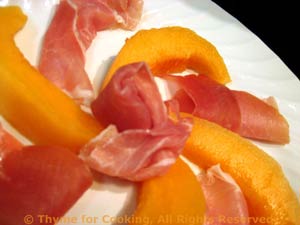 Ingredients:
1 melon, your choice

  

Get whatever's in season and ripe (not watermelon) - preferably from a farm stand so it's local

6 - 10 paper-thin slices dry-cured ham

,

your choice:  Prosciutto, Serrano..
 Instructions:
Cut the melon in half and scoop out (and discard) seeds. 
Cut into wedges.  How many wedges you serve depends, (you guessed it) on the size of the melon. 
Arrange wedges on large plates, add ham around/over wedges and serve. 
Lemon Chicken Salad 
Total time: 30 minutes
    Lemon marinated chicken and a lemony Honey Mustard Vinaigrette, give this salad a fresh, citrus flavor.  Use any greens that are in season, but I especially like multi-colored Romaine for this.
 Ingredients:
2 chicken breasts, boneless, skinless
1/4 cup lemon juice
2 tbs olive oil
lettuce - enough for 2 main course salads
4oz (120gr) green beans
1/2 avocado
1/2 cup (3oz, 90gr) cherry tomatoes or 1 regular tomato
1/2 red, yellow or green bell pepper, 3oz (90gr)
4oz (120gr) mushrooms 
1/4 cup walnuts
2 tbs freshly snipped chives
2 tbs freshly snipped basil - lemon basil would be wonderful if you have any
Honey Mustard Vinaigrette
1 1/2 tbs honey
1 1/2 tbs course grain mustard
1 1/2 tbs lemon juice
3 tbs salad olive oil
 Instructions:
In small bowl whisk together lemon and olive oil.  Pour over chicken and marinate for 15 minutes.
Prepare lettuce, tear and put into a large salad bowl. 
Top and tail beans and cut into 1 inch lengths. 
Fill a medium saucepan 2/3 full of water and bring to a boil over high heat.  Add beans and blanch for 3 minutes. 
While the beans cook fill a large bowl or pan 3/4 full of cold water.  When the beans are done, drain and dump into the cold water.  Swirl around until cool then drain and set aside.  
Cut cherry tomatoes in half or slice tomato, then cut slices in half. 
Slice avocado
Cut the pepper into matchsticks. 
Clean and thickly slice mushrooms. 
Take 2 tbs of the marinade from the chicken and heat in a medium nonstick skillet until sizzling. 
Add mushrooms and quickly stir-fry for 2 minutes. 
Remove and set aside.
Cook chicken breasts on barbecue grill for 10 - 15 minutes, turning once, or until done.  They are done when no longer pink and juices run clear.  Stick a skewer or knife in to test.  
Or you can sauté them in a nonstick skillet for about the same amount of time.  Remove chicken and slice. 
Honey Mustard Vinaigrette:
In small bowl whisk together the honey, mustard and lemon juice. 
Slowly whisk in oil.  It will be fairly thick - which means you have to toss well to avoid 'over-dressing'.
To assemble:
Toss lettuce with some of the vinaigrette. 
Arrange mushrooms in the center with chicken slices around the mushrooms, then the green beans, tomatoes, pepper and avocado around the chicken. 
Sprinkle walnuts, chives and basil over all. 
Drizzle with a bit of the vinaigrette and serve, with the remaining vinaigrette on the side.
Cooking Schedule: 30 minutes
Assemble all ingredients and utensils
Utensils: measuring cups, spoons, knives,
scissors, medium saucepan, strainer, large bowl,
medium skillet, small bowl, whisk, (used 2 X)
dish for marinating, barbecue grill, salad bowl
Turn on/light barbecue grill
Make marinade, pour over chicken
Heat water for beans
Clean, slice melon
Slice Prosciutto if you like
Arrange melon, Prosciutto on platter
Begin nibbling anytime....
Prepare cold water for beans
Trim, cut beans
Blanch beans

Slice pepper
Cut tomatoes
Trim, slice mushrooms
Drain beans, plunge into cold water, drain
Start to cook chicken, reserving marinade
Heat 2 tbs (app.) marinade for mushrooms
Stir-fry mushrooms, remove, set aside
Snip herbs
Prepare lettuce
Turn chicken
Make vinaigrette
Toss lettuce with some vinaigrette
Remove chicken, slice
Slice avocado
Assemble salad, serve
Leftover melon for dessert