Polenta Stacks with Avocado Cream
Lamb and Vegetable Kebabs with Minted Yogurt
Summer Couscous
Cooking time:  50 minutes for menu         Cooking schedule: see below for instructions
       Reserve a bit of the pepper and zucchini when making the kebabs to use in the couscous.  The avocado will be finished on Sunday.  If you have any goat cheese left, eat it as a snack or on toast - or stuff some celery with it.   If you prefer you can substitute pork or turkey for the lamb.
Polenta Stacks with Avocado Cream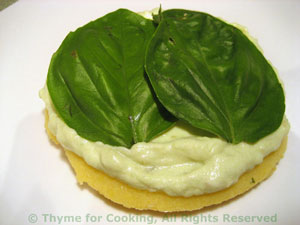 Total time: 15 minutes
    A thin layer of polenta, covered with a creamy avocado and goat cheese spread, paper thin tomatoes, and a bit of Prosciutto and olives: a simple 'stack' for summer.
 Ingredients:
2 tbs + 1 tsp polenta
1/2 cup (4oz, 120ml) chicken stock
4 tbs soft, ripe avocado 
2 tbs soft goat cheese
4 basil leaves
1 tomato
1 slice Prosciutto 
6 Greek olives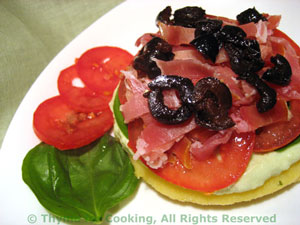 Instructions:
The Polenta:
Heat chicken stock to boiling in a small saucepan. 
Stir in polenta and cook, 5 minutes, stirring, until very thick. 
Lightly oil 2 dishes with flat bottoms, about 3" in diameter. 
Spoon the polenta in, flatten it and allow to cool completely.
The Avocado Cream:
Mash the avocado and goat cheese together with a fork until well combined and creamy.
The rest:
Slice tomato paper thin. 
Shred the Prosciutto.
Pit and slice the olives.
To assemble:
Remove the polenta circles and put on 2 plates. 
Divide the avocado cream and spread to the edges of each polenta circle. 
Lay the basil leaves on the avocado cream. 
Top with the tomato slices in an overlapping circle. 
Add the Prosciutto and olives. 
Garnish with anything leftover.....  Serve.
Note:  Leave the unused portion or half of avocado in the skin.  Sprinkle with lemon juice, wrap tightly in cling film and store in the fridge, cut side down, on a plate.  Use within 2 days.  In this case we'll use it Sunday.
Lamb and Vegetable Kebabs with Yogurt Dipping Sauce
Total time: 45 minutes
   It does look nice to have the meat and vegetable on the same skewers - and you can do that if you partially pre-cook the vegetables.  I prefer to do it all on the grill, and, as the different foods have different cooking times, arranging them on the skewers accordingly.  Serve on a bed of Summer Couscous, Minted Sauce on the side.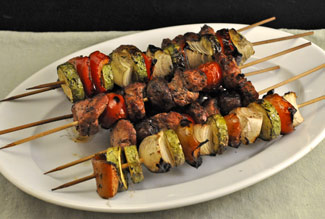 Ingredients:
lamb shoulder, 14oz  (420gr) (or pork or beef), cut into 1 1/2" (3.75cm) pieces
1 red bell pepper
1 red onion
1 medium zucchini (courgette)
8 - 12 mushrooms, large enough to be skewered
8 large cherry tomatoes
6 - 8 skewers
Marinade:
3 tbs olive oil
2 tbs red wine vinegar
1 tbs Worcestershire sauce
1 tbs sherry
1 1/2 tsp dried rosemary
1 1/2 tsp dried basil
1/2 tsp garlic powder
 Instructions:
Soak wooden skewers.
In large, deep bowl whisk together all ingredients for marinade. 
Cut meat and add to the marinade; let marinate for 20 - 30 minutes or up to 4 hours.
Clean pepper and cut into 1 1/2 " (3.75cm) squares. 
Peel and cut onion into 8 wedges.
Cut zucchini into thick slices, about an 3/4 inch (2cm). 
Clean mushrooms.
Add all vegetables to bowl with meat/marinade and stir to coat.
Cooking:
Thread meat, mushrooms and tomatoes on 2 - 3 skewers, alternating.
Thread peppers, onions and zucchini on 2 - 3 skewers, alternating.
Cook vegetable skewers on barbecue grill over direct heat for 10 - 15 minutes, turning once. 
When vegetables start to brown move to indirect heat and cook for another 5 - 10 minutes. 
When you move the vegetable skewers, start to cook meat skewers over direct heat.
Cook until meat is done to your liking.  We cooked ours for about 8 minutes, turning once.
Remove and serve on a bed of Summer Couscous. 
Could also be cooked under the broiler (grill) for 12 - 15 minutes, or until done
Yogurt Dipping Sauce
Time: 5 minutes  
 Ingredients:
 Instructions:
Combine all ingredients in a small bowl.  Mix well and refrigerate until ready to use.  Serve with kebabs.
Summer Couscous
Total time: 15 minutes
   Couscous is not a grain but a tiny semolina 'pasta'.  What is normally available is a pre-cooked product to which we just add boiling water or stock... making it very quick, perfect for summer, or anytime!
 Ingredients:
1/2 cup (3oz, 90gr) couscous
3/4 cup (6oz, 180ml) chicken broth
1/4 cup chopped red pepper
1/4 cup chopped zucchini (courgette)
2 tbs snipped chives
5 - 6 cherry tomatoes, halved
2 tsp salad olive oil
 Instructions:
Heat chicken broth to a boil.
Chop pepper and courgette, snip chives and halve tomatoes. 
Put couscous, pepper and courgette in a medium bowl. 
When broth is boiling pour over couscous, cover and let stand for 10 minutes... Do not stir it. 
Uncover, add chives, tomatoes and oil to couscous, fluff gently with a fork to combine and serve.
Cooking Schedule: 50 minutes
Assemble all food, utensils and serving dishes
Utensils: measuring cups, spoons, knives,
scissors, whisk, small saucepan (used 2 X), 2 flat-
bottomed bowls for polenta, deep, large bowl,
medium bowl, small bowl, skewers, barbecue grill
Heat stock for polenta
Make marinade in large bowl
Cut meat, add to marinade
Add polenta to stock, whisk
Lightly oil dishes
Spoon polenta into dishes, smooth, refrigerate
Soak skewers if wood
Trim mushrooms, add to marinade
Cut zucchini, add to marinade, reserve 1/4 cup
Cut pepper, add to marinade, reserve 1/4 cup
Cut onion, add to marinade
Snip all herbs
Make yogurt sauce
Light/turn on barbecue grill

Mix avocado, goat cheese
Chop Prosciutto
Slice tomato
Pit, slice olives
Chop reserved pepper, zucchini for couscous
Put pepper, zucchini, couscous in bowl
Heat stock for couscous
Cut cherry tomatoes for couscous
Make vegetable skewers
Pour stock / couscous, peppers, zucchini, cover
Make meat skewers
Remove polenta bases, lay on plates
Assemble Polenta Stacks
Start to cook vegetable skewers
Serve Polenta Stacks
   Interrupt your starter to check veg skewers
Move veg off direct heat
Start to cook meat skewers
Finish couscous, arrange on platter
Remove skewers and serve... yogurt sauce on side