Warm Leek Salad with Prosciutto
Pan-Seared Tuna with Capers
Basmati Rice Pilaf
Cauliflower Cheese
Cooking time:  35 minutes for menu          Cooking schedule: see below for instructions
       I found a lovely chunk of Cheddar at the market, and, remembering how much we enjoyed the Broccoli Cheese a few weeks ago, had to make Cauliflower Cheese. Our local fish market has been kind of blah lately, so I bought frozen tuna filets and was very pleased.  Considering that most fish is frozen on the boats immediately after being caught, I decided there should be no difference.  It was excellent.
Warm Leek Salad with Prosciutto
Total time: 20 minutes
     Leeks belong to the onion family but are much milder.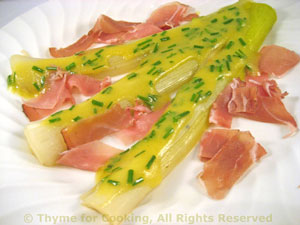 Ingredients:
 Instructions:
Heat chicken stock to a simmer in a large skillet.  It should be at least 1/2" (1.25cm) deep.  Add water if necessary.
Cut root end off leeks.  Cut tops leaving 2 - 3 inches (5 - 7.5cm) of pale green.  You should have 6 - 7 inches (15 - 17.5cm) of leek.  Cut leeks in half the long way and discard outer leaves.
Rinse under cool running water fanning the layers a bit to get out any remaining sand.
Lay leeks in a row in the simmering stock.  Cover and cook gently for 10 minutes.

Uncover and remove leeks with a tongs, draining and trying to keep them together.

 

You may not be able to, but do the best you can.

Divide the leeks and arrange on two plates.
Drizzle the vinaigrette over the top and garnish with Prosciutto.

To make Vinaigrette:

 Combine mustard and vinegar in a small bowl.

Slowly whisk in olive oil.
Stir in chives.
Pan-Seared Tuna with Capers
Total time: 15 minutes
     This is best with good sushi-grade tuna that is quickly seared on both sides and cool or just barely warm in the center.  If you get regular tuna you will need to cook it until it is closer to medium - well. Ask your fish monger (I love that word)... or the guy behind the counter.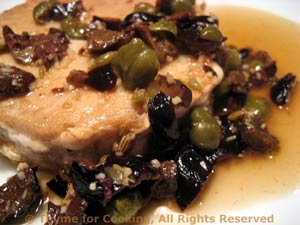 Ingredients:
2 tuna steaks, 6oz each (180gr)
1 tsp fennel seeds
1 clove garlic
1 tbs olive oil
2 tbs capers
3 tbs chopped olives - kalamata or Greek black (or green if that is what you have)
1 tbs lemon juice
1/2 cup (4oz, 120ml) cup white wine
 Instructions
Mince garlic.
Chop olives.
Heat oil in large nonstick skillet over medium-high heat.
Add garlic, fennel seeds and sauté 1 minute.  Remove and reserve.
Add tuna and sauté 3 - 5 minutes per side (depending on thickness - 3 minutes if 1 inch (2.5 cm), 5 minutes if 2 inch (5 cm)) for medium-rare, longer if you want them more done.
Remove and cover with a lid or foil to keep warm.
Return fennel and garlic to pan and add rest of ingredients.
Bring to a boil and boil 2 minutes.
Pour over tuna and serve.
Basmati Rice Pilaf
Total time: 20 minutes  or whatever your package says   
    I'm not sure of the proper definition of a 'Pilaf' but adding a bit of carrot, onion and celery can turn simple rice into a colorful, elegant side dish.
 Ingredients:
1/2 cup (3.3oz, 95gr) Basmati rice
1 carrot
1/2 onion
1 rib celery  

optional

2 tsp butter
1 cup (8oz, 240ml) chicken stock
1/2 tsp dried thyme
 Instructions:
Finely chop onion, celery and carrot.
Melt butter in a small saucepan over medium heat.  
Add onion, carrot and celery and sauté about 3 minutes, or until softened.  
Add rice and sauté, stirring for 2 - 3 minutes longer. 
Add stock, cover and cook rice for length of time on package. 
When done fluff with a fork and serve.
Cauliflower Cheese
Total time: 30 minutes
    As this is such a popular dish in England, I decided to use a proper Cheddar for it,  Your favorite cheese will work, but maybe not for the bright gold color.  The flour in the béchamel helps the cheese to melt into a velvety sauce without getting stringy.
 Ingredients:
 Instructions:
Cut cauliflower into pieces, put into a steamer basket in a saucepan with an inch of water.
Put on medium heat and steam for 10 minutes or just until barely tender.
Remove from pan and keep warm.
In same pan, if not too large, or a small saucepan, melt butter.
Add flour and cook, stirring with a whisk or fork (making a roux).
Slowly add milk, stirring constantly until you have a thick sauce (Béchamel).
Stir in cheese and heat until bubbly.
Pour over cauliflower and serve.
Note:  Can be kept warm in a low oven (250F, 125C) for 10 - 15 minutes.
Cooking Schedule: 35 minutes
Assemble all food, utensils and serving dishes
Utensils: measuring cups, spoons, knives,
2 small bowls, whisk, medium skillet with lid,
medium skillet, small saucepan with lid, saucepan
with steamer basket and lid
Chop onion
Mince garlic
Chop carrot, celery
Chop olives, capers (if they're large)
Clean, cut leeks
Heat stock in skillet for leeks
Cut cauliflower
Poach leeks
Sauté onion, celery, carrot for rice
Make vinaigrette
Add rice to vegetables, sauté
Add stock to rice, cover, simmer
Steam cauliflower
Sauté garlic, fennel for tuna

Put fennel, garlic in bowl with capers, etc.
Remove leeks, arrange on plates
Drizzle vinaigrette over leeks, garnish with Prosciutto
Turn cauliflower off but leave covered
Turn rice very low or off if done
Serve Leek Salad
Done?
Check rice, remove from heat when done
Reheat skillet for tuna
Remove cauliflower, cover to keep warm
Melt butter for cheese sauce
Sauté tuna
Add flour to butter to make roux, stir
Turn tuna
Add milk to roux, stir until thick
Remove tuna, cover to keep warm
Add fennel, garlic, etc. to skillet, simmer
Stir cheese into béchamel, pour over cauliflower
Fluff rice
Spoon caper sauce over tuna, Serve