Chicken Creole
Brown Rice
Cooking time:  35 minutes for menu          Cooking schedule: see below for instructions
       One always thinks of shrimp or seafood with Creole, but why not the versatile chicken breast?  There are lots of vegetables in the dish so I didn't do a separate side dish. Use Basmati or brown Basmati if you prefer. 
Chicken Creole  
Total time: 35 minutes
      Boneless chicken breasts, cooked with onions, peppers, mushrooms and tomatoes make a quick, healthy, dinner, perfect for midweek. Add Tabasco if you like more heat.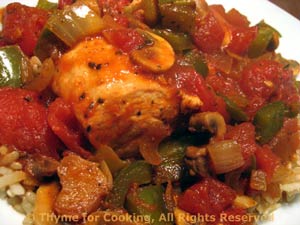 Ingredients:
 Instructions:
Cut chicken breasts in half, the short way.
Cut pepper in half, discarding seeds and top; roughly chop. 
Chop onion.
Mince the garlic.
Clean and slice the mushrooms.
Heat oil in large non-stick skillet over medium heat.
Add the pepper, onion and sauté for 5 minutes.
Add chili powder, garlic, mushrooms and sauté another 5 minutes. 
Push vegetables to the sides of pan and add chicken. Sauté until chicken starts to brown.
Drain tomatoes reserving juice.
Roughly chop tomatoes and add to chicken, along with juices, Worcestershire and herbs.
Cover, reduce heat and let simmer 10 - 15 minutes, until chicken is done. 
Remove bay leaf.

Brown Rice:

Cook rice according to package instructions. Fluff and serve.

To finish:

Put rice on a small platter, spoon Creole over and serve.
Cooking schedule: 35 minutes
Assemble all ingredients and utensils
Utensils: measuring cups, spoons, knives,
small saucepan with lid, large skillet with lid
Chop onion
Clean, chop pepper
Sauté onion, pepper
Mince garlic
Trim, cut mushrooms
Add chili powder, mushrooms, garlic to skillet, sauté

Cook rice
Cut chicken breasts in half
Sauté chicken breasts
Chop tomatoes, reserving juices
Add tomatoes, juices, Worcestershire and herbs
Cover, simmer
     15 minute break
Everything done?
Remove bay leaf
Put rice on a platter, spoon Creole over and serve