Chicken Braised in Sherry Vinegar
Pasta with Savory Cabbage
Cooking time:  30 minutes for menu          Cooking schedule: see below for instructions
       One more dish ought to finish off the cabbage.  This uses Greek yogurt - save the rest of the container for next week or substitute milk. 
Chicken Braised in Sherry Vinegar
Total time: 25 minutes
    This is a slightly spicy. slightly tart sauce, simply reduced a bit and served with the onions.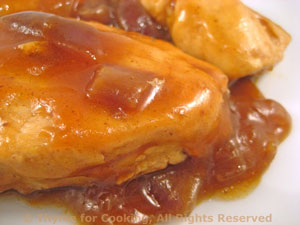 Ingredients: 
2 chicken breasts, boneless, skinless
1 onion, chopped
3 tbs sherry vinegar
3 tbs sherry
4 tbs chicken stock
1/2 tsp paprika
1/2 tsp cumin
2 tsp olive oil
 Instructions:
Heat oil in medium nonstick skillet over medium-high heat. 
Add paprika, cumin and sauté 1 minutes. 
Add onion and sauté 5 minutes, just until starting to brown. 
Move to the side, add chicken breasts and brown on both sides, about 8 minutes. 
Add vinegar, sherry, stock, cover, reduce heat and simmer 10 minutes. 
Uncover and reduce sauce slightly.  Serve.
Pasta with Braised Cabbage
Total time: 30 minutes
   The cabbage is stir-fried over heat for a few minutes, to get the cooking started, then liquid is added, some paprika and mustard for a savory bite, and it's left to simmer until tender.
 Ingredients:
2 cups shredded cabbage
1/2 cup (4oz, 120ml) chicken stock
1 tbs paprika, smoky if you have it
1 tbs Dijon-style mustard
2 tbs Greek yogurt or sour cream
1 tbs olive
3oz (90gr) spaghetti
 Instructions:
Cook pasta according to package directions. 
Heat oil in large nonstick skillet over medium-high heat.  Add cabbage and stir-fry until wilted. 
Add paprika and stir-fry for another minute. 
Add stock and mustard, stir well to combine. 
Cover, reduce heat to low and simmer until cabbage is tender, about 15 minutes longer.
Uncover and stir in yogurt. 
Add pasta, toss to combine and serve.
Note:  In photo it's shown with Basil Spaghetti
Cooking schedule: 30 minutes
Assemble all ingredients and utensils
Utensils: measuring cups, spoons, knives,
pot and colander for pasta, large skillet with lid,
medium skillet with lid
Put water on high heat for pasta
Shred cabbage
Heat oil in skillet, add cabbage, stir-fry
Chop onion
Sauté paprika, cumin in other skillet
Add paprika to cabbage, stir-fry
Add onion to paprika/cumin, sauté

Add stock, mustard to cabbage, stir
Cover cabbage, reduce heat, simmer
Move onions to side, add chicken, brown
Cook pasta
Turn chicken, brown
Add sherry, vinegar, stock, reduce heat, cover, cook
    Pause while it all cooks
Uncover chicken, reduce sauce
Drain pasta
Stir yogurt into cabbage
Add pasta to cabbage, toss to combine
Finish chicken, Serve