Ham and Red Pepper Quiche
Cooking time:  45 minutes for menu          Cooking schedule: see below for instructions
     Once I discovered rice crusts, quiches became a favorite, easy dish. I always try to cook the rice ahead. If you didn't, spread it on a plate to cool for 5 minutes before mixing in the egg and cheese. Feel free to use pastry if you like a more traditional pie. Add any leftover asparagus....
Ham and Red Pepper Quiche  
Total time: 60 minutes
    The rice makes a lovely crust, much healthier than the traditional pastry... and easier too, especially if you cook the rice earlier.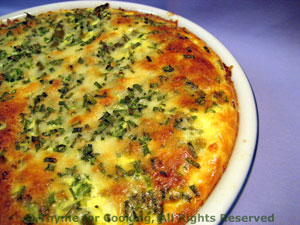 Ingredients:
1/2 cup (3.3oz, 95gr) brown rice, quick cooking
1 cup (8oz, 240ml) chicken stock
1/4 cup (1oz, 30gr)  shredded cheese
4 eggs
1 tsp olive oil
6oz (180gr) ham, cut into small pieces
1 red bell pepper, cut into strips
1/2 green bell pepper, cut into strips 
3 - 4 tbs snipped, fresh garlic or regular chives 

or 1 tbs dried chives

1/4 cup (2oz, 60gr) Greek yogurt
3/4 cup (6oz, 180ml) milk (or all milk)
3/4 cup (3oz, 90gr) shredded cheese
olive oil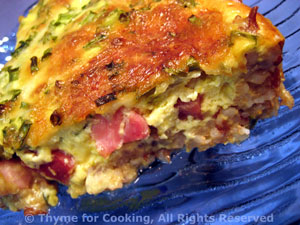 Instructions:
The rice: 
Cook the rice in stock. If doing in advance, refrigerate until needed.  If doing now, spread the rice on a plate to cool for 5 minutes before making crust.
The crust:
Lightly whisk 1 egg. 
Mix cooked rice, cheese and egg. 
Pat into a lightly oiled quiche or 10" (25cm) pie plate, working it up the sides a bit for the edges. 
Bake in 400F (200C) oven for 10 minutes.
The filling:
Heat oil in nonstick skillet and lightly sauté pepper strips.
Whisk 3 eggs, yogurt and milk together. 
Add the chives.
To assemble: 
When crust is done, remove from oven. 
Spread the pepper strips evenly over the crust.
Spread the ham on top. 
Sprinkle on the cheese.  
Pour egg mixture over all and bake, 30 minutes, 400F (200C). 
Remove from oven and let rest 5 minutes before cutting.
Note:  I usually put the quiche dish on a baking sheet to make it easier to handle – it gets kind of full…
Cooking schedule: 45 minutes
Assemble all ingredients and utensils
Utensils: measuring cups, spoons, knives,
large skillet, large bowl, whisk, quiche or pie plate,
baking sheet, small saucepan with lid for rice
Cook rice if not done earlier
Turn oven on 400F (200C)
Trim, cut asparagus, sauté
Slice peppers, add to skillet, sauté
Cut ham
Shred cheese if needed

Whisk egg
Add cheese, rice, combine
Lightly oil quiche plate, pat in crust, bake
Snip chives
Whisk 3 eggs, yogurt, milk, chives
Remove crust, assemble quiche
Bake quiche
     30 minute break
Check quiche - should be little wobble in center
Remove quiche when done, let rest
Cut and serve