Rosemary Pork Chops
Spicy Potatoes and Carrots
Cooking time: 30 minutes for menu          Cooking schedule: see below for instructions
    Tender, braised pork chops with fried potatoes and carrots: a simple, 2 skillet dinner.  
Pork Chops with Rosemary
Total time: 30 minutes
    Browned quickly, then braised for a bit in white wine and rosemary, these come together quickly but are wonderfully tender.  If your chops are quite thick you may want to increase cooking time by 5 - 8 minutes.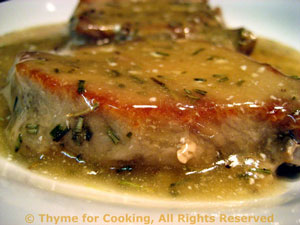 Ingredients:
2 - 4 pork chops, depending on size, 12oz (360gr) total
2 tsp olive oil
1/3 cup (3oz, 90ml) white wine
1/3 cup (3oz, 90ml) chicken stock
1 1/2 tsp dried rosemary
1/2 tsp dry mustard
1 tbs cornstarch (maizena) dissolved in 2 tbs water
1/3 cup (3oz, 90gr) Greek yogurt, or plain or sour cream
 Instructions:
In nonstick skillet large enough to hold the chops heat 1 tbs oil over medium-high heat.  Add chops and sauté about 3 minutes per side, until lightly browned.

Add wine, stock, rosemary and dry mustard, cover reduce heat and simmer 15 minutes. 

or longer

To finish:

Uncover and increase heat.

Dissolve cornstarch in water in small bowl or measuring cup.
Remove pork chops to small platter or plate and cover with the lid.
Add cornstarch mixture to skillet and cook, stirring constantly until thickened.
Remove from heat, stir in yogurt.  Pour over chops and serve.
Spicy Potatoes and Carrots
Total time: 30 minutes
      Add as much pepper as you like, but remember it's hot... Best to add, taste, add more if you like or hot sauce.
 Ingredients:
2 medium potatoes
2 medium carrots
2 ribs celery
1 medium onion
3 cloves garlic
1/2 tsp chili powder
1/2 tsp cumin
1/8 - 1/4 tsp black or red pepper

or more

1 tbs Worcestershire sauce
Hot sauce  

optional

1 tbs olive oil
 Instructions:
Slice the potatoes - the long way, first in half, then in half again.  Now slice (the short way) about 1/4 inch thick.  We are aiming for bite size so if you have a huge potato, adjust accordingly.
Slice the carrots the same, if they are large, cut in half the long way first.
Roughly chop the onion and celery.
Mince garlic.
Heat oil in a large skillet.  Add chili powder, cumin and sauté briefly.
Add potatoes, carrots, onions, celery, and stir-fry over medium high heat until starting to brown, about 10 minutes.
Add garlic, Worcestershire sauce and reduce heat to medium.
Continue cooking, stirring and flipping as needed, until vegetables are tender, about 10 minutes longer.
Add pepper to taste and serve.
Cooking schedule: 30 minutes
Assemble all food, utensils and serving dishes
Utensils: measuring cups, spoons, knives,
2 large skillets, lid
Heat oil in skillet
Add pork chops, brown
Chop onion
Mince garlic
Slice carrots, potatoes
Turn chops
Sauté chili powder, cumin
Add potatoes, onions, carrots, stir-fry

Add wine, stock, rosemary, mustard, to pork
Reduce heat under pork, cover, simmer
Mind the carrots / potatoes
     Pause while stuff cooks
Stir / flip potatoes / carrots
Add garlic, Worcestershire to potatoes, stir
Reduce heat, cook
      Pause while stuff cooks
Dissolve cornstarch in water
Remove chops, increase heat, thicken sauce
Add yogurt to sauce, remove from heat
Finish potatoes / carrots, serve