Asparagus and Green Garlic Pastry


Baked Snapper with Lemon Sauce
Pimiento Barley
Carrots with Butter and Chives

Cooking time: 35 minutes for menu      Cooking schedule: see below for instructions

     This is a showy but simple tart to make and should use up the rest of last week's puff pastry.  If not, and you have some left, it can be refrozen (twice). We'll be using more pimiento or roasted red pepper on Saturday.
Asparagus and Green Garlic Pastries
Total time: 25 minutes
    Puff pastry makes wonderful 'tarts'. The asparagus and green garlic (or green onion) are blanched quickly first.  Then it's just assemble and bake, for an easy but impressive first course.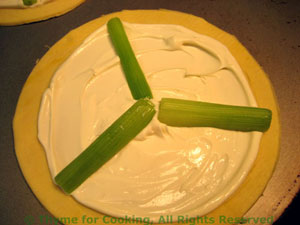 Ingredients:
6 slim asparagus spears, 5" (12.5cm) long
3 green garlic or green onions, 2.5" (6.25cm) long
2 - 4 tbs creamy goat cheese, cream cheese or Mascarpone
4 cherry tomatoes
1/2 sheet puff pastry
Chive Vinaigrette:
1 tsp Dijon-style mustard
2 tsp white Balsamic vinegar
2 tsp fresh snipped chives
3 tbs good olive oil
 Instructions:
Thaw puff pastry, if needed.  Cut out 2 circles, 6" (15cm) in diameter.  (Use a bowl as a guide).
Lay the cut pastry on a baking sheet.  Using a table knife, lightly score a line .5" (1.25cm) inside the edge of the pastry.
Trim asparagus to 5" (12.5cm).  Reserve ends for another use.
Trim green garlic or onion by slicing off root and and removing 1 layer.  Trim to 2.5" (6.25cm), using as much green top as possible.  Reserve the white ends for another use.
Bring 1 - 2 inches (5cm) of water to a boil in a skillet large enough to hold the asparagus and garlic in one layer. 
Add the asparagus and blanch for 2 - 4 minutes, depending on thickness.  Mine were as thick as my index finger and I did 3 minutes. 
Remove and refresh in cold water. 
Blanch green garlic or onions for 2 minutes.  Remove and refresh in cold water.
Cut the asparagus in half the short way. 
Cut the green garlic in half the long way
Slice cherry tomatoes into wedges.

To assemble:

Spread cheese on the pastry, out to the scored line. 
Laying them like the spokes of a wheel, radiating out from the center: put the asparagus tips at third intervals; put the asparagus ends next to the tips; put the green garlic or onion next. 
Put one tomato wedge in each 'space'.
Bake in pre-heated oven at 420F (210C) for 10 - 13 minutes, until sides of pastry have puffed around middle and is golden brown. 
Remove and put on plates.  Drizzle with Vinaigrette and serve.
Chive Vinaigrette:
Whisk mustard and vinegar. 
Slowly drizzle in oil, whisking constantly.  Add chives, whisk well.
Baked Snapper with Lemon-Mustard Sauce 
Total time: 15 minutes
    Walleye would be my first choice but that isn't available here.  Any nice filet will work, small cod, tilapia, catfish...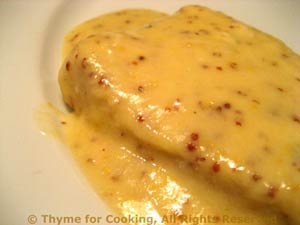 Ingredients:
2 nice fish fillets, snapper, walleye, 12oz (360gr) total weight 
1 tbs butter
2 tbs lemon juice
1/2 tsp tarragon
1/2 tsp thyme
2 tbs chicken stock
1 tbs whole grain mustard
1/3 cup (3oz, 90ml) Greek yogurt, crème fraiche or sour cream
 Instructions:
Rinse fish, pat dry. 
Melt butter. 
Add 1 tbs lemon juice, tarragon and thyme to butter. 
Brush on fish fillets.  Bake, 400F (200C), for 15 - 20 minutes, until fish is done.  It should be opaque and flake easily with a fork. 

Or

grill the fish in a grill basket, over indirect heat on the barbecue grill for about the same amount of time.
Spoon Lemon-Mustard Sauce on top and serve.
Lemon-Mustard Sauce:
Combine remaining 1 tbs lemon juice, stock, mustard and yogurt.  Mix well.
Barley with Red Pepper
Total time: 20 minutes
   A bit of red pepper adds not only some bright color but some bright flavor to almost any food.   I use quick-cooking barley, which takes about 15 minutes.  Cook in chicken stock for added flavor.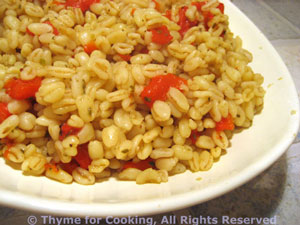 Ingredients:
2/3 cup (3.3oz, 95gr) quick-cooking barley
1 1/3 cups (11oz, 330ml) chicken stock (or more, depending on type of barley)
1/3 cup chopped pimento or roasted red pepper
1 tsp white Balsamic vinegar
2 tsp olive oil
 Instructions:
Cook barley in stock, oregano, covered
Simmer until done, stirring occasionally. If all stock is not absorbed, drain. 
Stir in pepper, vinegar and serve.
Carrots with Butter and Chives
Total time: 25 minutes
These are delicious in the spring when the chives start coming up - as well as the rest of the summer.  If you don't have access to fresh chives, substitute dried.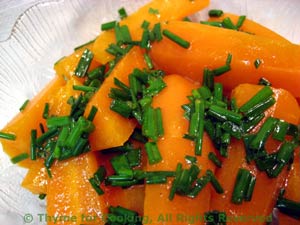 Ingredients:
 Instructions:
Peel carrots, cut into sticks.
Put carrots into a small saucepan or skillet.  Add stock, cover and bring to a simmer over medium heat. 
Reduce heat and let simmer until done, 10 - 15 minutes. 
Drain any remaining liquid from pan. 
Add chives and butter, stir well to coat and heat through. 
Remove from heat, add pepper if you like and serve.
Cooking Schedule: 35 minutes
Assemble all food, utensils and serving dishes
Utensils: measuring cups, spoons, knives,
2 small saucepans / lids, 2 baking sheets, or 1
plus barbecue grill / basket, 2 small bowls, whisk
large skillet
Turn oven on 420F (210C)
Thaw puff pastry if needed
Cook barley if slow cooking type
Heat water in skillet
Trim, cut asparagus
Trim, cut green garlic
Blanch asparagus, green garlic
Refresh asparagus, green garlic
Lay out puff pastry, cut circles
Score line on pastry
Spread goat cheese
Cut asparagus in half, green garlic in half
Cut cherry tomatoes
Assemble pastries

Peel. cut carrots
Bake pastries
Cut pimiento
Snip chives
Prepare fish
Light/turn on barbecue grill if using
Mix lemon, herbs, brush on fish
Make lemon mustard sauce for fish
Make vinaigrette for pastries
Cook barley if quick cooking
Cook carrots
Remove pastries
Turn oven to 400F (200C), bake fish / put on grill
Finish pastries, serve - but....
    Pause eating, mind the fish if on the barbecue
Finish your starter
Done?
Finish barley
Finish carrots
Remove fish, finish and serve