Grilled Pork Tenderloin with Mustard Seeds
Potato and Carrot Packets
Cooking time:  35 minutes for menu          Cooking schedule: see below for instructions
       This is an easy dinner, everything cooking on the barbecue grill for about 30 minutes and only requiring a bit of attention.  Round it out with some sliced, juicy tomatoes.
Grilled Pork Tenderloin with Mustard Seeds
Total time: 35 minutes
   This is fun to cook on the barbecue grill: all the mustard seeds pop as they get hot.  The rub makes the tenderloin rather black, but not too spicy.  The sauce helps keep it moist.  Remember, slightly pink is perfect!
 Ingredients:
14oz 420gr) pork tenderloin
1 tbs paprika
1 tbs mustard seed
1 tbs garlic powder
1 tbs olive oil
Basting Sauce:
3 tbs Dijon mustard
2 tbs red wine vinegar
1 tbs olive oil
 Instructions:
Potato and Carrot Packets
Total time: 35 minutes
     This is the 'catch - all' for vegetables. Anything works.  Use whatever bits are left in the fridge. This is one of my favorite low-cal, I ate too much over the week-end or whenever, meals.  Add a few pieces of celery, some cherry tomatoes or half of a large tomato, mushrooms, whatever. This is the base recipe...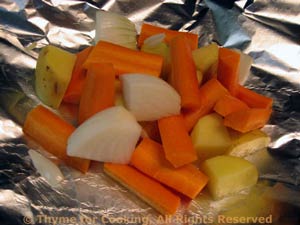 Ingredients:
2 medium potatoes
2 - 3 carrots
1 onion
1/3 chicken stock

2 tsp dried herbs or 2 tbs fresh

 

Whatever fresh herbs you have lurking or dried herbs that tickle your fancy
 Instructions:
Note:  This is 'cooking by sound': When the packets start sizzling, they are cooking.  When they stop, they are done.... But if they don't stop, check them after 25 minutes. 
Just open one part way and poke a knife into the potatoes.  They will continue to cook, after removed from heat, if left wrapped.
Cooking Schedule: 35 minutes
Assemble all food, utensils and serving dishes
Utensils: measuring cups, spoons, knives,
scissors, small bowl (used 2X), 3 plates, foil,
barbecue grill or oven
Turn on/light barbecue grill or oven (400F, 200C)
Mix rub for pork
Put pork on plate. rub with oil, dry rub, set aside
Cut carrots, onions, potatoes
Tear foil, place on plates
Divide vegetables, add to foil

Add stock, herbs
Fold foil to make packets
Put both pork and vegetable packets on grill
Make basting sauce for pork, baste
    Pause while it all cooks
Baste the pork frequently
Shift the potatoes... and listen to them
When done, remove pork and potatoes
Let pork rest a minute while you dish up the veg
Slice pork
Serve