Grilled Chicken Breasts with Honey Mustard Glaze
Basmati Rice with Fresh Herbs
Sautéed Chard
Cooking time:  30 minutes for menu           Cooking schedule: see below for instructions
          Lemon is such a wonderful. fresh summer flavor.  It enhances almost anything it's paired with. 
Grilled Chicken Breasts with Honey Mustard Glaze
Total time: 30 minutes
    The chicken breasts are first marinated in lemon, oil and garlic, then grilled and basted with a lemon, honey and mustard mix.  Since we are using the reserved marinade as a basis for the basting sauce resist the temptation to taste it.  And stop basting a few minutes before the chicken is done, to finish cooking the sauce.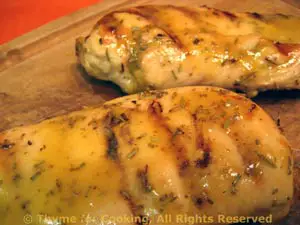 Ingredients:
2 chicken breasts, boneless, skinless
1/4 cup (2oz, 60ml) lemon juice  

preferably fresh

1/4 cup (2oz, 60ml) olive oil
1 tsp dried rosemary
1 tsp dried thyme
1 tsp garlic powder
2 tbs honey
2 tbs Dijon-style mustard
 Instructions:
In small bowl mix lemon juice, oil, herbs and garlic powder. 
Place chicken breasts in a dish with sides and pour marinade over.  Let marinate 10 - 15 minutes or up to 4 hours in the refrigerator. 
Remove from marinade, reserving marinade.
Pour reserved marinade into a small bowl.  Add honey, mustard and whisk to combine.
Cook chicken on barbecue grill for 7 - 10 minutes per side, or until done, basting with marinade sauce. 
Could also be sautéed in a nonstick skillet for same amount of time. 
Discard any leftover sauce.  Serve.
Basmati Rice with Fresh Herbs
Total time: 20 minutes 
    Simple, fragrant, fluffy rice - vary the herbs to fit the main course.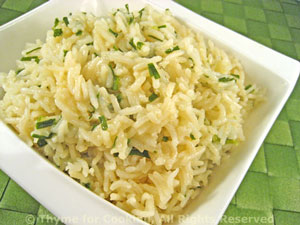 Ingredients:
1/2 cup (3.3oz, 95gr) Basmati rice
1 tsp butter
1/2 cup (4oz, 120ml) chicken stock 
1/2 cup (4oz, 120ml) water
1 tbs fresh snipped chives  

substitute 1 tsp dried

1 tbs fresh snipped parsley 

substitute 1 tsp dried
 Instructions:
Melt butter in small saucepan over medium heat.
Add rice and sauté, stirring for 2 - 3 minutes. 
Add stock or water and herbs.  Cook rice for 15 - 20 minutes. 
When done fluff with a fork and serve.
Sautéed Chard
Total time: 15 minutes
   Chard, or Swiss Chard, is a slightly bitter green, reminiscent of spinach.  Both stems and leaves are eaten; some cultures preferring one over the other.  We're democratic and eat it all.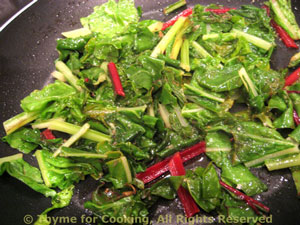 Ingredients:
8oz (240gr) chard or Swiss chard
2 tsp olive oil
2 tsp butter
1 tsp soy sauce
 Instructions:
Wash the chard and trim any bad bits. 
Stack the leaves together and fold over, the long way.  Slice into thin strips, using both leaves and stems. 
Heat butter and oil in a large skillet. 
Add the chard and stir-fry over medium heat until it softens and fits into the skillet. 
Reduce heat to low and cook until tender, another 5 - 7 minutes. 
Drizzle with soy sauce, stir and serve.
Cooking schedule: 30 minutes
Assemble all food, utensils and serving dishes
Utensils: measuring cups, spoons, knives,
small bowl (used 2X), whisk, dish for marinating,
small saucepan with lid, large skillet, barbecue grill
or skillet
Light/turn on barbecue grill if using
Squeeze lemon
Make marinade, pour over chicken
Wash, trim chard, slice
Snip herbs
Sauté rice

Add stock, herbs to rice, cover, cook
Start to cook chicken, reserve marinade
Make basting sauce
Baste chicken
Sauté chard
Baste chicken, turn, baste again
Reduce heat under chard, cook
Baste chicken, turn, cook for a minute
Finish chard
Fluff rice
Remove chicken, slice
Serve