Grilled Cornish Hens with Spicy Rub
Potato and Chard Gratin
Cooking time:  70 minutes for menu          Cooking schedule: see below for instructions
        The little chickens are perfect for a single serving and any leftovers are perfect for snacks.
Grilled Cornish Hens (Poussin) with Spicy Rub
Total time: 60 minutes 
    Cooked over indirect heat with a spicy rub gives these hens a crisp, flavorful skin.  Both the dry mustard and pepper add a bit of heat.
 Ingredients:
2 Cornish game hens or poussin (little chickens)
1 tbs olive oil
1 tsp chili powder
1 tsp paprika
1 tsp cumin
1/2 tsp garlic powder
1/2 tsp dry mustard
1/4 tsp salt
1/4 tsp finely ground black pepper
 Instructions:
Tie legs together with kitchen string and fold wing tips under back (at first joint) - keeps them from flapping. 

Rub birds with olive oil. 
Mix all remaining ingredients together and sprinkle over birds. 
Pat into place with the back of a spoon or a spatula.

(Using your hands would remove too much of the rub.)

Cook hens on barbecue grill over indirect heat, covered, for 45 - 60 minutes or until done.  Chicken is done at 160 F (70C) on your meat thermometer and/or the juices run clear when pierced with knife. 

Or

they can be baked in a shallow roasting pan in a 400F oven for the same amount of time - until done.
When done, remove from heat, cut string and serve - don't forget finger bowls (it's messy) and bone bowls (to keep your plates tidy). 
Serve whole or cut each bird in half.
Potato and Chard Gratin 
Total time: 70 minutes 
      A simple, dish with few ingredients, this highlights the fresh taste of chard (Swiss Chard) in summer.  Use a deep dish and pile it high.  It wilts and compacts as it bakes.  Add the cheese at the end or it all ends up on the foil.  The top layer of potatoes looks a bit strange balancing on top of the chard, but it all comes together.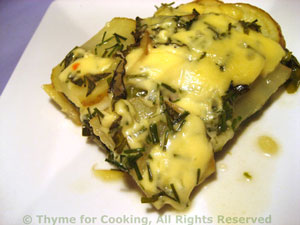 Ingredients:
2 medium potatoes (10oz, 300gr)
8oz (240gr) (Swiss) chard, stems and leaves
1/2 cup (4oz, 120ml) chicken stock
2 tbs chopped fresh parsley
2 tbs chopped fresh chives
2oz (60gr) cheese,

Gruyère, Edam, Swiss

1 tsp olive oil
 Instructions:
Cooking Schedule: 70 minutes
Assemble all food, utensils and serving dishes
Utensils: measuring cups, spoons, knives,
scissors, small bowl, baking dish, foil, barbecue grill
and tools
Turn oven on, 400F (200C)
Light / turn on barbecue grill
Wash, trim, slice chard
Heat stock in microwave or saucepan
Slice potatoes
Lightly oil baking dish
Arrange layer of potatoes

Add chard, herbs to baking dish
Drizzle with hot stock, press down
Add remaining potatoes, cover, bake
Prepare birds, rub with oil
Make rub, sprinkle on hens, pat down, cook hens
      40 minute break - but mind the birds
Slice cheese
Uncover gratin, add cheese, bake
     10 minute break
Birds done?  remove, let rest
Remove Gratin
Serve