Ham and Chive Mini Frittatas
Brined, Grilled Pork Tenderloin
New Potato 'Oven Fries'
Sautéed Asparagus with Tarragon Yogurt Sauce
Cooking time: 40 minutes for menu plus 10 earlier      Cooking schedule: see below for instructions
     We have dry-cured ham in the quiche tomorrow... we'll just use a bit in the frittatas.  The pork should be brined earlier in the day - but timing is very flexible: 2 - 12 hours.
Ham and Chive Mini Frittatas
Total time: 35 minutes
       These Frittatas look like cupcakes but are actually fluffy eggs, mixed with small bits of anything savory. These have a bit of ham, some cheese and lots of fresh herbs. They can be served, hot, warm or cold and are great to do ahead for a party or, in summer, a picnic.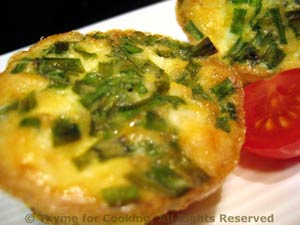 Ingredients:
2oz (60gr) dry-cured ham

Prosciutto, Serrano

3 eggs
1/3 cup (1.5oz, 45gr) shredded cheese
2 tbs snipped chives, fresh or dried
butter or cooking spray
6 cherry tomatoes for garnish 
 Instructions:
Cut ham into small pieces. 

*Butter or spray a nonstick muffin (tartlet) pan, one that holds 6. 

I know it sounds redundant to butter a nonstick pan but these will stick if you don't. 

Divide the cheese, ham and chives evenly between the cups.
Crack the eggs into a large bowl and whisk well. 
Using a ladle or spoon divide mixture evenly between the cups. 
Bake at 400F (200C) for 12 - 15 minutes or until set. 
Remove from oven. Frittatas will puff up considerably and then fall a bit. 
Allow to cool 5 - 10 minutes before removing from pan; they will start to come away from the sides of the pan as they fall making them easier to get out. 
Serve with sliced cherry tomatoes, warm or at room temperature.
*Note:  if your muffin pan is silicone you do not need to butter it.
Brined, Grilled Pork Tenderloin
Total time: 40 minutes  10 minutes earlier 
    Brining keeps meat moist and tender during cooking and is particularly well-suited to pork.  The tenderloin cooks quickly on the barbecue, and the rub adds even more flavors to it. Remember, slightly pink is now okay for pork, and over-cooking can ruin the best efforts....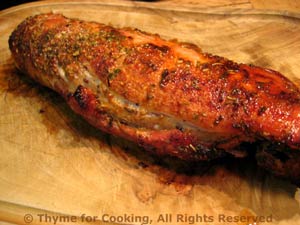 Ingredients:
1 pork tenderloin, 14oz (420gr)
The Brine:
2 cups very cold water or water and ice, mixed
2 tbs sea, kosher or other coarse salt
2 tbs brown sugar
2 tbs molasses
The Rub:
1 tsp paprika
1 tsp dried rosemary
1 tsp dried marjoram
1/2 tsp garlic powder
1/4 tsp dry mustard
 Instructions:
Earlier in the day, at least 2 hours and up to 12 hours before cooking, mix water, salt, sugar and molasses in a deep bowl. 
Stir until sugar and salt are dissolved. 
Add pork, making sure that it's totally covered. 

If not, you can put pork in large zip-lock bag and add brine. 

Refrigerate, turning occasionally, until ready to cook. 
When ready to cook, remove pork and pat dry with paper towels. 
Discard brine. 
Mix all ingredients for the rub and sprinkle on all sides of pork, patting it lightly to stick. 
Cook on barbecue grill for 15 - 20 minutes, turning to brown all sides.  Internal temperature should reach 145F (62C) or until only slightly pink in center.
Remove and let rest a few minutes. 

Carve into 1" (2.5cm) thick slices and serve. 

Could also be roasted in the oven, 400F (200C) 25 - 30 minutes.
New Potato 'Oven Fries'
Total time: 35 minutes  
     New potatoes are about the size of walnuts...(or golf balls).  They are wonderful, braised or roasted whole, but get wonderfully crunchy with creamy interiors when cut in half and baked like 'Fries'.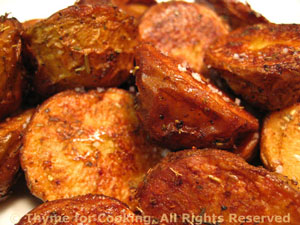 Ingredients:
10 - 15 new potatoes 

enough for two people 

1 tbs olive oil
1 tsp paprika
1 tsp thyme

salt and pepper 

sea salt if you have it
 Instructions:
Sautéed Asparagus with Tarragon Yogurt Sauce
Total time: 15 minutes
     Along with the chives, tarragon is one of the first herbs to appear in the spring.  It's traditional with fish and chicken, but also does well with most vegetables - especially the early spring vegetables.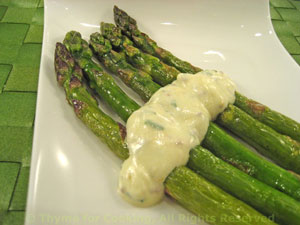 Ingredients:
10oz (300gr) asparagus, green or white
2 tsp olive oil
Tarragon Yogurt Sauce:
3 tbs Greek or plain yogurt
1 tbs mayonnaise
1 tbs white Balsamic vinegar
1 tsp Dijon-style mustard
2 tsp fresh, snipped tarragon
1 tsp fresh, snipped chives
1 tbs good olive oil
 Instructions:
Snap off ends of asparagus. 
If white use vegetable peeler and peel the bottom half of stalk, laying the asparagus flat to prevent breaking.
 Heat oil in a large skillet. 
Add asparagus and sauté over medium heat until starting to brown and blister, 8 - 10 minutes.
Remove, spoon Yogurt Sauce over and serve.
Tarragon Yogurt Sauce:
Whisk together yogurt, mayonnaise, vinegar and mustard.
Drizzle in oil, whisking. 
Stir in snipped herbs. 
Cooking Schedule: 40 min. for menu plus 10
Assemble all food, utensils and serving dishes
Utensils: measuring cups, spoons, knives,
scissors, large bowl, medium bowl (used 2X), whisk,
muffin pan, small bowl (used 2 X), grill pan &
barbecue grill or roasting pan
Earlier in the day:
Brine pork, refrigerate
Dinner time:
Turn on / light barbecue grill
Turn oven on, 400F (200C), arrange 2 shelves
Mix oil, paprika, thyme
Cut potatoes, add to oil mixture
Lay potatoes, cut side down, roast
Snip all herbs, divide
Shred cheese
Butter muffin pan
Chop ham
Put ham, chives, cheese in muffin cups
Whisk eggs, add to muffin cups, bake

Remove pork from brine, pat dry
Mix ingredients for rub, rub on pork
Make Tarragon Yogurt Sauce
Start to cook pork
Turn potatoes
Remove frittatas from oven, let rest
Cut cherry tomatoes for garnish
Remove frittatas from pan, arrange on plate, garnish
Turn pork, move off direct heat
Trim asparagus, sauté
Serve frittatas
    Interrupt to check asparagus
Finish starter....
Done?
Remove pork, let rest
Remove asparagus from heat
Remove potatoes, sprinkle salt
Slice pork
Put asparagus on plate, top with sauce
Serve all