Artichokes with Creamy Balsamic Vinaigrette
Seared Scallops with Browned Shallots
Sesame Brown Rice with Mangetout (Snow Peas)
Cooking time:  45 minutes for menu          Cooking schedule: see below for instructions
      Snow peas and red peppers make a colorful, crunchy Pilaf to go with the Seared Scallops.
Artichokes with Creamy Balsamic Vinaigrette
Total time: 55 minutes   
     The artichokes take 40  - 50 minutes to steam. This can be done anytime and the artichokes can be served warm or cold. Have a small, sharp knife handy so that when you get all of the leaves off and are at the fuzzy choke you can cut it off and enjoy the bottom.... and put an extra bowl on the table for the 'used' leaves.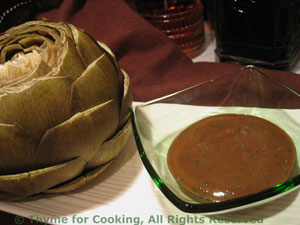 Ingredients:
2 globe artichokes
1 tbs lemon juice
Creamy Balsamic Vinaigrette:
1 tsp Dijon-style mustard
1 tbs Balsamic vinegar
1 tsp Fines Herbes 

this is a classic French herb mixture of equal amounts: tarragon, chervil, chives, parsley

3 tbs salad olive oil
 Instructions:
Cut off bottoms of artichokes and remove any tough lower leaves.
Dip in water to which a tbs of lemon juice has been added (to prevent discoloration). 
For a nicer presentation cut off the tips of the bottom half of the leaves - using a scissors. 
Cut the top 1/3rd of the artichoke off and discard.  Don't worry about the choke (fuzzy hairs inside). 
Put in a steamer and steam 40 - 50 minutes. 
Serve artichokes with small dipping bowl of vinaigrette.
Creamy Balsamic Vinaigrette:
In a small bowl whisk mustard and vinegar.
Slowly whisk in oil until it emulsifies (thickens and combines).
Add herbs and stir well to combine.
Seared Scallops with Browned Shallots
Total time: 30 minutes
    Use the larger sea scallops for this if you can..... And let the shallots get very crispy. Scallops are best when cooked quickly over fairly high heat.  Overcooking tends to make them tough.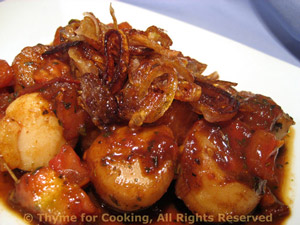 Ingredients:
10oz (300gr) large scallops
3 shallots
2 tsp olive oil
1 tomato
1 tbs Balsamic vinegar
2 tsp soy sauce
1 tsp basil
1/2 tsp paprika
 Instructions:
Sesame Brown Rice with Snow Peas (Mangetout)
Total time: 30 minutes 
     A cross between a stir-fry and a pilaf, the snow peas and red pepper add color and crunch to brown rice.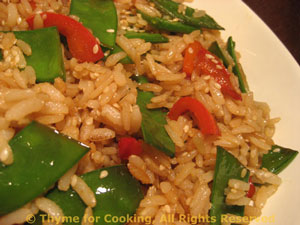 Ingredients:
 Instructions:
Cook rice in chicken stock according to package instructions.
Clean pea pods - snip off the stem end.  Cut large pods into pieces, at an angle, if desired. 
Cut red pepper into matchsticks.
When rice is almost done:
Toast sesame seeds. Remove.
Heat butter and sesame oil in a large nonstick skillet over medium heat.  
Add pea pods, red pepper, soy sauce and sauté 5 - 7 minutes, stirring frequently. 
Add brown rice and stir-fry quickly. 
Sprinkle with sesame seeds and serve.
To toast regular sesame seeds:  Put them into a dry, nonstick skillet over medium heat.  Toss or stir them about in the pan until lightly golden, 2 - 4 minutes.
Cooking Schedule: 45 minutes
Assemble all food, utensils and serving dishes
Utensils: measuring cups, spoons, knives,
large pot with steamer basket, lid, 2 large skillets,
small saucepan with lid, bowl, plate
Trim artichokes, steam
Cook rice
Slice shallots, sauté
Trim, cut snow peas
Slice red pepper
Make vinaigrette
Mind the shallots
Prepare scallops if needed
Toast sesame seeds if needed
Chop tomato

    Wee break while artichokes finish
Mind the rice, turn off if done
Remove shallots to plate
Serve artichokes with dipping sauce
Done?
Reheat skillet for scallops
Sauté snow peas, pepper, soy sauce
Sear scallops
Turn scallops
Remove scallops, add tomato
Add brown rice to snow peas, stir-fry
Add vinegar, soy, basil, paprika, to tomato, cook
Remove Pilaf, sprinkle with sesame seeds
Spoon sauce over shallots
Top with crisp shallots, Serve