Menu Plan for the week of July 19, 2013:  Thursday's Recipes
Ham, Green Bean and Cherry Tomato Salad
Cooking time:  25 minutes for menu          Cooking schedule: see below for instructions
     An easy Pasta Salad to finish the week.
Ham, Green Bean and Cherry Tomato Pasta Salad 
Total time: 25 minutes 
    I love cold ham in salads of any type and beans with basil is always a hit.  Here, it all comes together with a lower fat/calorie dressing of half mayonnaise and half Greek Yogurt.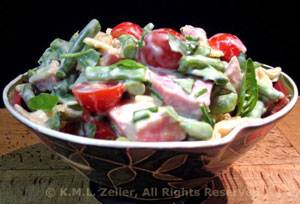 Ingredients:
1 1/4 cups (4.1oz, 125gr) pasta, bite-size - fusilli, rigatoni, penne
1 tbs olive oil, for salads
10oz (300gr) deli-style (baked) ham
6oz (180gr) green beans
1/2 cup (3oz, 90gr) cherry tomatoes
1/4 cup (2oz, 60gr) mayonnaise
1/4 cup (2oz, 60gr) plain or Greek yogurt
1 tbs Dijon-style mustard
1 tbs lemon juice
2 tbs fresh chives, snipped
2 tbs fresh basil, snipped
 Instructions:
Cooking schedule: 25 minutes
Assemble all food, utensils and serving dishes
Utensils: measuring cups, spoons, knives,
large pot for pasta, colander, medium saucepan,
small bowl, whisk, pasta bowl, medium bowl
Put water on high heat for pasta
Put water on high heat for beans
Top and tail beans, cut
Prepare cold water for beans

Start to cook pasta
Blanch beans
Drain, plunge into cold water, drain
Snip all herbs
Cut tomatoes in half
Cut ham
Make dressing
Drain pasta, put in bowl
Finish salad and serve