Menu Plan for the week of July 19, 2013: Wednesday's Recipes
Barbecued Chicken Breast
Oriental Brown Rice and Zucchini (Courgette) Salad
Cooking time:  30 minutes for menu          Cooking schedule: see below for instructions
      This used the last of the Barbecue Sauce from Sunday.  I did not include this Barbecue Sauce in the shopping list but left it here in case you needed it.  It's all Pantry items.
Barbecued Chicken Breasts
Total time: 30 minutes
   A quick, savory marinade and a spicy barbecue sauce to finish makes these chicken breasts perfect for a quick summer dinner. Save a bit of barbecue sauce to pour over just before serving.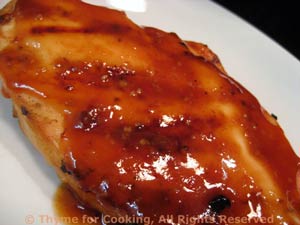 Ingredients:
2 chicken breasts, boneless, skinless
1 tbs Worcestershire sauce
1 tbs red wine vinegar
2 tbs olive oil
1/3 tsp garlic powder
1/2 tsp chili powder
Barbecue Sauce:
1/3 cup ketchup
1 tbs cider vinegar
1 tbs molasses or brown sugar
1 tbs Dijon-style mustard
2 tsp Worcestershire sauce
1/2 tsp chili powder
1 tsp garlic powder
 Instructions:
In small bowl whisk together Worcestershire, vinegar, oil, garlic and chili powder. 
Put chicken breasts in a glass baking dish and pour marinade over.  Let marinate for 10 - 15 minutes. 
Cook on barbecue grill for 7 - 9 minutes a side or until done (test - take a peak), basting with barbecue sauce. 

OR

sauté in nonstick skillet for 8 - 10 minutes a side until nicely browned and done. 
Serve with remaining barbecue sauce on the side.
Barbecue sauce: 
Mix all ingredients in small sauce pan and heat, stirring, until well combined.
Keep half the sauce separate for finishing.
Oriental Zucchini (Courgette) and Brown Rice Salad
Total time: 30 minutes
   I use 'Uncle Ben's' which is all I can get and it is quick cooking.  It looks like brown Basmati and cooks in 15 minutes.  You could substitute Basmati, if you prefer.  The cooked rice is combined with the sautéed zucchini and a light, oriental vinaigrette just before serving.
 Ingredients:
 Instructions:
Cook rice in stock according to package directions.
Mince garlic. 
Slice zucchini in half the long way and then into 1/4" (.6cm) slices. 
Heat medium nonstick over medium heat. 
Add pine nuts and toast, shaking pan occasionally until golden, 4 - 5 minutes.  Remove nuts and set aside. 
In same skillet heat oils over medium heat.  Add garlic, ginger and soy sauce and sauté briefly.
Add zucchini and continue to sauté for about 15 minutes, stirring occasionally with a wooden spoon, until zucchini is tender. 
Vinaigrette:
Put all ingredients in small bowl and whisk well - will not emulsify.

To finish:

When rice is done put into a medium bowl. 
When zucchini is done add to rice. 
Add the vinaigrette and toss well. 
Sprinkle with pine nuts.  Serve.
Cooking schedule: 30 minutes
Assemble all food, utensils and serving dishes
Utensils: measuring cups, spoons, knives,
scissors, 2 small bowls, whisk, dish for marinating,
small saucepan with lid, medium skillet, medium bowl,
barbecue grill
Make marinade, spoon over chicken
Turn on/light barbecue grill
Make barbecue sauce if needed
Slice zucchini
Mince garlic
Start to cook rice

Toast pine nuts, remove, set aside
Start to cook chicken
Sauté garlic, ginger
Add zucchini, sauté
Mind the rice
Make vinaigrette
Turn the chicken
When rice is done, put in bowl
Add zucchini, vinaigrette, stir
Top with pine nuts
Remove chicken
Serve, Barbecue Sauce on the side