Menu Plan for the week of July 19, 2013:  Monday's Recipes
Easy Barbecued Pork Chops
Potato and Carrot Packets
Cooking time: 35 minutes for menu          Cooking schedule: see below for instructions
     Use the Barbecue Sauce made on Saturday. Put any vegetable you like in the packets - except zucchini.... too watery.
Easy Barbecued Pork Chops 
Total time: 30 minutes
    More than a simple marinade, but not quite a barbecue sauce.  Finish with leftover or commercial Barbecue Sauce.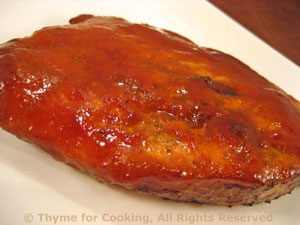 Ingredients:
2 - 4 pork chops, depending on size, 12oz (360gr) for boneless
2 tbs ketchup
1 tbs oil
1 tbs red wine vinegar
1 tbs Dijon-style mustard
2 tsp soy sauce
1 tsp chili powder
 Instructions:
Mix ketchup, oil, vinegar, mustard, soy sauce and chili powder.
Spoon over chops and let marinate 10 minutes.
Cook on barbecue grill for 5 - 8 minutes per side or until done.  Should be slightly pink in the center when done - take a peak (techniques). 

Or

fry in nonstick skillet over medium-high heat the same amount of time.  Serve.
Potato and Carrot Packets
Total time: 35 minutes 
     This is the 'catch - all' for vegetables. Anything works.  Use whatever bits are left in the fridge. This is one of my favorite low-cal, I ate too much over the week-end or whenever, meals.  Add a few pieces of celery, some cherry tomatoes or half of a large tomato, mushrooms, whatever. This is the base recipe...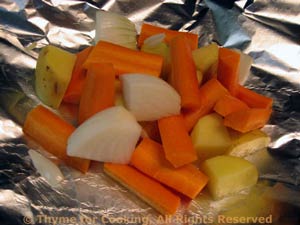 Ingredients:
2 medium potatoes
2 - 3 carrots
1 onion
1/3 chicken stock

2 tsp dried herbs or 2 tbs fresh

 

Whatever fresh herbs you have lurking or dried herbs that tickle your fancy
 Instructions:
Note:  This is 'cooking by sound': When the packets start sizzling, they are cooking.  When they stop, they are done.... But if they don't stop, check them after 25 minutes. 
Just open one part way and poke a knife into the potatoes.  They will continue to cook, after removed from heat, if left wrapped.
Cooking schedule: 35 minutes
Assemble all food, utensils and serving dishes
Utensils: measuring cups, spoons, knives,
small bowl, medium bowl, plates, foil, barbecue grill
Turn on/light barbecue grill
Peel, cut carrots
Peel, cut onion or shallots
Cut celery
Cut potatoes
Tend to any other veg you might want to add
Tear off foil, lay on plates
Add vegetables, herbs, stock

Fold packets
Start to cook packets
Mix oil, ketchup, vinegar, soy sauce, mustard, chili
Spoon over pork
        Pause while veg cook
Check packets
Start to cook chops
       Stand around a bit
Turn chops
Remove packets
Remove chops
Serve... Don't forget the barbecue sauce