Menu Plan for the week of July 19, 2013:  Saturday's Recipes
Melon and Ham
Barbecued Cornish Hens
Creamy Caper and Roasted Potato Salad
Sautéed Courgette Slices
Cooking time:  60 minutes      Cooking schedule: see below for instructions
     You could get 1 Cornish hen and cut it in half, before or after cooking.  We prefer to do 2 and have the leftovers (if any) for lunch the next day - (chicken salad, maybe?). 
Melon with Ham
Total time: 10 minutes 
       This is a very subjective starter for all its simplicity.  In Spain you would get 4 big wedges of a long, green melon somewhat similar to a honeydew but with a hint of watermelon.  When I would ask what kind of melon it was, I would get an incredibly blank stare and a "how can anyone be that stupid!" look, along with the answer "It's melon!".  The melon would be covered in Iberian, Serrano or Jabugo - types of Spanish dry-cured ham.  In France you will get a small, orange Provençal melon with Bayonne ham.  In Italy, a honeydew with Prosciutto.  Why am I telling you all of this you ask?   Because...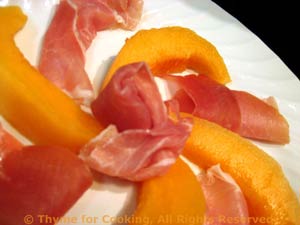 Ingredients:
1 melon, your choice

  

Get whatever's in season and ripe (not watermelon) - preferably from a farm stand so it's local

6 - 10 paper-thin slices dry-cured ham

,

your choice:  Prosciutto, Serrano..
 Instructions:
Cut the melon in half and scoop out (and discard) seeds. 
Cut into wedges.  How many wedges you serve depends, (you guessed it) on the size of the melon. 
Arrange wedges on large plates, add ham around/over wedges and serve. 
Barbecued Cornish Games Hens
(Poussin... little chickens)
Total time: 60 minutes
    If you get one, larger bird, you can cut it in half to cook faster (serving will be easy) or leave whole and add 10 - 15 minutes cooking time. 
 Ingredients:
2 Cornish game hens or poussin (little chickens), about 16oz (480gr) each
1 tbs olive oil
1 tsp paprika
1/2 tsp cumin
1/4 tsp garlic powder
1/2 tsp salt
1/4 tsp finely ground black pepper
Barbecue Sauce:
1/2 cup (4oz, 120ml) ketchup
1 cup (8oz, 240ml) tomato sauce
3 tbs red wine vinegar
2 tbs molasses
2 tbs Dijon-style mustard
1 tbs Worcestershire sauce
2 tsp soy sauce
1 tsp cumin
1 tsp paprika
1 tsp garlic powder
1/4 cup (2oz, 60ml) chicken stock
 Instructions:
Tie legs together with kitchen string and fold wing tips under back (at first joint) - keeps them from flapping. 
Rub birds with olive oil. 
Mix dry ingredients and sprinkle on hens.
Cook hens on barbecue grill over indirect heat for 45 - 60 minutes or until done.  Chicken is done at 160F (70C) on your meat thermometer and/or the juices run clear when pierced with knife. 
During last 20 minutes of cooking baste with Barbecue Basting Sauce 2 or 3 times. 
When done, remove from heat, cut string and serve - don't forget finger bowls (it's messy) and bone bowls (to keep your plates tidy), additional Barbecue Sauce on the side.
Or they can be baked in a shallow roasting pan in a 400F oven for the same amount of time - until done.  If baking start basting immediately.
Barbecue Sauce:
Mix all ingredients except stock, in small sauce pan and bring to a boil over medium heat stirring frequently.
Simmer 5 minutes, remove from heat and use as needed.  Sauce will keep for a week in the refrigerator.

For Basting Sauce:

 
Remove 1/3 cup Barbecue Sauce.  Thin with 1/4 cup chicken stock. 
Creamy Caper and Roasted Potato Salad
Total time: 30 minutes
    Roasted potatoes, tossed with a creamy, Greek yogurt based dressing, makes an easy side dish for summer.  Lots of fresh, garden herbs and capers brings this simple potato salad out of the ordinary.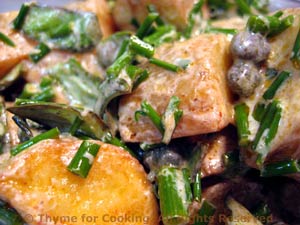 Ingredients:
 Instructions:
Potatoes: 
Slice potatoes in half the long way, then in half again. Then slice in half or thirds the short way. 
Put oil and paprika into bowl and mix.  Add potatoes and stir, coating thoroughly. 
Put them into an old metal pie plate or cake tin or foil barbecue container (or whatever) that you will never use for any purpose but the barbecue again....  and you should have one of these. 
Cook on barbecue (grill) for 25 - 35 minutes or until done... and you will need to stir them with a long-handled wooden spoon occasionally as they tend to develop 'hot spots' and can get a little crispy.   
Or you can roast them in the oven.  Arrange potatoes on baking sheet with rim (I use my trusty, round pizza pan) Bake at 400F for 30 minutes.
Salad:
Snip herbs. 
Put yogurt, vinegar and oil in a medium bowl and whisk well. 
Add capers and herbs and stir. 
When potatoes are done, add to dressing and stir to combine.  Serve hot, warm or cold.  
Sautéed Zucchini (Courgette) Slices
Preparation and cooking time:  15 minutes
   The simplest, and one of the tastiest, ways I know how to cook zucchini.
 Ingredients:
1 yellow or green courgette (zucchini), 8 inches (20cm) long 
1 tbs olive oil
salt, pepper for finishing
 Instructions:
Cooking Schedule: 60 minutes
Assemble all food, utensils and serving dishes
Utensils: measuring cups, spoons, knives,
scissors, small bowl (used 2X), medium bowl, small
saucepan, large skillet, barbecue grill
Turn on/light barbecue grill
Make rub for hens
Prepare hens, oil, rub, start to cook
Mix oil, paprika
Cut potatoes, add to oil
Cook potatoes
Make barbecue sauce
Make basting sauce
Clean, slice melon
Arrange melon, ham on plates

Baste hens, stir potatoes
Slice zucchini
Make dressing for potato salad
Baste hens
Potatoes done? remove
Finish potato salad, set aside
Sauté zucchini
Serve Melon and Ham
Disturb yourself to turn zucchini, baste hens
Done?
Remove hens, let rest
Remove zucchini, salt, pepper
Stir Potato Salad
Serve, a bit of barbecue sauce on the side
Don't forget bone bowls, finger bowls...