Menu Plan for the week of July 19, 2013: Friday's Recipes
Lentil and Herb Salad
Grilled Lemon Shrimp
Quinoa Pilaf
Green Beans with Prosciutto
Cooking time:  40 minutes for menu          Cooking schedule: see below for instructions
     We're making extra lentils and quinoa for a salad on Sunday - cook once; eat twice. All the prep work is done before the starter, the quinoa and beans are cooked while you eat the starter, then about 7 minutes to finish it all up.
Lentil and Herb Salad
Total time: 35 minutes  
  Legumes of all types make wonderful salads.  I use the small, Lentille Verte du Puy for this but you can use the larger tan or brown, as well.   Check your package for correct cooking times...  or taste!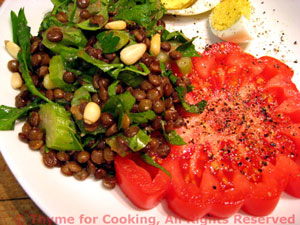 Ingredients:
1/2 cup small green lentils (Lentille Verte du Puy)  

or tan or brown

1 cup (8oz, 240ml) beef stock
1/2 cup (4oz, 120ml) water
1/2 cup sliced celery,  1 - 2 ribs
1/4 cup snipped, fresh parsley
1/4 cup snipped, fresh basil
1 tbs toasted pine nuts  

for garnish

1 egg, hard-boiled
1 tomato
Lemon Vinaigrette:
2 tsp lemon juice
2 tsp white Balsamic vinegar
2 tsp Dijon-style mustard
6 tsp good olive oil
 Instructions:
Hard boil egg.
Cook lentils in stock and water until done, about 30 minutes. Drain.
While the lentils cook, slice the celery, snip the herbs and make the vinaigrette. 
Lemon Vinaigrette:
In small bowl whisk lemon juice, vinegar and mustard. 
Add olive oil 1 tsp at a time, whisking to emulsify.
When lentils are done (taste to check), put into a small bowl. 
Add the celery, parsley, basil and vinaigrette.  Toss gently to combine.
Thickly slice tomato. 
Peel egg and quarter, the long way. 

To serve:

On two small plates arrange the tomato slices. 
Divide the lentil salad and add to plates. 
Add two quarters of egg to each plate. 
Sprinkle the lentil salad with pine nuts and serve.
Note:  To toast pine nuts, heat small nonstick skillet over medium heat.  Add pine nuts and toast, shaking pan occasionally until golden, 4 - 5 minutes.
Grilled Lemon Shrimp (Prawns)
Total time: 15 minutes  longer if you have to clean them
    Use a grill pan (it's like a mesh skillet) or a mat for these, if possible.  Or thread them onto skewers (soaked in water for 15 minutes if wood) to make them easier to turn.  We don't want them falling through the grill.
 Ingredients:
10oz (300gr) large shrimp (prawns)
1 tsp garlic powder
2 cloves garlic
3 tsp sweet paprika (smoked if you can find it)
2 tbs butter
2 tbs lemon juice  

juice from 1/2 lemon

Olive oil for coating pan
 Instructions:
Clean shrimp if needed, if not just rinse and let drain. 
Mix 1 tsp garlic and 2 tsp paprika in a small bowl. Add shrimp and toss to coat. 
To cook on barbecue either put shrimp on skewers or cook in perforated grill pan with a little olive oil. 
To cook on stove add a little olive oil to a large frying pan and sauté over medium-high heat for 3-5 minutes - until shrimp curl and turn opaque. 
When done, remove from heat, toss with butter sauce and serve.
Butter sauce:
Mince garlic. 
Melt butter in small pan.  Add garlic, 1 tsp paprika and sauté until garlic is tender, 2 - 3 minutes. 
Add lemon juice and whisk lightly to combine.
Quinoa Pilaf 
Total time: 25 minutes  
    The thing I like best about Pilafs (other than the taste) is they are equally good hot, warm or cold, making them perfect for summer cooking, when we all want to be a bit more relaxed.
 Ingredients:
3/4 cup (5oz, 150gr) quinoa 
1 1/2 cups (12oz, 360ml) chicken stock
2 carrots
1 rib celery
1 medium onion
2 tsp olive oil

6 - 8 cherry tomatoes 

for garnish
 Instructions:
Green Beans with Prosciutto 
Total time: 30 minutes 
    Rather than sauté the Prosciutto, removing it and serving it crisp, we are cooking it with the beans.  It may not look as pretty but the ham flavor slowly cooks into the beans for a more traditional, southern taste.
 Ingredients:
6oz (180gr) green beans
1/4 cup chicken stock
2 slices Prosciutto, 1.5 - 2oz, (50gr)
 Instructions:
Top and tail beans... cut off the ends.  Cut into 1 1/2 inch lengths (4cm). 
Roughly chop Prosciutto. 
Put beans into small skillet, add stock and Prosciutto, cover and simmer over medium heat until done, about 15 minutes. 
Uncover during last 5 minutes to cook off some of the cooking liquid. 
Serve.
Cooking Schedule: 40 minutes
Assemble all food, utensils and serving dishes
Utensils: measuring cups, spoons, knives,
scissors, 3 small saucepans with lids, 2 small skillets,
1 lid, small bowl, (used 2X) whisk, dish for marinating,
grill basket or pan, barbecue grill
Cook lentils
Hard cook egg
Clean shrimp if needed
Top and tail beans, cut
Chop Prosciutto
Snip herbs
Slice/chop celery for salad/quinoa
Chop carrots
Chop onion
Mix garlic, paprika for shrimp
Add shrimp, toss to coat
Mince garlic
Mind the egg, lentils
Juice lemon

Make vinaigrette for salad
Slice tomatoes, large and small
Toast pine nuts
       Wait for lentils, egg to finish
Divide lentils, refrigerate half
Make lentil salad
Peel, quarter egg
Arrange salad on plates
Cook quinoa
Cook beans, Prosciutto
Sauté carrot, celery, shallot for quinoa. low heat
Light/turn on barbecue grill
Serve salad, relax, enjoy
Done?  Check quinoa, remove if done
Check beans, uncover
Cook shrimp
Sauté garlic, paprika for shrimp
Finish quinoa pilaf, refrigerate half
Add cherry tomatoes to quinoa pilaf for serving
Finish shrimp, Serve