Recipe in:
Barbecue
(Chicken and Other Poultry)
Barbecued Chicken Breasts
Total time: 30 minutes
   A quick, savory marinade and a spicy barbecue sauce to finish makes these chicken breasts perfect for a quick summer dinner. Save a bit of barbecue sauce to pour over just before serving.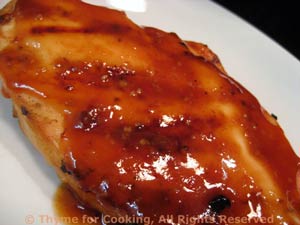 Ingredients:
2 chicken breasts, boneless, skinless
1 tbs Worcestershire sauce
1 tbs red wine vinegar
2 tbs olive oil
1/3 tsp garlic powder
1/2 tsp chili powder
Barbecue Sauce:
1/3 cup ketchup
1 tbs cider vinegar
1 tbs molasses or brown sugar
1 tbs Dijon-style mustard
2 tsp Worcestershire sauce
1/2 tsp chili powder
1 tsp garlic powder
 Instructions:
In small bowl whisk together Worcestershire, vinegar, oil, garlic and chili powder. 
Put chicken breasts in a glass baking dish and pour marinade over.  Let marinate for 10 - 15 minutes. 
Cook on barbecue grill for 7 - 9 minutes a side or until done (test - take a peak), basting with barbecue sauce. 

OR

sauté in nonstick skillet for 8 - 10 minutes a side until nicely browned and done. 
Serve with remaining barbecue sauce on the side.
Barbecue sauce: 
Mix all ingredients in small sauce pan and heat, stirring, until well combined.
Keep half the sauce separate for finishing.