Menu Plan for the week of July 12, 2013:  Tuesday's Recipes
Cumin-Scented Grilled Chicken
Simple Grilled Potatoes
Barbecued Zucchini (Courgette)
Cooking time:  35 minutes for menu      Cooking schedule: see below for instructions
     This is an all-barbecue dinner. Cook the potatoes over direct heat until you put the zucchini on - then move the potatoes to the side.
Cumin-Scented Grilled Chicken
Total time: 30 minutes
     Cumin adds a hint of Northern African fare to this marinated chicken breast.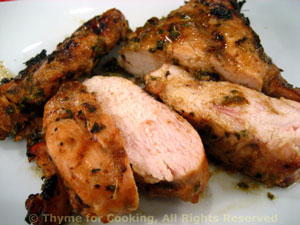 Ingredients:
2 boneless, skinless chicken breasts
2 tbs olive oil
2 tbs cider vinegar
1 tbs Worcestershire sauce
2 tsp Dijon-style mustard
1 tsp cumin
1 tsp oregano
 Instructions:
Mix oil, vinegar, Worcestershire, mustard, cumin and oregano.
Spoon over chicken breasts and let marinate for 10 minutes.
Cook on barbecue grill 6 - 8 minutes per side or sauté in nonstick skillet for about the same amount of time.  They should be nicely browned and juices should run clear when pierced with a knife. Remove, slice and serve.
Grilled Potatoes   
Total time: 35 minutes
     Simple, grilled or roasted potatoes are perfect with equally simple, grilled meats.  Vary the herbs, Worcestershire, etc. according to the rest of the meal.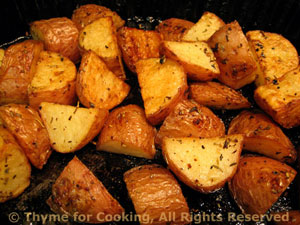 Ingredients:
2 medium potatoes
1 tbs olive oil
2 tsp Worcestershire sauce
1 tsp paprika
1 tsp rosemary
salt and pepper
 Instructions:
Slice potatoes in half the long way, then in half again.   Then slice in half or thirds the short way. 
Put remaining ingredients into large bowl and mix well. 
Add potatoes and stir, coating thoroughly.
Put them into an old metal pie plate or cake tin or foil barbecue container (or whatever) that you will never use for any purpose but the barbecue again...  and you should have one of these.  Cook on barbecue (grill) for 25 - 30 minutes or until done... and you will need to stir them with a long-handled wooden spoon occasionally as they tend to develop 'hot spots' and can get a little crispy.

Or

you can roast them in the oven.  Arrange potatoes on baking sheet with rim (I use my trusty, round pizza pan) Bake at 400F for 30 minutes.
Barbecued Zucchini (Courgette)
Total time: 20 minutes 
   Mon mari says "they are done when they start to sag in the middle and they have brown grill marks on them". You can put them in a basket, but we do them directly on the grill.
 Ingredients:
1 medium zucchini, about 10 inches (25cm)
1 tsp Dijon-style mustard
2 tbs ketchup
2 tsp Worcestershire sauce
2 tbs olive oil
 Instructions:
In small bowl mix all ingredients except zucchini. 
Slice zucchini into 1/2 inch thick rounds.

Do not peel first.

Put rounds onto a plate and spoon a bit of sauce onto each side. 
Place directly onto grill of barbecue.  Grill just until soft and starting to brown, 10 - 15 minutes, turning once. 
Remove and serve.
Cooking schedule: 30 minutes
Assemble all food, utensils and serving dishes
Utensils: measuring cups, spoons, knives,
2 small bowls, whisk, dish for marinating, medium
bowl, plate, barbecue grill and grill pan
Turn on / light barbecue grill
Mix ingredients for potatoes, medium bowl
Cut potatoes, add, stir well
Start to cook potatoes
Make marinade, spoon over chicken


Slice zucchini
Make barbecue sauce for zucchini, brush on both sides
    Pause while potatoes cook a bit
Start to cook chicken
Start to cook zucchini
   Watch stuff cook
Turn chicken
Turn zucchini
Mind potatoes
Remove everything when done and serve