Menu Plan for the week of July 12, 2013:  Monday's Recipes
Leftover Pork Loin in Barbecue Sauce
Couscous with Tomatoes and Basil
Fried Green Beans
Cucumber Salad
Cooking time: 15 minutes for menu          Cooking schedule: see below for instructions
     As long as the pork will be ready so quickly, I served the quickest side dish I could think of: Couscous.
Barbecued Stuffed Pork Loin,
leftover
Total time: 15 minutes
   Sometimes things are just easy!
Ingredients:
leftover stuffed pork loin
leftover barbecue sauce
 Instructions:
Slice pork.
Lay in a baking dish and pour barbecue sauce over.
Gently reheat in 350F (175C) oven for 10 - 15 minutes.
Couscous with Tomatoes and Basil
Total time: 15 minutes 
    Simple couscous finished with garden-ripe tomatoes, fresh basil and a light vinaigrette- easy and delicious!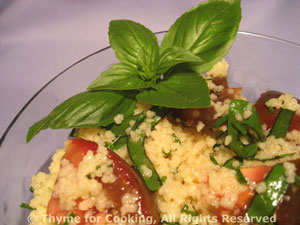 Ingredients:
1/2 cup (3oz, 90gr) couscous
3/4 cup (6oz, 180ml) chicken broth
1 medium ripe tomato, any color
2 tbs snipped basil
1 tbs salad olive oil
1 tbs white Balsamic vinegar
1/4 tsp Dijon-style mustard
 Instructions:
Heat chicken broth to a boil. 
Put couscous in a medium bowl. 
When broth is boiling pour over couscous, cover and let stand for 10 minutes... Do not stir it.
Snip basil. 
Slice tomato then cut slices into quarters. 
Whisk mustard, oil and vinegar together in a small bowl. 
When couscous is ready, add tomato, basil, vinaigrette, fluff gently with a fork to combine and serve.
Fried Green Beans
Total time: 15 minutes  
   A simple preparation to highlight the best of summer vegetables.  Adding a bit of oil to the butter prevents it from browning or burning.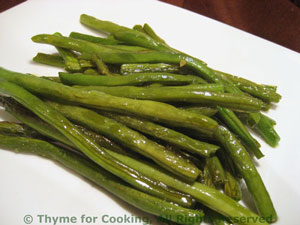 Ingredients:
6oz (180gr) green beans
2 tsp butter
2 tsp olive oil
sea salt
 Instructions:
Top and tail beans but leave whole. 
Heat butter and oil in a skillet large enough to hold the beans without cutting. 
Add beans and sauté over medium heat until starting to brown and blister, 7 - 9 minutes.  
Sprinkle with salt, remove and serve.
Old-Fashioned Cucumber Salad
Total time: 2 minutes
 Ingredients:
 Instructions:
Remove from fridge and serve
Cooking schedule: 15 minutes
Assemble all food, utensils and serving dishes
Utensils: measuring cups, spoons, knives,
scissors, small bowl whisk, medium bowl, lid, small
saucepan, baking dish, medium skillet
Turn oven on, 350F (175C)
Heat chicken broth
Slice pork
Lay pork in baking dish, pour sauce over, bake
Top and tail beans, fry

Put couscous in bowl, pour broth over, cover
Snip herbs
Slice tomato
Make vinaigrette
Fuss with beans
Get the cucumber salad from fridge
   Pause a second
Finish couscous, beans
Remove pork
Serve and eat