Menu Plan for the week of July 12, 2013: Friday's Recipes
Stuffed Baby Zucchini (Courgette)
Grilled Cod with Caper and Green Olive Tartar Sauce
Polenta Salad
Cooking time:  40 minutes for menu, plus 10 earlier      Cooking schedule: see below for instructions
     We're playing with the zucchini again.... for another vegetable first course.  Once again, lighter meals for the heat of summer.
Stuffed Baby Zucchini (Courgette)
Total time: 40 minutes
   I used 2 small yellow squash for these, about 7" (18cm) long but only an inch (2.5cm) in diameter.  No need to be precise.  The ham helps hold the stuffing in place.
 Ingredients:
2 small yellow squash or zucchini (courgette)
4 tbs finely chopped tomato
2 tbs finely chopped red onion
2 tbs shredded Parmesan
4 tsp fresh basil, snipped
2 slices Prosciutto or other dry-cured ham
4 cherry tomatoes for garnish
 Instructions:
Cut each squash in half the long way. 
Using the tip of a small spoon, scrape out the seeds and a bit of flesh, leaving about 1/4" (.5cm) all around. 
Divide and spread the onion, then tomato, basil and cheese into each of the halves.
Cut the Prosciutto in half the long way. 
Wrap each half slice diagonally around a squash half, tucking the ends under the squash. 
Place on a baking sheet and bake, 400F (200C) for 25 minutes.
To Serve:  Cut cherry tomatoes in half.  Remove Stuffed Zucchini, arrange on plates, garnish with tomatoes and serve.
Grilled Cod with Caper, Green Olive Tartar Sauce
Total time: 25 minutes 
   I get a long piece of cod 'back' that is without bones and perfect for grilling.  Cut it in half for easier handling and serving.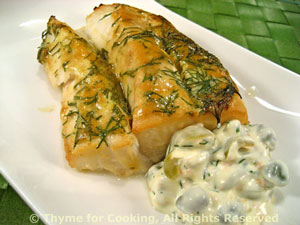 Ingredients:
1 - 2 filets of cod, or other thick, firm white fish, 12oz (350gr) total weight

1 tbs white Balsamic vinegar
1 tbs Dijon-style mustard 
1 tbs olive oil
2 tsp dill weed
Caper, Green Olive Tarter Sauce
8 green, pimiento stuffed olives   about 2 tbs chopped
1 tbs capers
2 tsp dill weed
3 tbs Greek or plain yogurt or all mayonnaise
1 tbs mayonnaise
2 tsp lemon juice
 Instructions:
Cod:
In a small bowl whisk together the vinegar, mustard, oil and 2 tsp dill weed.  Spoon over the cod. 
Cook on barbecue grill, covered or partially covered, 14 - 18 minutes, without turning.
OR put on baking sheet and roast in 400 F oven for 15 - 20 minutes, depending on thickness. 
It will be opaque and flake easily with fork when done. 
Caper, Green Olive Tarter Sauce:
Chop olives and capers if the are large.
Put all ingredients in a small bowl and stir to combine.
When the fish is done, transfer to a small platter and serve, Caper, Green Olive Tarter Sauce on the side.
Polenta Salad
Total time: 10 minutes   plus 10 minutes earlier 
   The cooking time assumes quick-cooking polenta.  This idea came from the recipe for Italian Bread Salad.  We so rarely have the type of bread needed for the salad (leftover) I decided to come up with my own version using polenta cubes.  I used a combination of Greek and green olives, but any will work.  Use your favorites.
 Ingredients:
Polenta:
1 cup (8oz, 240ml) chicken stock
1/4 cup plus 1 1/2 tsp (1.7oz, 51gr) polenta, quick-cooking
oil
Salad:
8 dry-cured, Greek olives
8 green olives
10 cherry tomatoes
8 - 10 small mozzarella balls, half of a package  

they're about the size of the tomatoes  Keep any left in the liquid. You could use half of a larger, whole mozzarella, roughly chopped.

1 tbs fresh snipped chives
2 tbs fresh snipped basil
1 tbs Balsamic vinegar
2 tbs plus 1 tsp salad olive oil
 Instructions:
Note:  Polenta can vary between brands and types. When making polenta for cooling and cooking again, either frying or on the grill, it's important to get it very stiff. It should be hard to stir, and hold any shape you put it it when you are done cooking it - before chilling it.  If it isn't stiff enough, sprinkle another 1 - 2 tsp polenta per 1/4 cup on the cooked polenta and stir in, vigorously.  When cool it should be very firm.  
Note 2:  Polenta can be cooled quickly by setting the metal or heat-proof pan in a bit of cold water to start, then putting it in the fridge or freezer. If cooling quickly, don't cover.
Cooking Schedule: 40 minutes plus 10 earlier
Assemble all food, utensils and serving dishes
Utensils: measuring cups, spoons, knives,
scissors, small saucepan, flat pan/dish for cooling
polenta, medium nonstick skillet, baking sheet,
barbecue grill and basket or mat or baking sheet
Earlier:
Line/oil dish for cooling polenta
Make polenta
Pour polenta into dish to cool
Do something fun while the polenta cools
Dinner:
Turn oven on, 400F (200C)
Cut squash in half, scoop out seeds
Finely chop onion, tomato
Snip all herbs, divide for squash / polenta
Shred cheese if needed
Slice Prosciutto in half
Stuff squash, wrap in ham, bake
Turn on/light barbecue grill

Mix vinegar, mustard, oil, dill, spoon on fish
Chop olives
Make Olive Caper Sauce
Cut cherry tomatoes, olives, mozzarella
Put herbs, tomatoes, olives, mozzarella in bowl
Whisk oil and vinegar, add to bowl
Cut polenta into cubes
Sauté polenta
Prepare fish basket or mat
Turn polenta
      Wait for squash
When squash are done, remove and plate
Remove polenta from heat
Start to cook fish
Serve starter - mind the fish once while eating
Done?
Finish Polenta Salad
Remove fish
Plate fish, add dollop Caper Olive Tarter Sauce
Serve