Menu Plan for the week of August 9, 2013: Friday's Recipes
Tomato Salad with Goat Cheese
Grilled Scallops on Avocado Sauce
Quinoa and Green Bean Salad
Cooking time:  30 minutes for menu          Cooking schedule: see below for instructions
     The tomato I used was a huge, orange, beefsteak type.  One was plenty for two. Avocados keep well in the fridge, pit removed, cut side down, on a plate. If keeping longer than 1 day, brush cut side with lemon and wrap in cling film before putting cut side down. I had black quinoa, but tan or red is fine.
Tomato Salad with Chevre (Goat Cheese)
Total time: 10 minutes 
   Make this with regular or cherry tomatoes, preferably ripened in a sunny garden.  I used a bright orange type, similar to beefsteak.
 Ingredients:
 Instructions:
Cut tomatoes into large chunks.
Cut cheese into slices, then quarter the slices. 
Snip herbs. 
Place all ingredients in a bowl and stir gently. 
Spoon onto plates and serve.
Grilled Scallops on Avocado Sauce
Total time: 20 minutes
   With the sweet scallops and creamy avocado, this is a rich dish.... I served fewer scallops than usual.  Use a grill pan or basket for easy handling and be careful not to overcook.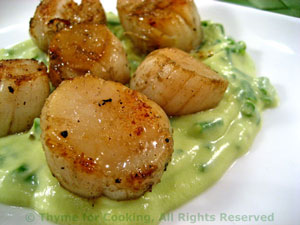 Ingredients:
 Instructions:
Mix oil, cumin and lime juice. 
Add scallops and stir to coat.
Avocado Sauce:
Purée avocado, yogurt, lime juice and chicken stock in a blender until smooth. 
Stir in chives.
Grill scallops over direct heat 3 - 5 minutes per side, just until they are opaque.

Note:

  Could also be quickly sautéed in a nonstick skillet over medium high heat for about the same amount of time.

To serve:

Divide Avocado Sauce and spoon onto 2 plates.  Arrange scallops on Sauce and serve.
Green Bean and Quinoa Salad
Total time: 20 minutes
     Quinoa is very high in protein and "contains a balanced set of essential amino acids for humans, making it an unusually complete food" according to Wikipedia. Combine with green beans and a light vinaigrette for a healthy salad.  You could substitute Basmati or Jasmine rice.
 Ingredients:
1/2 cup (3.5oz, 100gr) quinoa
1 cup (8oz, 240ml) chicken stock
6oz (180gr) green beans
1 large, ripe tomato
1/2 green bell pepper
2 tbs fresh basil
Lemon Vinaigrette:
2 tsp soy sauce
2 tsp lemon juice
2 tsp white balsamic vinegar
4 tsp olive oil
 Instructions:
Combine quinoa and stock in small saucepan.  Cover and bring to a boil. 
Reduce heat and simmer until done, about 15 minutes  (or whatever your package says). 
Top and tail beans and cut into bite-size pieces. 
Put a medium saucepan 2/3rd's full of water on high heat. 
When boiling add beans and blanch for 3 minutes. 
Drain and immediately rinse with cold water. 
Cut tomato into wedges. 
Chop green pepper. 
Snip basil. 
Make vinaigrette: Mix soy sauce, lemon and oil in a small bowl, whisking vigorously to thicken.
To finish:
When quinoa is done, put it into a medium bowl.
Add tomato, pepper, beans, basil and stir to combine.
Add vinaigrette and stir gently.
Cooking Schedule: 30 minutes
Assemble all food, utensils and serving dishes
Utensils: measuring cups, spoons, knives,
scissors, small bowl, whisk, 3 medium bowls, blender,
small saucepan with lid, medium saucepan, strainer,
barbecue grill and basket / mat or large skillet
Make marinade for scallops
Add scallops, stir, set aside
Cook quinoa
Heat water for beans
Top and tail beans
Chop green pepper
Blanch beans
Make vinaigrette
Drain beans, rinse well, drain

Snip all herbs
Make Avocado Sauce
Chop / cut all tomatoes
Put quinoa in bowl, add beans, pepper, stir
Add basil, tomato wedges, vinaigrette, stir, set aside
Turn on / light barbecue grill if using
Put tomato chunks into bowl
Add herbs, oil, vinegar to tomatoes, stir
Slice goat cheese, add to tomatoes, stir gently
Spoon Tomato Salad onto plates, serve
Done?
Cook scallops
Spoon Avocado Sauce onto plates
Arrange scallops on Avocado Sauce
Stir Quinoa Salad, serve all