Menu Plan for the week of August 9, 2013:  Tuesday's Recipes
Cobb Pasta Salad
Cooking time:  25 minutes for menu      Cooking schedule: see below for instructions
       A slight tweak on a Cobb Salad, but, in my kitchen, any lettuce salad can be converted to a pasta salad.  Since the season for lettuce is rather short, this theory works well for the rest of the summer.  No barbecue grill needed for this meal. I like smoked turkey breast for this - but rarely find it.
Cobb Pasta Salad
Total time: 25 minutes 
   This is not a traditional pasta salad. With lots of vegetables and big chunks of ham, cheese and egg, no one will mistake this for a small side dish.  I didn't thoroughly cool the beans.  As I wanted them to retain a bit of warmth I just rinsed lightly.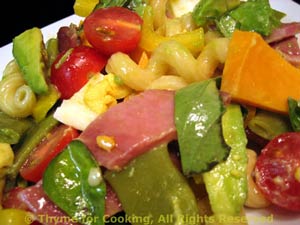 Ingredients:
8oz (240gr) ham or smoked turkey, thick slice 

get it at the deli counter

6oz (180gr) green beans  

I used flat, Italian or runner beans

2oz (60gr) cheese  

Cheddar, Colby

2 eggs, hard-boiled
1 avocado
1/2 orange bell pepper
1/2 cup (3oz, 90gr) cherry tomatoes
10 - 12 basil leaves
1 1/4 cups (4.2oz, 120gr) pasta, bite-size, fusilli, elbow
White Balsamic Vinaigrette:
1 tbs Dijon-style mustard
2 tbs white Balsamic vinegar
3 tbs salad olive oil
 Instructions:
Cook pasta according to package directions.  When done, drain.
Boil eggs.
Top and tail beans... cut off the ends.  Cut into 1 1/2 inch lengths (4cm).
Bring a medium saucepan half full of water to a boil over high heat.  
Add beans and blanch for 4 minutes. 
Remove, drain, rinse with cold water and set aside. 
Slice pepper, about 1/4" thick (.5cm) then cut slices in half. 
Slice ham or turkey and cheese into large, bite-size chunks. 
Cut cherry tomatoes in half. 
Cut avocado into large chunks.
When eggs are done, cool, peel and cut into chunks. 
Tear large basil leaves in half. 
Make vinaigrette:
Whisk vinegar,and mustard. 
Slowly whisk in oil and whisk until it emulsifies.

To assemble: 

Put drained pasta in a large bowl and add vinaigrette.  Toss well to combine. 
Add ham, peppers, tomato and beans, toss well. 
Add cheese, egg, basil and avocado.  Stir gently, just to combine. 
Serve.
Cooking schedule: 25 minutes
Assemble all food, utensils and serving dishes
Utensils: measuring cups, spoons, knives,
small bowl, whisk, medium saucepan, strainer, pot for
pasta, colander, small saucepan with lid
Put pot of water on high heat for pasta
Cook eggs
Heat water for beans
Top, tail and cut beans
Slice ham
Cut cheese
Slice pepper

Cut tomatoes
Mind the eggs
Blanch beans
Start to cook pasta
Make vinaigrette
Drain beans and rinse
Mind the eggs
Cut avocado
Cool, peel and chop eggs
Tear basil if needed
Drain pasta, put into serving bowl
Assemble salad and serve