Menu Plan for the week of August 9, 2013:  Saturday's Recipes
Crab Louis with Avocado Slices
Grilled Steak with Spicy Rub
French Potato Salad
Sautéed Zucchini (Courgette) with Shallots
Cooking time:  40 minutes             Cooking schedule: see below for instructions
     Get any cut of steak that looks good - the choices are usually plentiful this time of year.  The zucchini should be almost a warm salad.
Crab Louis on Avocado Slices
Total time: 20 minutes  
    Okay, so it's not really Crab Louis: there's no lettuce or hard-boiled egg.  But it is a lovely salad.  Try to get crab meat that's in lumps rather than shredded - if you can find it and it's reasonable.  The better the crab, the nicer the salad.   Fresh, of course would be better, but it's not readily available here. (You could use tuna or salmon)
 Ingredients:
6oz (180gr) crab meat, canned or fresh
4 tbs mayonnaise
2 tbs ketchup
2 tsp tarragon white wine vinegar
1 tsp Worcestershire sauce
1/4 tsp chili powder
2 tbs freshly snipped chives
1 tomato
1/2 avocado
 Instructions:
Drain the crab meat well and put into a bowl. 
Snip the chives and add 1 tbs to the crab.  
In another bowl mix the other 1 tbs chives, mayo, ketchup, vinegar, Worcestershire and chili powder. 
Add about half to crab and very gently mix - just barely.  Add a bit more if you want to, but it should be just lightly dressed. 
Remove the pit from the avocado and slice half. 
Fan the slices out on each of two plates. 
Slice the tomato and cut the slices in half. 
Arrange on the other side of the plates. 
Divide the crab and spoon into the center. 

Serve, with remaining dressing on the side.

 

A few olives if you have them...
Grilled Steak with Spicy Rub
Total time: 20 minutes
      We used to get 'London Broils' when we lived in the U.S. that were great on the grill.  Just a light sprinkle of seasoning is all they needed - and maybe some bottled Barbecue sauce if you are so inclined.  We like them medium rare.  On a hot grill they can cook very fast - so be mindful!
 Ingredients:
2  - 6oz (180gr) steaks, whatever cut looks good
1 tsp paprika  smoky would be good... Or hot if you have it
1/2 tsp dried oregano
1/2 tsp garlic powder
1/2 tsp salt
1/2 tsp chili powder
1/2 tsp brown sugar
1/2 tsp black pepper
 Instructions:
Mix all dry ingredients and rub on both sides of meat. 
Grill on barbecue over high heat 3 - 5 minutes a side.  If you like rare, remove after three minutes a side, make a small slit in one and check.   If not done to your liking return for another 1 - 2 minutes a side. 

Remove from heat and serve

. 

Cooking times will vary according to the type and thickness of meat you choose.
French Potato Salad
Total time: 30 minutes
    This is a lightly dressed potato dish, with lots of tarragon and chives.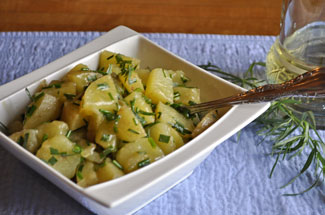 Ingredients:
2 medium potatoes
1 tbs snipped fresh chives
1 tbs snipped fresh tarragon
1 tbs salad olive oil
1 tbs tarragon white wine vinegar 
1 tbs beef stock  
 Instructions:
In a medium bowl whisk olive oil, vinegar and stock. 
Add chives and tarragon and let sit to blend flavors while potatoes cook. 
Slice the potatoes for salad, in small, bite-size pieces. 
Heat a medium saucepan half full of water over medium high heat. 
When water is boiling, add potatoes and cook just until tender when pierced with a sharp knife, 10 - 12 minutes. 
Remove from heat and drain well.  
Add to dressing and stir gently. 
Let rest to absorb flavors, stirring gently occasionally, allowing to cool. Serve.
Sautéed Zucchini (Courgette), Shallots, Cherry Tomatoes
Total time: 25 minutes
     Stir-fried shredded zucchini or yellow squash, finished with a few cherry tomatoes - simple for summer.
  Ingredients:
1 medium zucchini or yellow squash 
3 shallots
1/2 cup (3oz, 90gr) cherry tomatoes
2 tbs snipped fresh chives
1 tbs snipped fresh basil
1 tbs soy sauce
1 tbs Balsamic vinegar
1 tbs olive oil
 Instructions:
Slice shallots.
Shred zucchini.
Snip herbs. 
Cut cherry tomatoes in half.
Heat oil in large nonstick skillet over medium-high heat. 
Add shallots and sauté until brown, about 7 minutes. 
Add courgette and stir-fry 2 - 3 minutes, just until softened. 
Add soy sauce, vinegar, herbs and tomatoes,  stir-fry another 1 minute, to heat through and combine flavors.  Remove and serve.
Cooking Schedule: 40 minutes
Assemble all food, utensils and serving dishes
Utensils: measuring cups, spoons, knives,
scissors, whisk, 3 small bowls, medium bowl,
saucepan with lid, large skillet, barbecue grill
Heat water in saucepan for potatoes
Cut potatoes, add to water, cook
Make dressing for potatoes, set aside
Make rub for steak, rub on steak, set aside
Slice shallots
Shred zucchini
Cut cherry tomatoes in half
Drain potatoes, add to dressing, stir, set aside
Make dressing for crab
Open, drain crab
Snip all herbs
Make Crab Louis

Heat oil in skillet, sauté shallots
Turn on / light barbecue grill
Slice avocado, tomato
Plate Crab Louis
Stir Potato Salad
Turn shallots off
Serve Crab Louis, relax, enjoy....
Done?
Turn heat on under shallots
Stir Potato Salad
Start to cook steak
Add zucchini to shallots, stir-fry
Turn steak
Add vinegar, soy sauce, herbs, tomatoes to zucchini
Stir-fry vegetables, remove from heat
Remove steak
Serve all