Grilled Marinated Chicken
Brown Rice Pilaf
Lettuce Tomato Salad with Creamy Herb Dressing
Cooking time: 30 minutes for menu Cooking schedule: see below for instructions
We eat a lot of salads in summer. The Creamy Yogurt Dressing is a favorite and keeps about a week in the fridge.
Marinated Chicken Breasts, Grilled
Total time: 30 minutes
This is a simple marinade made with ingredients found in most pantries. The chicken is great as is, but will also be good tossed with salads or pastas.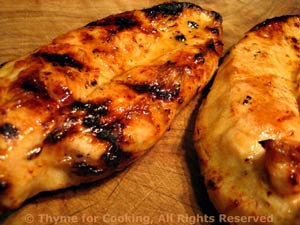 Ingredients:
2 chicken breasts, boneless, skinless
1 tbs Worcestershire sauce
3 tbs red wine vinegar
3 tbs olive oil
1/3 tsp garlic powder
1/2 tsp oregano
Instructions:
In small bowl whisk together Worcestershire, vinegar, oil, garlic and oregano.
Pour over chicken and let marinate for 15 - 20 minutes or up to 2 hours.
Cook on barbecue grill for 8 - 12 minutes per side or until done (test - take a peak), basting with any leftover marinade before turning.

OR

sauté in nonstick skillet for 8 - 10 minutes a side until nicely browned and done, basting with marinade.
Slice if you like and serve.
Brown Rice Pilaf
Total time: 30 minutes
I use Uncle Ben's Brown Rice which looks like brown Basmati and cooks quickly, in about 15 minutes. If you can't find a quick cooking brown rice and don't want to wait for the traditional to cook in 40 minutes (or so) you can substitute white Basmati which also cooks in about 15 minutes. Look for the brown, though, better flavor and more nutrition.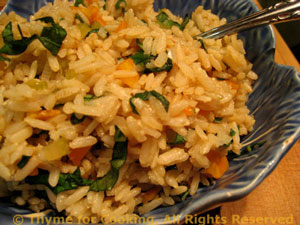 Ingredients:
1/2 cup (3.3oz, 95gr) quick-cooking brown rice
1 cup (8oz, 240ml) chicken stock
1/4 cup onion, finely chopped

about 1/2 onion

1/4 cup green bell pepper, finely chopped

about 1/4 pepper

1/4 cup carrot, finely chopped

about 1 small

1 tbs fresh snipped chives

substitute 1 tbs dried

1 tbs fresh snipped oregano

substitute 1 tsp dried

1 1/2 tsp soy sauce
Instructions:
Finely chop all vegetables.
Put all ingredients, except herbs, into a saucepan and cook - according to package directions for rice.
When done, fluff with a fork, add herbs and serve.
Lettuce Salad with Creamy Dressing and Cherry Tomatoes
Total time: 10 minutes
This is a small side salad: to round out the meal. You can add bits of anything you have on hand; we're using some cherry tomatoes and a bit of cheese. The yogurt dressing is similar to 'Ranch'.... but without all the unpronounceable ingredients...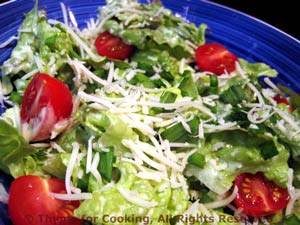 Ingredients:
lettuce, enough for two small salads
1/3 cup creamy herb dressing
1/4 cup shredded cheese - any flavor
1/2 cup cherry tomatoes, cut in half
Creamy Herb Dressing:
1/2 cup (4oz, 125ml) Greek or plain yogurt
1 tbs Dijon-style mustard
1 tbs lemon juice
1 tbs fresh snipped chives

Substitute 2 tsp dried

1 tbs fresh snipped basil

Substitute 2 tsp dried

3 tbs salad olive oil
Instructions
Creamy Herb Dressing:
Snip tarragon and chives with scissors.
In small bowl whisk yogurt, mustard and lemon juice.
Add oil, a bit at a time and whisk well.
Add herbs. This will keep a week.
Salad:
Prepare lettuce and put into a medium bowl.
Add a bit of dressing and toss to coat (use tongs, it's easier).
Taste and add more dressing if desired.
Add cheese and tomatoes, give it another toss or two and serve.
Cooking schedule: 30 minutes
Assemble all food, utensils and serving dishes
Utensils: measuring cups, spoons, knives,
2 small bowls, whisk, dish for marinating, medium
bowl, small saucepan, lid, barbecue grill / skillet
Light/turn on barbecue grill if using
Mix marinade for chicken
Pour marinade over chicken, set aside
Chop onion, carrot, pepper
Put rice, stock, vegetables, soy sauce in pan
Cover, cook

Prepare lettuce
Slice tomatoes
Snip all herbs
Make creamy Herb Dressing
Start to cook chicken
Pause while stuff cooks
Turn the chicken
Mind the rice
Make the salad
Remove chicken, slice if you like
Finish Pilaf, serve