Pasta with Shrimp, Avocado and Olives
Sautéed Spinach
Cooking time: 30 minutes for menu      Cooking schedule: see below for instructions
      I couldn't decide what kind of sauce to use for the pasta, so I just used lemon and oil... It was exactly right!  We'll use more fresh lemon tomorrow for the asparagus
Shrimp, Avocado and Olive Pasta
Total time: 25 minutes
     This is a simple pasta dish. Without a proper 'sauce' all of the individual tastes come through clearly, creating a symphony of well-balanced, fresh, savory flavors.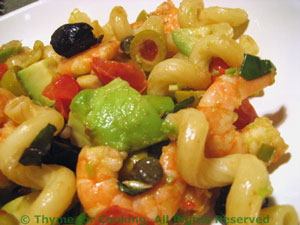 Ingredients:
 Instructions:
Cook pasta according to package directions
Trim and thickly slice green garlic, using as much green top as possible or slice green onion and mince garlic.
Slice olives in half or thirds.
Cut cherry tomatoes in half.
Snip basil. 
Remove avocado from shell and cut into large cubes.
Heat 1 tbs oil in a large, nonstick skillet. 
Add green garlic (or onion and garlic) and sauté briefly. 
Add shrimp and sauté until cooked through (they will turn opaque). 
Add remaining 1 tbs oil, lemon juice, capers, olives, and tomatoes.  Cook, stirring, until tomatoes just start to get soft. 
Add pasta, stir well to combine and heat through. 
Add avocado, basil and serve.
Sautéed Spinach 
Total time: 10 minutes
   This is quickly done and best if done at the last minute.  A sprinkling of lemon juice and sea salt is all that's needed to let the spinach shine.  The leaves should be barely wilted.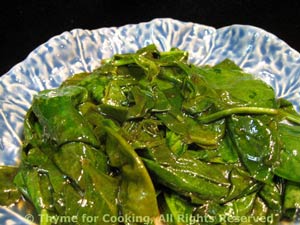 Ingredients:
6oz (180gr) fresh spinach
2 tsp dried chives or 1 tbs fresh
1 tsp olive oil
2 tsp good olive oil
1 tbs lemon juice
salt - sea salt is nice, and pepper
 Instructions:
Wash and stem spinach if needed.  Drain in a colander.  If you don't feel you need to wash it - do it anyway.  We want a little bit of water on the leaves - what ever is left after draining well - and shake them around a bit, too. 
Cut big spinach leaves into strips. 
Snip chives if using fresh. 
Heat 1 tsp oil over medium high heat in large nonstick skillet.
Add spinach and herbs.  Quickly stir-fry, 1 or 2 minutes.  The spinach should just start to wilt. 
Remove and serve.
Cooking Schedule: 30 minutes
Assemble all food, utensils and serving dishes
Utensils: measuring cups, spoons, knives,
medium skillet , lid, pot and colander for pasta,
large skillet
Put water on high heat for pasta
Clean shrimp if needed
Slice green garlic or onion/garlic
Slice olives
Slice cherry tomatoes
Prepare spinach

Start to cook pasta
Snip herbs
Sauté green garlic
Add shrimp, sauté
Drain pasta
Cut avocado
Add oil, lemon, capers, olives, tomatoes to shrimp
Stir-fry spinach, finish spinach
Add pasta to skillet, heat through
Add avocado, herbs to pasta
Serve