Warm Pasta Salad with Peppers and Sausage
Cooking time:  25 minutes for menu          Cooking schedule: see below for instructions
     You can do this indoors, as I did, or do the peppers, onion and sausages on the grill.  Summer cooking is easy.
Warm Pasta Salad with Sausage and Peppers
Total time: 25 minutes
   This is a bit of a cross between a hot 'winter' pasta dish and a cold 'summer' salad. Lightly dressed with Balsamic vinegar, it has the taste of a salad with very little oil.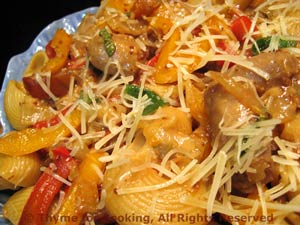 Ingredients:
1 1/4 cups (4.2oz, 125gr) bite-sized pasta  

penne, rigatoni...

12oz (360gr) sausages, total weight  

I used pork with herbs, you could use Italian, Brats, Turkey

1/2 red bell pepper
1/2 green or yellow bell pepper
1 onion
1 tbs olive oil
2 tbs red wine  

substitute sherry

1 tbs Worcestershire sauce
1 tbs red wine vinegar
1 tbs whole grain mustard
1/3 cup shredded cheese
2 tbs fresh marjoram or oregano leaves   

substitute 2 tsp dried
 Instructions:
Cook pasta according to package directions.  Drain.
Slice pepper into long strips, then cut strips in half. 
Slice onion. 
Heat 1 tbs oil in large, nonstick skillet.  Add onions, peppers and sauté for 5 minute. 
Cut sausages into 1" (2.5cm) lengths and add to skillet.  Sauté until cooked through.
In a small bowl whisk together the wine, Worcestershire, vinegar and mustard. 
Add to skillet and bring to a boil, stirring to combine.
Remove from heat, add pasta and herbs, stir well. 
Put into a large pasta or salad bowl, sprinkle with cheese and serve.
Cooking schedule: 25 minutes
Assemble all ingredients and utensils
Utensils: measuring cups, spoons, knives,
large skillet, large pot, colander, small bowl, whisk
Put water on high heat for pasta
Slice peppers
Slice onion
Take marjoram or oregano leaves off stems
Snip large leaves.

Start to cook pasta
Start to sauté peppers, onions
Slice sausages, add to skillet, sauté
Whisk wine, vinegar, sauce, mustard
Add wine mix to skillet, stir to combine
Bring to simmer, then take off heat
Drain pasta
Add pasta, herbs, to skillet , toss to combine
Sprinkle with cheese, Serve