Warm Lentil Salad with Mustard Cream
Brined and Grilled Pork Tenderloin
Roasted New Potatoes
Asparagus with Lemon Sauce
Cooking time:  40 minutes  plus 10 earlier    Cooking schedule: see below for instructions
        Brining does wonderful things for meats like turkey and pork. This is a small cut so long times are not needed. We're still able to find those wonderful, creamy new potatoes... And asparagus. You'll be amazed at the Lemon Sauce.
Warm Lentil Salad/Creamy Mustard Dressing on Spinach
Total time: 30 minutes
     Lentils make wonderful, flavorful, nutritious salads.   I use the tiny green French ones - du Puy.  You could use the larger brown lentils, but not the red ones which would turn into a purée.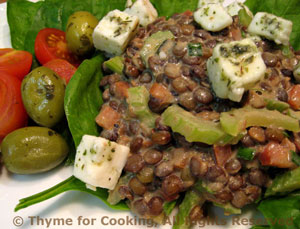 Ingredients:
1/3 cup lentils
1 cup (8oz, 240ml) beef stock
1/2 cup water
1/4 cup sliced celery, about 1 rib
1/4 cup sliced red or green pepper, about 1/4 pepper
2 tsp dried chives
1 tsp dried oregano
3oz (90gr) fresh spinach leaves
2oz (60gr) feta cheese
1 tbs Dijon-style mustard
1 1/2 tsp soy sauce
1/4 cup (2oz (60gr) plain or Greek yogurt
1 tbs white Balsamic vinegar
1 tbs olive oil, for salads
 Instructions:
Rinse and pick through lentils (in case quality control missed the odd stone).
Put in a small saucepan along with stock and water and bring to a boil.
Reduce heat, cover and cook until done - about 20 minutes.  Taste to determine when done properly.
Drain any excess cooking liquid and put into a bowl.
Thinly slice celery.
Finely chop pepper.
Add celery, pepper and herbs to lentils.
In a small bowl whisk together mustard, vinegar, soy sauce and yogurt.
Add oil and whisk to combine.
When lentils have cooled a bit (warm rather than hot) add mustard cream and mix well.
Cube or crumble  feta, add and toss gently.
Prepare spinach if needed.
Arrange spinach on two plates.
Divide lentil salad and spoon on top of spinach.  Serve.
Brined, Grilled Pork Tenderloin
Total time: 40 minutes  10 minutes earlier 
    Brining keeps meat moist and tender during cooking and is particularly well-suited to pork.  The tenderloin cooks quickly on the barbecue, and the rub adds even more flavors to it. Remember, slightly pink is now okay for pork, and over-cooking can ruin the best efforts....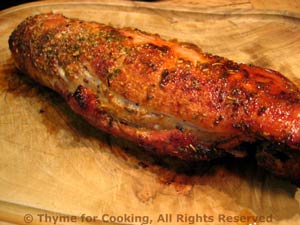 Ingredients:
1 pork tenderloin, 14oz (420gr)
The Brine:
2 cups very cold water or water and ice, mixed
2 tbs sea, kosher or other coarse salt
2 tbs brown sugar
2 tbs molasses
The Rub:
1 tsp paprika
1 tsp dried rosemary
1 tsp dried marjoram
1/2 tsp garlic powder
1/4 tsp dry mustard
 Instructions:
Earlier in the day, at least 2 hours and up to 12 hours before cooking, mix water, salt, sugar and molasses in a deep bowl. 
Stir until sugar and salt are dissolved. 
Add pork, making sure that it's totally covered. 

If not, you can put pork in large zip-lock bag and add brine. 

Refrigerate, turning occasionally, until ready to cook. 
When ready to cook, remove pork and pat dry with paper towels. 
Discard brine. 
Mix all ingredients for the rub and sprinkle on all sides of pork, patting it lightly to stick. 
Cook on barbecue grill for 15 - 20 minutes, turning to brown all sides.  Internal temperature should reach 145F (62C) or until only slightly pink in center.
Remove and let rest a few minutes. 

Carve into 1" (2.5cm) thick slices and serve. 

Could also be roasted in the oven, 400F (200C) 25 - 30 minutes.
Roasted New Potatoes with Chives
Total time: 35 minutes
   New potatoes are early, tiny, immature potatoes of any color, usually 1" (2.5cm) or less in diameter. They have a high moisture content, are very creamy and usually cooked whole.  If you can't get new potatoes, use regular potatoes, cut into 4ths or 6ths.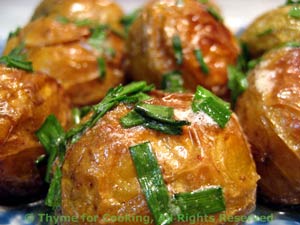 Ingredients:
12 - 18 new potatoes, depending on size  

enough for two people

1 tbs olive oil
1 tbs butter
1 tbs fresh chives, snipped
salt and pepper
 Instructions:
Leave potatoes whole and unpeeled.  Just wash lightly. 
Toss with oil, lightly salt and put into a baking dish large enough for them to be in a single layer. 
Bake at 400F for 30 minutes.  
Stir half way through baking time. 
Remove from oil and put into a small dish. 
Add butter and chives, toss to coat and serve.
Asparagus with Lemon Sauce
Total time: 15 minutes
     The Lemon Sauce is surprisingly similar in taste and consistency to Hollandaise.... Needless to say, much lower in fat and calories.  But the taste....  Lay white asparagus on the counter while peeling to prevent them from breaking.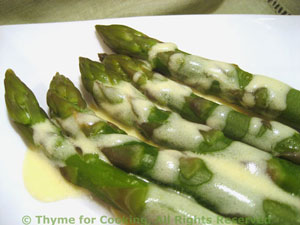 Ingredients:
10oz (300gr) asparagus, green or white

Lemon Sauce:

3 tbs plain yogurt
2 tbs fresh lemon juice
2 tsp Dijon-style mustard
1 tbs good olive oil
 Instructions:
Snap off ends of asparagus. If white use vegetable peeler and peel the bottom half of stalk.
 Put into a skillet big enough to hold them without cutting, add water to cover bottom by 1/4 inch, cover and bring to boil.
 Lower heat and cook just until done, 6 - 8 minutes, longer for white. 
When done drain and put into a serving dish, drizzle with Lemon Sauce and serve, hot or cold.
Lemon Sauce:
Whisk together yogurt, lemon juice and mustard.
Drizzle in oil, whisking. 
Cooking Schedule: 40 minutes
Assemble all food, utensils and serving dishes
Utensils: measuring cups, spoons, knives,
scissors, medium bowl (used 3X), baking dish,
small saucepan, small bowl (used 2X), whisk,
dish for brining, medium skillet, lid, barbecue grill
Earlier in the day:  Mix ingredients for brine
Add pork to brine, refrigerate
Dinner time: Light/turn on barbecue grill
Turn oven on, 400F (200C)
Start to cook lentils
Prepare new potatoes, but in dish, roast
Make rub for pork, rub on
Trim asparagus
Slice celery
Chop red pepper
Snip all herbs
Prepare spinach
Start to cook pork

Stir potatoes
Make mustard dressing for lentils
Make lemon sauce for asparagus
Drain the lentils
Turn the pork
Start to cook asparagus
Add celery, pepper, herbs to lentils
Arrange spinach on plates
Add vinaigrette to lentils
Turn asparagus off as soon as it boils, leave covered
Add feta to lentils
Arrange lentil salad on spinach, serve
Done?
Remove pork, let rest
Remove potatoes, finish
Heat asparagus if desired
Finish asparagus
Slice pork
Serve